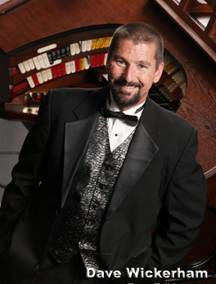 The North Texas chapter of the American Theater Organ Society might just have the luck of the Irish this year.
Theater organist Dave Wickerham will bring his one-man show to the McKinney Performing Arts Center's Mighty Wurlitzer for an evening of favorites from the Emerald Isle as well as music by George Gershwin, John Williams, and he'll even take requests.
Wickerham has been the premier favorite of North Texas audiences, marking his fifth McKinney appearance for this St. Patrick's day show. His musical style and passion for the instrument are obvious from the minute he sits down on the bench. He not only entertains, but has the ability to actually draw the audience into each musical number as he uses the organ's many percussive features to create a mood and cast a musical spell.
Tickets for this show will go fast. The program will be presented for one night only at at 7:30 p.m. March 17, at the McKinney Performing Arts Center. Adult tickets for the event are $12 in advance, or $14 at the door. Kids tickets are priced at $5 in advance, or $7 at the door. Seniors over 65 are admitted free, but tickets are required. Reservations can be made by calling the McKinney Performing Arts Center box office at 214-544-4630, or on line at mckinneyperformingartscenter.org.