About three times a week, John Dowdie stages his Ford truck in the parking lot of First Christian Church. He's not alone; a handful of others are there, and they're all waiting for the same thing. Just before 11 a.m., the white Meals on Wheels Collin County van pulls up to the fellowship hall and a volunteer begins unloading the meals for the day.
It's a choreographed dance as he shuttles the hot meals, freezer meals and breakfast snacks into the hall, while volunteers grab their lists and sacks, and head for their vehicles. This same routine happens at locations across Collin County. Within the next two hours, these meals will be in the hands of over 1,000 seniors.
Meals on Wheels (MOW) Collin County is a well-choreographed production. And all the pieces of the organization – volunteers, dietitians, drivers, staff and families – work together for the good of residents.
Dowdie started volunteering about a year and a half ago when he retired. Instead of spending his golden years on the couch or on the links, he immediately got plugged into some service.
"I needed to do something," he said. "And I wanted to do something."
He volunteered at food pantries, food banks, a local Goodwill, "and I just didn't feel quite right with that. Then I found this."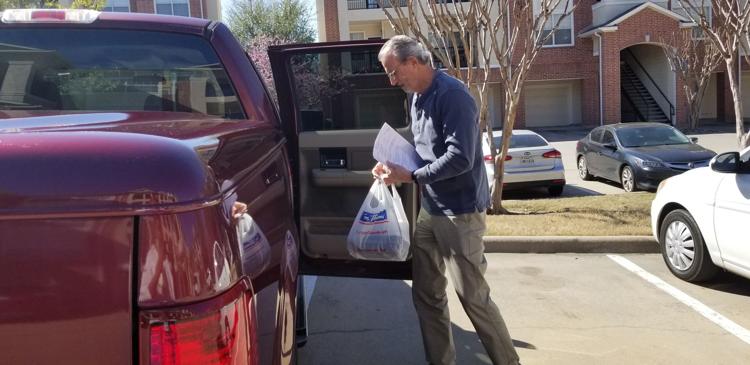 Each week, he gets a route and a list of homes to deliver meals. Sometimes the clients are chatting. Sometimes they're not. But he likes that the work was one-on-one. He moves at his own pace and picks his own schedule. Instead of being dedicated to one route, he prefers to sub in when MOW is in need.
"I just get a lot of satisfaction out of doing something. I can't picture myself sitting at home, doing what normal people do when they retire, just doing nothing. It seems so selfish. I've been blessed in so many ways, so this is just giving back," he said. "I can see myself being on the receiving end one day, possibly."
Collin County's senior community has more than tripled over the years as baby boomers continue to age. CEO Marzella Tyson said MOW served 1,800 seniors last year, providing 260,000 meals. But this year, they're on track to add 20,000 to that number.
MOW's 60-plus client base spans all income levels, but the majority are at or below the federal poverty line, receiving less than $100 for food stamps, Tyson said. And statistically, independent, homebound, disabled seniors are at higher risk of hunger and isolation, especially if they lack regular social interaction.
"As you age, they're using their money to purchase medicine prescriptions and using their money to pay for housing and transportation," Tyson said. "If they have to choose medication or utilities over food, they will do it."
MOW's clients are veterans, disabled people and seniors. And their services include wellness checks, along with the meals. Dowdie takes notes whenever a client appears to be in need of something, like if they missed a meal, or they're having trouble with their rent.
The goal of MOW is to keep clients independent and in their homes so they don't have to go to an assisted living facility or nursing home if they don't want to, Tyson said.
"When you've been independent the better part of all your life, it means a lot," Jewel Beedle said. She moved to Plano in February after over 20 years in east Dallas. She lives in her own apartment on the east side, while her son, daughter-in-law and grandson live in Wylie.
"I admire these people for what they do because it's strictly volunteer. These are good folks that are looking out for the well-being of other people. They really don't have to help them unless they want to."
The majority of MOW clients live with family, near family or have full-time caregivers. But surveys show about 30 percent of seniors receive one visit per month from family and friends, while 11 percent don't see any family except once a year. Some seniors have reported calling the emergency room just for interaction or get a meal.
Tyson said adult isolation can lead to higher cases of depression, especially if seniors are homebound. And that loneliness can lead to high risks of overeating, undereating and drug abuse that could lead to more health issues. So these daily visits provide nourishing meals and that constant connection seniors can depend on.
Josephine Meeks has been a client for over a decade, and she said that for over a decade, MOW has never faltered in their service.
"You can always depend on them," she said. "Why is that important to me? You want to know when you're going to get your meal."
The growth of the senior community shows no signs of stopping, and Tyson sees the hunger need only growing larger as years go by, which means more more volunteers will be required. There are lots of ways to get involved, she said, and all are invited to join the dance.