Allen ISD Superintendent Robin Bullock on Wednesday shared district numbers revealing how many students had selected an in-person or remote learning model for the fall.
As of Wednesday evening, 10,614 students, or 49.4 percent, selected remote learning. 45.5 percent of students, or 9,775 respondents, selected in-person learning.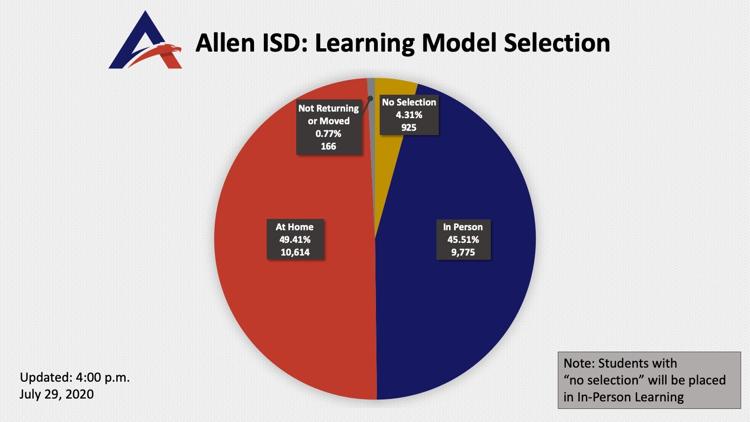 Less than one percent of respondents, 166 students, reported they were not returning to the district or had moved.
About 4.3 percent of students did not respond. Allen ISD has stated that students who have not committed to a learning model will be set to attend school in person. As the numbers stand in the Wednesday data, that means about 50 percent of students will be attending school for face-to-face instruction when Allen ISD schools reopen for in-person instruction.
The district has stated that students who chose in-person learning are slated to be able to return to campuses Sept. 2. On July 17, Allen ISD announced it would begin the school year remotely and would be on a virtual learning model for at least three weeks.
The first day of school is Aug. 12.
According to the district website, the district asked parents to commit their children to either model for the entire fall semester.
"Students will be expected to remain in their chosen option through at least a nine-week grading period in order to limit scheduling and staffing complexities," the district website states. "We understand that circumstances could change for our families throughout the semester, and adjustments will be examined on a case-by-case basis."
On July 17, the Texas Education Agency announced that schools would be allowed to start the first four weeks closed to in-person instruction with an opportunity to extend that to an additional four weeks, pending a board-approved waiver request to the agency. The announcement also stated that high schools would be able to follow a hybrid instruction model when students returned for in-person learning, pending board approval.