The Women's Auxiliary of Ahmadiyya Muslim Community Dallas held its women-only Peace Symposium, "Women as Architects of Peaceful Nations" on Sunday, bringing together 250 women of all faiths under the banner of unity at the Allen ISD Distribution Center.
The event featured speakers from all walks of life including Allen City Council Member Lauren Doherty, FISD Board Trustee Anne McCausland and journalist and human rights activist Mona Kazim Shah. The keynote speaker was Dhiya Bakr, national president of Women's Auxiliary of the Ahmadiyya Muslim Community USA (AMWA).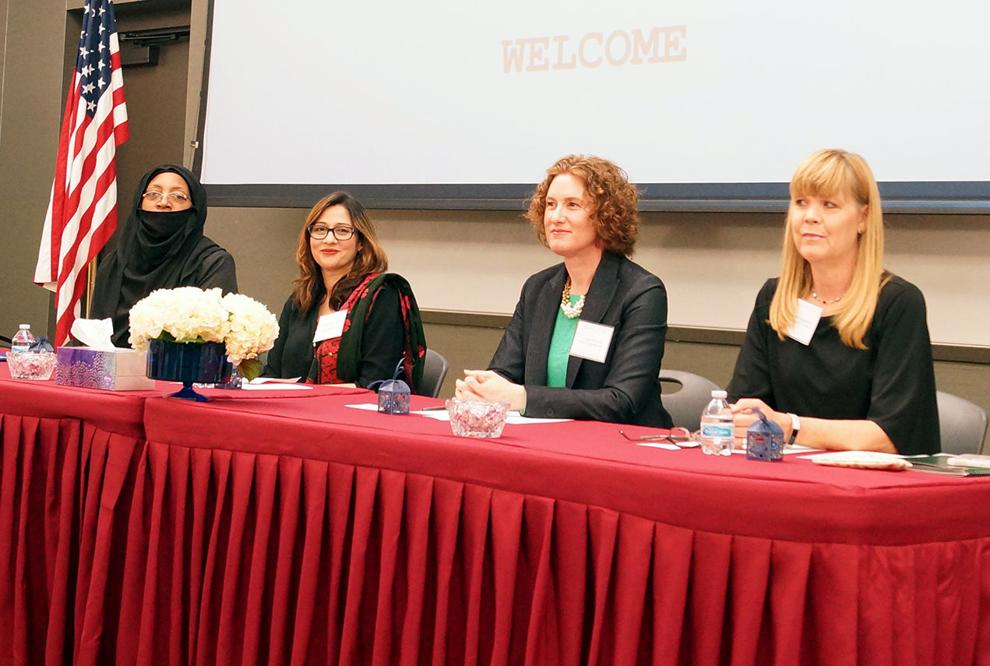 The four women, while serving their communities in different ways, all had similar messages: How women can contribute to making the world a better place.
Bakr of Zion, Illinois, said the founder of the Ahmadiyya Muslim community, Hazrat Mirza Ghulam Ahmad, had a mission to not only "revive the true teachings of Islam but also bring mankind together," she said. So Lajna, the AMWA, holds peace symposiums throughout the country.
"Really it's to bring women together from different faiths and across different socioeconomic statuses to come together and identify what we can do to contribute to building our country – and the world, because we're an international organization – to a better place for our next generations," Bakr said. "Across the globe women have been ... working hard to have a place in society and be acknowledged for all the work that we do, whether it's raising children or whether it's being activists in society."
Doherty, said that when she was elected, she thinks she was likely the first liberal many of the other council members had to work with in a political setting. And, while they don't always agree, she said she's come to respect and like her fellow council members.
"Because that's what happens when you come face to face and talk and share a meal with someone else," she said. "It's just a little thing, but it makes an enormous difference. It's just hard to be mean up close."
Building on that experience, Doherty started Better Angels Allen, an organization that works to bring people of differing political views together for meaningful communication.
"We have to see that we can either sit down with each other and listen or we can follow the path wrong, which isn't going any place good," Doherty said.
The event recognized two people who were nominated for their contributions to peace in the community: Richardson ISD Superintendent Jeannie Stone and Frisco student Naiya Vaden.
Stone received the Dallas AMWA Peace Award for her work in promoting the "Equity Policy" in RISD.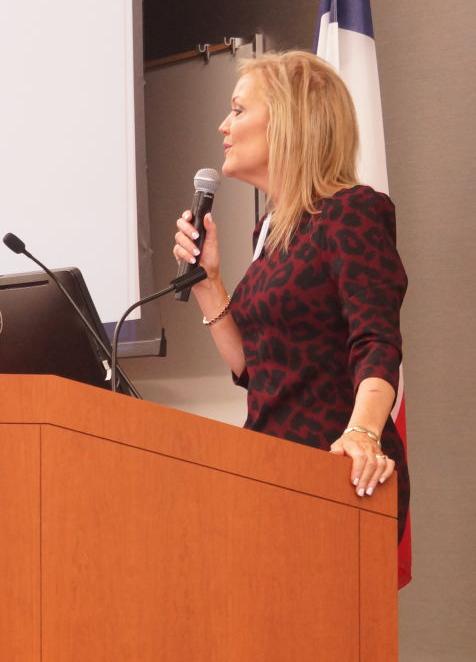 "If you think about a cafeteria, there may be thousands of students sitting in a cafeteria, and there are so many differences – differences in the color of our skin, differences in religion, there's so many things that we can describe," Stone said. "And what we're searching for at Richardson ISD is that every single student will be accepted for who they are and they will feel welcome and that our schools will be free of bias and barriers that might inhibit them from having a wonderful experience every day."
Ten-year-old Vaden was honored for her work in her school inviting her peers to "Let's Be Friends!"
Vaden's mother, Ida Vaden, said Let's Be Friends is not an anti-bullying campaign.
"We already know how to not be mean, how to not say words that are hurtful, but a lot of times we don't know to give people compassion, understanding, give them grace. We never know what has happened to someone," she said.
The campaign started when Naiya had trouble with a classmate at Carroll Elementary School. According to Ida, Naiya knew it wasn't personal.
"This is something that Naiya is blessed to do naturally," Ida said. "She is able to understand that if someone is mean, she'll say, 'They weren't mean to me, because they don't know me personally. Maybe they're just having a bad day.'"
Now, with the support of school staff, students wear Let's Be Friends T-shirts and use the simple statement as a credo to spread kindness.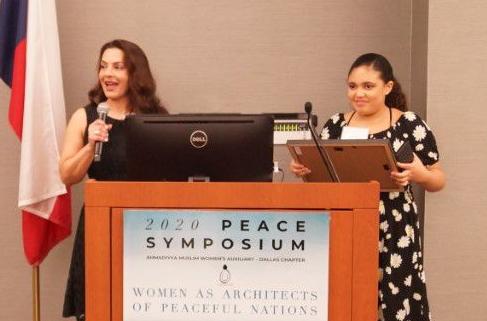 Naiya was nominated for the honor by McCausland, who said adopting social and emotional learning (SEL) in Frisco ISD is one more way for students to learn how to handle difficult situations. SEL is a focus on the "whole child" model that teaches children the skills to understand emotions, empathy and to establish positive relationships and make responsible decisions.
"My husband and I worked hard to instill in our children the value of respect and kindness to all people, even people who may not look, think or speak the same as us," McCausland said. "We are all created equal in relation to God, and we all have equal dignity before our father.
"If we truly want our students and children to become agents of peaceful nations, then we must focus on SEL," McCausland said.