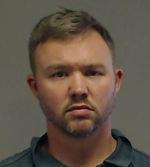 Robert Michael Kessler, 34, of Allen, was sentenced to 25 years in prison after pleading guilty to 10 counts of possession of child pornography, Collin County District Attorney Greg Willis announced Monday.
"Child pornographers must face the consequences of exploiting children, especially those without a voice," added Willis.
In 2018, Collin County Sheriff's Office investigators initially found Kessler in possession of approximately 6,000 images and videos depicting child pornography. Further investigation revealed that Kessler possessed over 90,000 images of children ranging from toddlers to early teens being sexually abused or exploited.
After reviewing Kessler's images, law enforcement identified approximately 6,200 known victims listed on the National Center for Missing and Exploited Children database.
After hearing several hours of testimony as well as reviewing the evidence, Judge Tom Nowak assessed 10-year sentences on counts 1 and 2 to run consecutively, the maximum punishment allowable by law for these crimes. Judge Nowak then assessed 5-year sentences on the remaining counts, to begin after the first two prison sentences are served, for a total punishment of 25 years in prison.
Assistant District Attorney Shannon Miller prosecuted the case, aided by District Attorney Investigators Chris Meehan and Billy Lanier, and Collin County Sheriff's Office Investigator Lee McMillian.