Cancer has hovered in the background of the life of Samantha Wendt, a former resident of Lucas and a 2013 graduate of Lovejoy High School, for a long time.
When she was younger, her cousin, Katie Wendt, was diagnosed with leukemia. Katie and the rest of Samantha's extended family live in small towns in Illinois, so Samantha, being younger and not interacting with her cousin in person very often, was shielded a bit from the harsh realities of a cancer diagnosis.
But a little later in her life, Samantha's grandfather contracted cancer and died from it in 2006. After that, a couple of her uncles were met with The Big C and succumbed to their diseases.
"I feel like the Midwest and Illinois especially, and especially the small towns where my parents came from, are kind of like cancer hotbeds," she said. "Once somebody gets it, it just seems like it's always genetically in those families. I lost a couple of uncles and I lost my grandpa to it so, it's been around."
After graduating Lovejoy, Samantha struck out for the state capital to attend The University of Texas at Austin for a five-year joint bachelor's/master's program. She's set to graduate with a master's in accounting and plans to move back to Dallas to seek a career as a CPA.
But there is one last big challenge Samantha will face before she closes the chapter on her life in Austin: She and her team of about 75 cyclists will bike from Austin to Anchorage, Alaska, to raise awareness for "Texas 4000."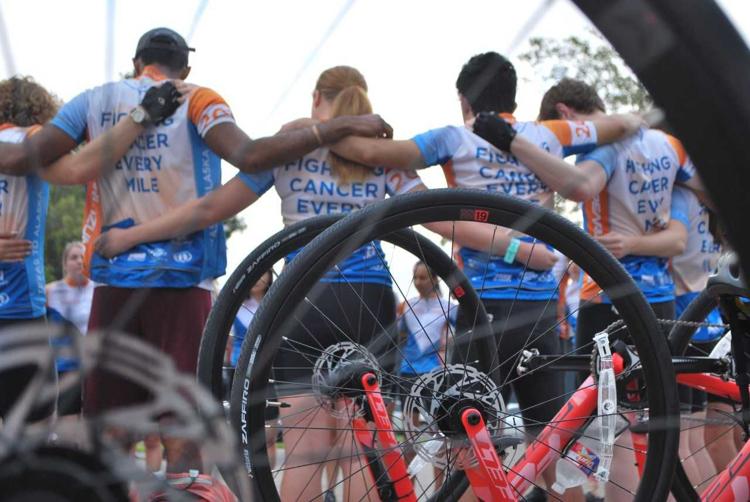 Texas 4000's mission is "to cultivate student leaders and engage communities in the fight against cancer," according to its website. The organization chooses select UT-Austin students to raise $4,500 for cancer research, ride 2,000 training miles with their teams, volunteer more than 50 hours in their community and be involved in some planning aspect of the Austin to Anchorage ride this summer.
Samantha, like a lot of people, has trouble articulating to cancer patients and survivors the depth of the empathy and compassion she feels for them; she prefers to put her thoughts into action.
"I'm not good with words all the time for things; that's why I like doing this ride because it shows I care and I just want to do my best to give back," she said.
Samantha and her team will cover the 5,000 miles from Austin to Anchorage over a 70-day ride on a route that will head straight north through the DFW area and up through Oklahoma and Kansas before hanging a left towards Colorado. They'll climb through the Rocky Mountains and ride northwest, snaking through northern Utah, eastern Idaho, far west Wyoming and through the heart of Big Sky Country in Montana. Then they'll cross the Canadian border for a 30-ish day trek in a northwest direction through Calgary and British Columbia until they reach Alaska. Once the cyclists are on U.S. soil again, it'll be a couple more days' ride until they get to Anchorage.
Samantha is an active person, a sports enthusiast and a tennis player. She has already passed the 2,000 miles required before the summer ride in mid-March. She feels like she is up to the grueling physical challenge that lays before her, but thousands of miles on a bicycle is as much about mental toughness as it is physical stamina.
A Texas girl through and through, Samantha said she isn't worried about biking through the Lone Star State and Oklahoma in July; it's the colder climates in the Rockies and on north that she's not too excited about.
But she keeps in mind who she is riding for, and it inspires her during those tough days when the team is biking 70-plus miles.
"A big thing of this ride and the whole organization that we're in is it's supposed to simulate kind of what a cancer diagnosis is like and what going through treatment is," she said. "It has its highs; it has its lows. It's not always pretty. It takes a toll on you.
"The weather is how people describe it; it's not always great, but that's just kind of like how life is."