It was a long road for developers to get here, littered with discarded plans and dead-end discussions over a three-year span.
But on Wednesday afternoon, Mayor Stephen Terrell and other city leaders, along with Leon Backes, president of Provident Realty, and Brian Glaser of Glaser RETAIL Partners, finally saw the fruits of their labor put into action as ground was broken on Stacy Green.
The 80-acre mixed-use development will be located at the southwest corner of Stacy Road and U.S. Highway 75 across the street from Allen's number one tourist attraction, Allen Premium Outlets.
Assistant Director of Community Development Lee Battle has previously said that the plan is to wrap about 150,000 square feet of 19 around the site on Stacy Road and the U.S. 75 feeder. Brackes on Wednesday confirmed several dining establishments that will make their home at Stacy Green, including Whiskey Cake, hopdoddy and Lazy Dog, and more common chain brands like Starbucks, Spec's and Chipotle. Sketches also show a cinema planned in the north central area of the property. Two parking garages and a five-story office building were also shown in sketches shown at the groundbreaking. Apartments and townhomes are planned as well.
"It's less about those big box retailers," Glaser said.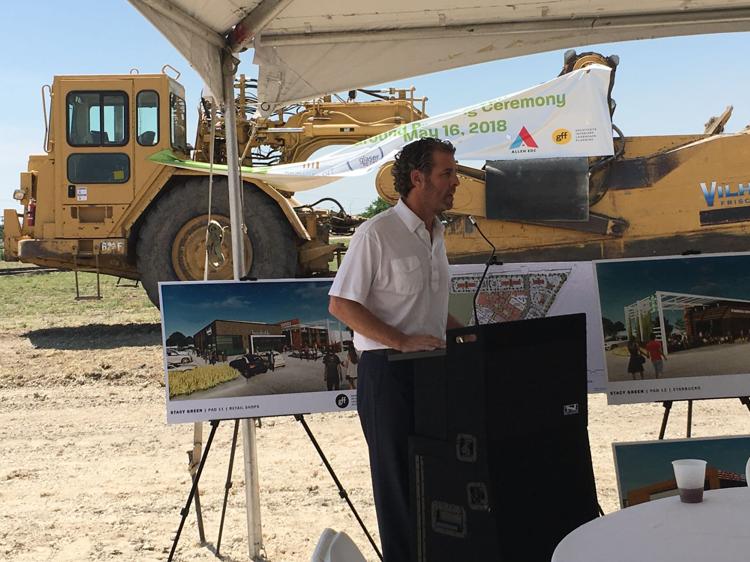 What sets the project apart, Glaser said, is the anchor piece of the property, an open green space that will serve as the center point of the development. Hike and bike trails along the southern border of the property and greenbelts will also aid in creating a pastoral feel for which the name "Stacy Green" derives. 
Glaser said he wants Stacy Green to not just be a place where people work, shop and eat, but also stay, whether as an apartment tenant or as someone who enjoys the open, green spaces for hours on end.
Backes complimented the city in which they've chosen to locate one of their banner projects.
"I think the city of Allen is probably one of the most vibrant cities in the country today, and not just in North Texas; it has to be one of the tops in the country," he said.