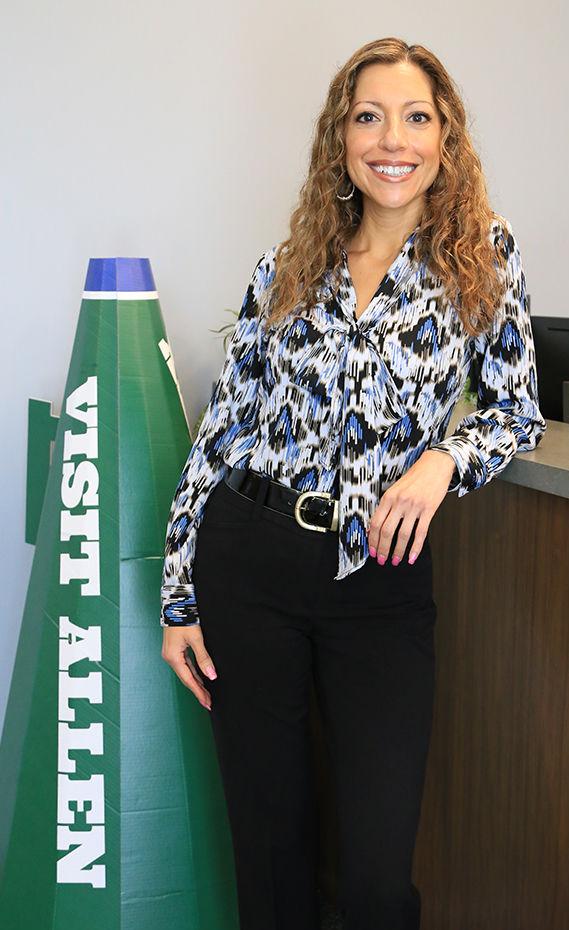 Kris Buchanan joined Visit Allen just a few weeks ago as its new sales manager, but already the career saleswoman has learned what makes Allen so enticing for businesses. In her new role, Buchanan has the task of bringing meetings and events to the city for the corporate and association markets. With two decades of sales and hospitality under her belt, Buchanan is no stranger to the business of people. She began her journey as a bartender, where she was mentored by a leader who helped lead her to a lifelong career.
How were you able to climb the corporate ladder from being a bartender to now a sales manager?
I definitely wanted to focus on a career at that time, and I was like, there's got to be more out there. … When I went into hotels as a bartender, I had a manager who did see potential in me, and he was able to help focus me and he ended up being one of my best mentors I've ever had.
Did sales feel like a natural fit for you?
It did. It was a lot of training and focus and learning the way things work, and as soon as that happened it was something that I excelled in and I was so happy to be doing.
What are the skills and qualities do you believe are essential to having your job?
I think 100 percent being inquisitive. That's the biggest thing. Ask the questions, do the research well before you talk to a client. Come up with creative solutions.
Your personality probably goes a long way too.
I'm the person in the store that people ask, "Do you work here?" because I'm always smiling and ask, "How are you?"
You don't know, maybe somebody's having a bad day, and when they come to you, you've got to be pleasant - I don't know what happened today for you, but let's make the rest of the day awesome.
Is that how you were brought up or did that come from working around people?
It's a combination of both. My mother was in sales as well, so I was very much brought up in a nurturing family that would smile and be nice to others and love.
What is your favorite part of the sales process?
Building those relationships. It's so rewarding when you meet somebody brand new and you work with them for months to a year until either their function ... seeing something from start to finish and having it be successful, and now you know this person.
What are some of your biggest accomplishments in the past regarding sales and managing positions?
The thing that I'm most proud of is I was able to have some sales managers under me that I was able to train to do what I'm doing and they moved on to be directors of sales. I was able to pay it forward and be a mentor as well.
What area of sales challenges you the most?
Probably when people don't respond. You do the work, the process, and then it's just nothing. But with that, you have to work different angles and find solutions to the problems, and being persistent sometimes helps.
What do you think are some popular destinations in Allen for meeting planners?
It's like five million square feet of shopping. I grew up in Irving, and we would come out to Allen to go to the outlets, then they built up Watter's Creek, and that's great. Then you started getting introduced to the Sidekicks and the hockey. It's economical, it's family-friendly, and it's not like going to a Stars game where you're paying a gajillion dollars. I can just take my son and say let's go. And it's right down the street.
So you're saying there's too many to just choose one.
There's a lot to take advantage of, for sure.
What do you think is going to be the best part of working with the Allen Visitor's Bureau?
The people. I'm already meeting a ton of new people.
That to me is extremely exciting. I can't wait, once I get rolling, to bring people in, show them the convention center, show them what we have to offer in the area to bring people in. Once we bring more people in, it's going to help the economy, it's going to help the mom and pop businesses.
What motivates you the most in your work?
The incredible properties we have around here.
I want to share it with everybody. It's definitely a hidden gem. People think, "Oh, Allen, that's where the malls are." But once you get in here, you realize what all it has to offer.
What separates Allen from other cities in the area?
It's definitely the up-and-coming destination. We're seeing that for any size meetings, for large conventions as well. I think what we have to offer is a small-town charm with the convenience of everything.
What do you wish you had known about sales at the beginning of your career?
I wish I would have known to start earlier because I had no idea how much I would really love working in sales. Looking at it from afar, it's amazing to see how far I've come, and I wish I would have gotten into sales earlier. I know there are the stepping stones you have to take, but dealing with people - bartending, front desk - you get to see different dynamics, and I think that really helped the way I communicate in sales.