Officials from the North Texas Municipal Water District (NTMWD) broke ground on North Texas Municipal Lake, formerly known as the Lower Bois d'Arc Creek Reservoir. The reservoir, set to cost $1.6 billion, is the first major NTMWD project in almost 30 years, and according to Tom Kula, NTMWD executive director, the construction marks a milestone for the fast growing North Texas region.
"It's taken a tremendous team effort with support from so many over the years," Kula said. "Our mission is to provide a reliable long-term water supply for our North Texas communities, and that requires critical infrastructure to treat and deliver the water to our growing member and customer cities."
Construction should take three years to complete the dam, and depending on rainfall, another two years to fill the lake to an operation level. By 2022, the NTMWD should begin providing up to 108 million gallons of water a day to the water district's network of customers.
NTMWD Board President John Sweeden said the NTMWD was founded in the 1940s by 10 small communities – Farmersville, Forney, Garland, McKinney, Mesquite, Plano, Princeton, Rockwall, Royse City and Wylie – to create a unified water source to support their fast growing communities. Today, the water district serves 13 cities and 1.7 million residents, a number that's expected to double over the next 50 years. For over a decade, district officials have worked toward planning and approving a plan for the new water reservoir to serve North Texas' growing community. And after years of waiting, the permit for the North Texas Municipal Lake was officially approved in February.
NTMWD will build, own and operate the new 16,641-acre lake located northeast of Bonham and northwest of Honey Grove in Fannin County. A 90-foot dam will create a lake capable of storing 367,500 acre-feet of water (120 billion gallons). According to a press release from the NTWMD, supplies from the North Texas Municipal Lake will contribute to the district's water conservation efforts as part of a long-term plan to meet the fast-growing region's needs.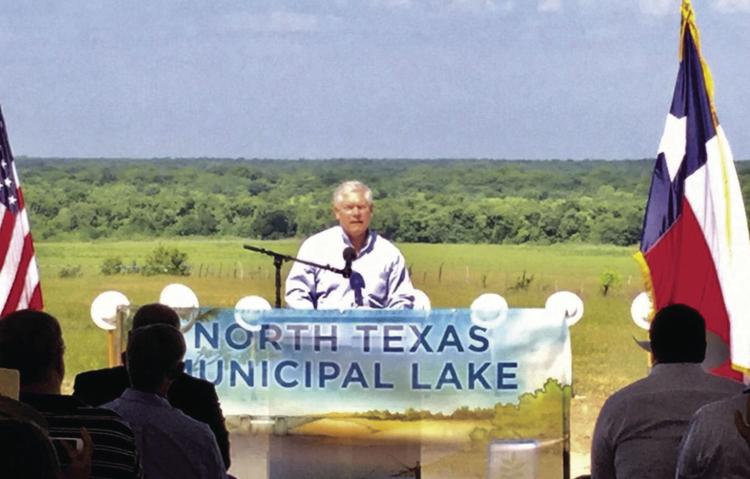 In addition to providing an important source of water, the new lake is anticipated to provide several recreational opportunities, as well as habitat for wildlife and a local economic boost of $509 million during construction and $166 million each year once complete.
The 404 permit required for the North Texas Municipal Lake was a mandate under the federal Clean Water Act, which included a thorough and lengthy process to avoid and minimize environmental impacts and identify ways to offset those that do occur. Key agencies and entities like USACE, U.S. Environmental Protection Agency (EPA), Texas Commission on Environmental Quality (TCEQ), Texas Parks and Wildlife (TPWD), Texas Water Development Board (TWDB), Fannin County and the city of Bonham, were involved in the process along with other agencies and organizations.
The NTMWD has recently come under fire by community groups like Safer Water North Texas, which question the district's seasonal chlorine flush, its impact on residents and its overall purification process. The district's alleged overuse of chlorine and chloramine drew criticism from environmental advocate Erin Brockovich, who questioned NTMWD for "cutting corners" and not being transparent.
Also, in December 2016, the mayors of Plano, Garland, Mesquite and Richardson engaged in litigation to force the water district to reevaluate its water rates and revise the current "take-or-pay" system. The mayors came together because the increased water rates were disproportionately impacting larger cities who pay escalated prices for water residents don't theoretically use. City Manager Bruce Glasscock described the district's take-or-pay system as "inconsistent with water conservation" and "not in the public interest." Residents have continued to criticize increased water rates, especially after they rose 8 percent in 2017.
Litigation between the four mayors and the NTMWD is ongoing.