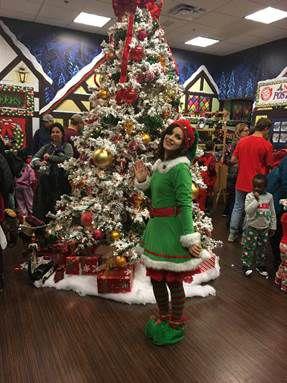 Join Watters Creek at Montgomery Farm as it celebrates the holiday season with a fun lineup of festivities and events beginning with Light the Night and Santa coming to town Nov. 23.
"Watters Creek holiday events liven up the community every year, bringing family and friends together to celebrate the cheer and spirit of the season," said Debra Martinez, marketing director of Watters Creek. "With events geared toward kids as well as adults, it will be nearly impossible to go to any Watters Creek holiday event without getting an extra-large dose of holiday joy."
In the event of inclement weather, a determination of weather-altered plans will be made on the day of the event. Check the Watters Creek Facebook page for updates.
For the most up-to-date information on events, visit the Watters Creek Facebook page or website at watterscreek.com or follow the shopping center on Twitter and Instagram. Watters Creek is located at the intersection of US 75 at Bethany Drive in the heart of Allen, Texas. For more information, call 972-747-8000.
All events are free and enjoyable for all ages, and they will extend from late November through late December. The schedule includes:
Santa is in town!
Santa will be in his Bavarian Village daily from Nov. 23-Dec. 24
Jolly old St. Nick will be available to take photos with children and listen to holiday wishes through Christmas Eve. Visit him at his village, located on Garden Park Dr., next to Village Burger Bar. Check the Watters Creek event page for specific dates and times to tell him your Christmas list. Appointments are available, though not required, at watterscreeksanta.com.
Black Friday Weekend Gift Card Giveaway
Stop by Friday, Nov. 29, from 8-11 a.m. for a $30 gift card with $150 Watters Creek same-day receipts. In case you aren't an early riser, there will be a chance for a $15 gift card with $150 Watters Creek same-day receipts both Friday/Saturday, Nov. 29, and 30, from 11 a.m. to 9 p.m.
Santa Paws
Dec. 2, 9 & 16, 5-8 p.m.
Santa Claus and your beloved pets will have the chance to get photos taken together. Pet owners and pet lovers, please always have your pet leashed or kept in an appropriate carrier while visiting Santa. 
PJ Party with Santa
Wednesday, Dec. 4, 6-8 p.m.
Pajama party at Santa's Village! Before you make your Christmas wishes, make sure to grab some sweet treats, make a holiday craft, visit the balloon elf, win a photo package door prize and more! Parents, bring your kids to this fun event, and kiddos, make sure to wear your favorite pajamas!
Complimentary Carriage Rides
Friday and Saturday evenings from 6-9 p.m.: Nov. 29-30, Dec. 6-7 & Dec. 13-14
Sundays: 4-7 p.m., Dec. 1, 8, 15 & 22
Consecutive evenings from 6-9 p.m., Dec. 16 - Dec. 23.
Grab your friends and family and snuggle up in a horse drawn carriage on a cool winter night. The carriages can fit up to six people, and the staging area is located on Village Green Dr. across from Santa's Village and Village Burger Bar. These charming rides are free and on a first-come, first-served basis.
A Very Jazzy Christmas
Enjoy the holiday music of Eddie Crocetti Jazz on Fridays from 5:30-7:30 p.m. and Saturdays from 1-3 p.m., Nov. 29 – Dec. 21. Listen to the sounds of the season in front of Vera Bradley on Watters Creek Blvd. In case of inclement weather, EC Jazz will move inside Frogg Coffee Bar & Creperie.
Sounds of the Season
Nov. 26 – Dec. 21 at various times
Sounds of the Season, Watters Creek's annual musical collage of seasonal delights, will be sure to make you get up and dance while filling you with holiday spirit. Enjoy performances by local schools, churches and professional musicians for a memorable holiday experience.
Elves, Inc.
Dec. 5, 12 & 19 between 10 a.m. and noon or 5-7 p.m.
Stop by Blue House Too on Village Green Dr. across from Santa's Village and Village Burger Bar to design a special holiday craft project in partnership with the Allen Arts Alliance. Preschool and elementary-aged kids will be sure to have fun at this event where they can put their own unique touch on their family's holiday décor.
Our Gift to You
Dec. 3-24
If you purchase three or more Watters Creek gift cards between Dec. 3-24, you will receive a $10 gift card from Watters Creek! Gift cards will be available for pickup at Watters Creek Concierge+ Guest Lounge. Only one free gift card per person, per day, so make sure you get one while supplies last.
Trees for Troops
Dec. 6, 2-6 p.m.
Location – at the plaza in front of Frogg Coffee Bar & Creperie
To make the holidays special for the men and women serving our country, Watters Creek donates Christmas trees to the Trees for Troops program on behalf of the Allen Community. Help share the spirit and stop by the Trees for Troops tent to write a note of appreciation that will be attached to a Christmas tree and received by a service member or family.
Merry Tuba Christmas
Sunday, Dec. 15, 2:30 p.m.
This event will be sure to put a smile on your face as much as the name does. Come watch an assortment of tuba players as they congregate at The Green to play Christmas carols and crowd favorites. This annual event is celebrated in each of the 50 states as well as around the world. If you play tuba or euphonium and want to be a part of the magic, head to 988 Village Green Dr. at noon for registration and then at 1 p.m. for rehearsal. You do not want to miss this!
Christmas Eve on the Green
Tuesday, Dec. 24, 5:30 p.m.
The Christmas Eve tradition at Watters Creek continues! Tangible Grace Fellowship Church will bring Christmas Eve on The Green which will offer a service with music from 5:30 to 6:15 p.m. Bring your family and enjoy this special time together with song and Christmas cheer!
Free Valet on Weekends
Watters Creek offers free valet to all customers Friday and Saturday from 5 – 11 p.m. throughout the year. Valet is located on Village Green Dr. in front of Menchie's Frozen Yogurt and on Garden Park Dr. across from The Blue Fish.