ALLEN — Since returning from a four-week absence due to a COVID-19 outbreak, the Allen football team, even in victory, didn't look entirely like itself in wins over McKinney Boyd and Little Elm.
With their biggest test of the season thus far on deck Friday, there was plenty of familiarity with how the Eagles conducted business against state-ranked Denton Guyer.
Allen scored on its first six possessions of the night, churning out one seismic gain after another to bury the Wildcats into an early hole that proved more than enough for a 56-38 victory. The win granted the Eagles sole possession of first place in 5-6A, improving to 3-0 in district play and 5-0 overall.
"We came ready to play. I thought we had a great week of practice on both sides of the ball," said Terry Gambill, Allen head coach. "Our coaches did a great job of game planning and our kids practiced great all week. Our kids were ready for this one."
The Eagles never let Guyer find a rhythm in the first half on Friday. Despite a quick sprint downfield to begin the night, the Wildcats sputtered near the goal line and settled for a 19-yard field goal by Michael Mayfield for a 3-0 lead.
Allen scored the next 21 points of the ballgame. After capping an eight-play drive with a 7-yard touchdown run by junior Jordan Johnson, the Eagles found the end zone three times in a three-play span to blow the contest open. Benefiting from some advantageous field position, the Eagles scored on consecutive 52-yard runs by junior Jaylen Jenkins and senior General Booty and then got Johnson in space for an 82-yard sprint with 11:40 left in the second quarter for a 28-10 advantage. 
Three runs, 186 yards and 21 points — Allen never looked back.
In the first half alone, the Eagles' run game totaled 256 yards on 16 yards per carry. Allen was plenty content to go back to that well, totaling 342 rushing yards and eight rushing touchdowns for the night — operating behind an offensive line that routinely controlled the line of scrimmage.
"The offensive line had a great week. Guyer moves around a lot and our line did a great job of communicating," Gambill said. "They did a great job blocking whether it was a run or a pass. They take pride in the job they do and it showed tonight. They wanted to do a great job for our skill players."
Allen compounded the damage with scoring runs by Jenkins (1 yard) and Booty (6) to turn in a 42-17 advantage at the half. Guyer found the end zone twice behind scoring runs from quarterback Eli Stowers and running back Byron Phillips but struggled to generate much early on behind a run game that had been the team's bread and butter in amassing a 5-1 start. 
The Eagles' defense made things tough on Guyer when backed into long-yardage situations, forcing a turnover on downs plus an interception by senior Parker Wells to subdue the Wildcats.
"We rebounded well from last week (against Little Elm). We cut down the number of big plays," Gambill said.
There were a couple anxious moments for Allen in the third quarter, as Guyer strung together 21 unanswered points, bolstered by a lost fumble by the Eagles on a kickoff return, to trim the lead to 42-31 with 5:17 left in the third quarter.
Allen's regrouped behind its run game and scored the next 14 points, both on runs from senior Jake Wolff, to lead 56-31 and effectively put the ballgame out of reach.
"Our kids take great, great pride in playing the game of football," Gambill said. "It shows by the enthusiasm in how they play. We have a lot of unselfish players and we accomplish things by doing them as a team."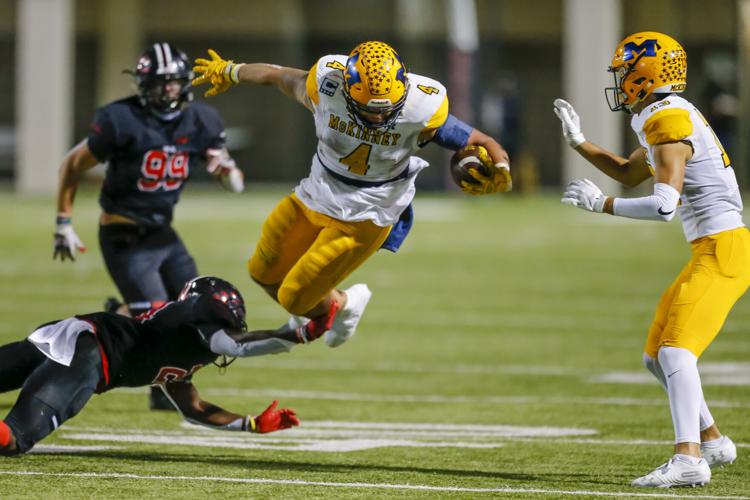 Lions edge Braswell in key 5-6A battle
McKinney roared to life at an opportune time on Friday, tallying its highest point total since the opening week of the season. The Lions needed every last point, too — holding off Denton Braswell for a 34-31 victory on Friday.
A nip-and-tuck ballgame through one half, the Lions took control with a 14-3 run between the third and fourth quarters, capitalizing on a 36-yard touchdown run by senior Omari Walker and countering a Bengal field goal with an 8-yard run by sophomore Sheldon King to cap a 12-play drive for a 34-24 lead.
Overall, McKinney's offense totaled 393 yards, including 242 on the ground and 167 yards and two scores from senior RJ Carver.
That effort afforded some cushion for backup quarterback Jeffrey Pearson, pressed into action for his first varsity start. He threw for 133 yards and a touchdown, while Walker accounted for 139 yards of offense and two touchdowns.
The win improved McKinney to 1-2 in district play and 4-3 overall. Braswell, fighting with the Lions for a potential playoff spot, dipped to 1-3 in 5-6A action.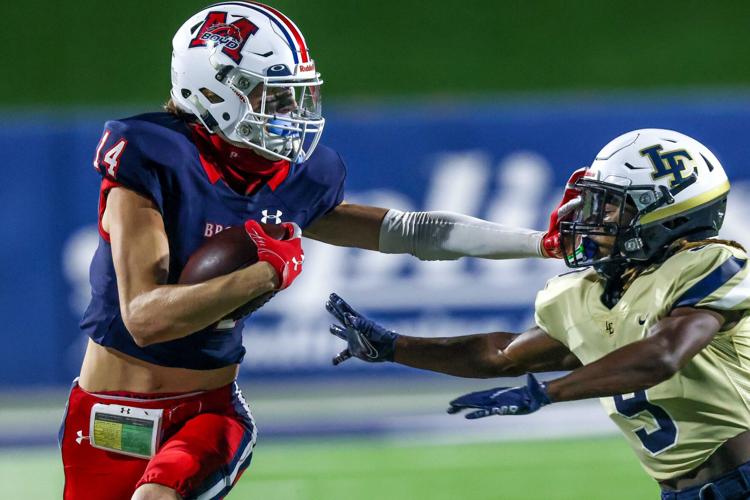 Boyd defense shuts down Little Elm
On the heels of a career night for the Little Elm offense in a 68-44 loss against Allen, the Lobos came crashing back to reality at the hands of a staunch effort by McKinney Boyd's defense on Friday.
The Broncos limited Little Elm to just 217 yards and got a big night from Ellis Patterson and the run game to pace a 29-10 victory that bolstered Boyd's chances at a playoff berth.
With wins over Denton Braswell and Little Elm, the Broncos are now at 2-1 in district play.
Despite an off night for Boyd the passing game, which tallied just 77 yards, Patterson and Peyton Shaw led the way. Patterson was a work horse with 34 carries for 213 yards and a touchdown, while Shaw tallied 72 rushing yards on more than 10 yards per carry. Both found the end zone, as did quarterback Ryan Shackleton, in a game Boyd blew open after scoring the final 19 points of the contest.
The Lobos, one week removed from totaling more than 600 yards against Allen, never got on track. Little Elm led early 3-0 and tied the Broncos at 10-10 on a 25-yard touchdown pass from John Mateer to Walter Roddy-White, but was held off the scoreboard entirely in the second half.
Mateer tallied 186 passing yards and Roddy-White caught six balls for 59 and a score, as Little Elm dipped to 0-4 in district play.