The state's longest regular-season winning streak is still alive — barely.
Allen made it 82 in a row in dramatic fashion on Friday, seizing the last of five fourth-quarter lead changes on a 1-yard touchdown pass from senior quarterback General Booty to senior receiver Bryson Green with six seconds remaining for a 35-31 victory over Prosper at Eagle Stadium.
The closest call in Allen's (7-0, 5-0) 10-plus-year run of regular-season dominance granted the Eagles a share of the District 5-6A championship. For history's sake, the victory extended Allen's current winning streaks to 82 in the regular season, 65 in district play and 53 on its home turf.
It didn't come without a furious effort from Prosper, which led Allen 10-7 at the half and regained the upper hand on the scoreboard three more times on Friday — the last coming with 1:03 left in the fourth quarter after senior Jackson Berry connected with senior Keaton Nickerson on a 5-yard slant over the middle for a 31-28 advantage.
Allen responded with an eight-play surge to set up the state's No. 4-ranked team at Prosper's 1-yard line inside the final 10 seconds of the ballgame. Booty's lone touchdown pass of the afternoon followed, dropping in a fade that Green, who caught 10 passes for 102 yards, hauled in on an acrobatic grab over the Prosper defense for the go-ahead points.
Prosper's last-ditch response didn't come without controversy, as a lateral drill led to an inadvertent whistle by the officials on a backward pass. Allen's defense foiled a second-chance opportunity for Prosper and sealed the win.
The dramatic finish capped a wild fourth quarter between the two rivals, with Allen fueled by three rushing touchdowns from senior Jordan Johnson, who finished with 173 yards on the ground. He found the end zone on runs of 67 and 10 yards in the fourth quarter.
Prosper, meanwhile, relied on the arm of Berry, who completed 75% of his balls for 277 yards and three touchdowns, including fourth-quarter touchdown scores to senior Cameron Harpole (20 yards) and Nickerson (5). Berry added 50 rushing yards and a touchdown on the ground as well.
The loss dips Prosper to 2-3 in district play, tied for fourth place with Denton Braswell. The Bengals defeated Prosper on Nov. 20, 41-24, and play Allen on Dec. 3, while Prosper closes the regular season against McKinney Boyd on Dec. 4. Prosper needs a win over Boyd, as well as a Braswell loss, to clinch a playoff spot.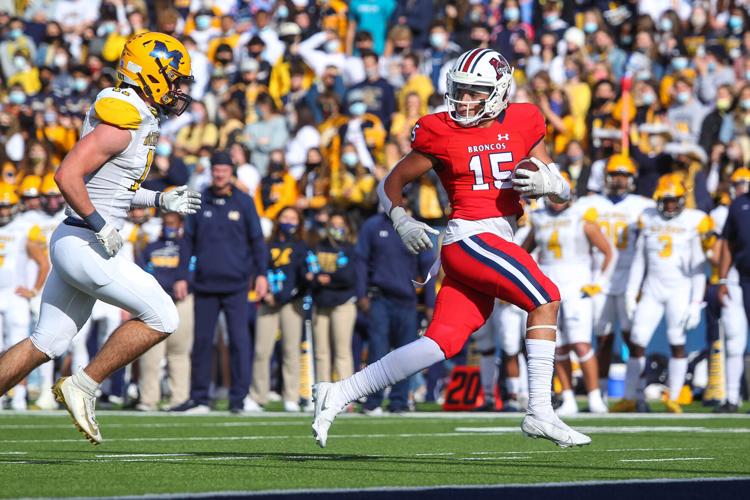 Boyd inches closer to postseason
McKinney Boyd snapped a two-year skid to McKinney on Friday, grinding out a defensive-minded 14-7 victory from McKinney ISD Stadium to keep its playoff hopes alive in a crowded district race.
The Broncos' calling card all season has been on defense and that side of the ball shined once again with a bend-don't-break effort all afternoon. Despite surrendering 399 yards, Boyd limited McKinney to only a second-quarter touchdown pass from junior Alek Giragosian to senior Cameron Rivas and forced three turnovers on downs in Bronco territory in the second half — including one with 19 seconds remaining the fourth quarter to seal the win.
Boyd improved to 3-2 in district play with the victory, taking sole possession of third place ahead of Prosper and Braswell, who are both 2-3. The Broncos, who had come up short to McKinney two years in a row, eliminated the Lions from playoff contention.
It didn't come easy, with Boyd up and down on offense all afternoon and finishing minus-2 in turnover differential. Junior Carter Whitefield found the end zone a 10-yard run on the team's opening drive, and senior Dominique Stevenson put the Broncos up 14-0 in the second quarter on a 67-yard fumble return.
McKinney cut its deficit in half moments later on a 55-yard strike from Giragosian to Rivas with 5:18 left in the first half, as both teams were held out of the end zone for the remainder of the ballgame.
In defeat, McKinney senior RJ Carver ran for 92 yards while Whitefield logged 49 on the ground for Boyd.
Guyer runs down Little Elm
Despite a 21-point first half, Little Elm failed to keep pace with state-ranked Denton Guyer in a 65-21 home loss on Friday.
The Lobos stayed within in striking distance throughout the first half thanks to three touchdown passes from junior quarterback John Mateer and trailed 34-21 at the break. But Guyer outscored Little Elm 31-0 in the second half to blow the contest open.
Mateer threw for 180 yards, three touchdowns and a pick in the loss — Little Elm's fifth in as many ballgames in 5-6A — while junior Walter Roddy-White had his way with the Guyer secondary with six catches for 129 yards and two scores.
It wasn't enough to offset a bruising effort by the Guyer run game, which accounted for 381 of the Wildcats' 534 yards in the win. Overall, Guyer scored eight touchdowns on the ground, including three from quarterback Eli Stowers.
Little Elm (2-7, 0-5) closes out its season on Dec. 4 against McKinney.