The Allen boys and Coppell girls both hoisted District 6-6A wrestling championships on Thursday but in starkly different ways.
Competing at Prosper, the Eagles extended their longstanding reign of district dominance with another lopsided conference meet, while the Cowgirls' pursuits of 6-6A supremacy weren't decided until the meet's final match.
It wasn't until then, following a win by Coppell junior Hannah Francis, that the Cowgirls mustered enough to edge Prosper by a mere one point in the final standings, 139-138, and repeat as 6-6A champions.
"It came down to the last match. When the finals were going on, we weren't really in tune with the points – that's not our goal. We had a bunch of girls in the finals and were just trying to get them to wrestle well," said Chip Lowery, Coppell head coach. "We only had one champ but it just happened to be in the last weight class, which put us over the top."
That came courtesy of Francis, who kept her unbeaten record intact after topping Plano West freshman Lois Mackey in Thursday's 215-pound final. Francis, a state quarterfinalist in 2019, is the state's top-ranked grappler in her weight class, per WrestlingTexas.com.
Although Francis was the lone individual champion for Coppell, the team did plenty of damage elsewhere in the standings – placing second in five other weight classes. Lowery added that sophomore Sarah Valadez picked up some key points for the Cowgirls after placing third at 128 pounds despite wrestling the majority of her season on junior varsity.
"We're only doing this with a few girls getting to the finals, but we spread out the points elsewhere as we go along," Lowery said. "We've won differently in the past – we had a dominant team last year that won with a few girls getting a ton of points, so this is the other side of that. That depth and having 10 girls that can score … having all 10 advance says a lot about our depth and our whole team philosophy."
The same goes for Allen, and has for the past decade. The Eagles, in pursuit of an 11th consecutive UIL state championship, exited the first leg of the postseason with nine individual district champions and placed a wrestler in the top three of all 14 weight classes on Thursday.
The totality of another lopsided meet granted Allen a 117.5-point victory in the final team standings, accruing 325.5 to distance from Prosper's 208.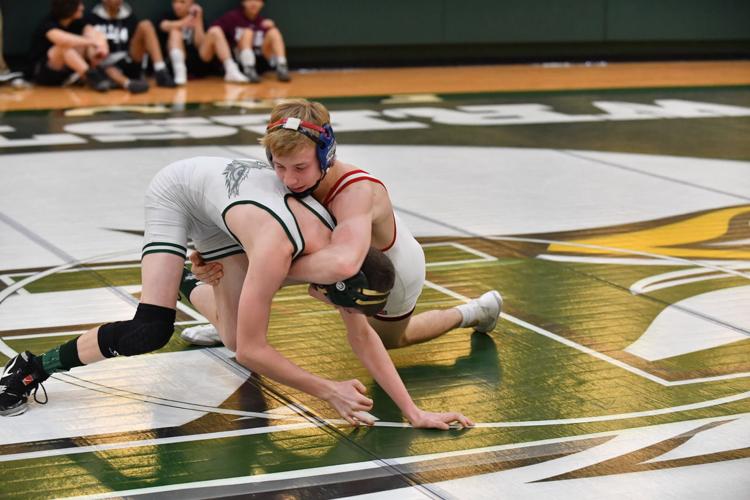 Individual district champions for Allen included sophomore Caden Garcia (106), junior Braxton Brown (113), sophomore Kade Moore (120), senior Rance Waigand (126), sophomore Mario Danzi (145), senior Alejandro Cavazos (152), senior Elise Brown Ton (160), sophomore Vincenzo Oliva (182) and senior Zane Davis (195).
"We've had some ups and downs, but all in all the kids wrestled well," said Jerry Best, Allen head coach. "We still have a little bit of work to do going into this weekend, so we just have to keep working and see how it turns out."
Best noted that Brown and Davis were particularly emphatic in pinning all their opponents in the first round, and that Oliva turned in a strong tournament run at 195.
Allen also raked in three district champions from the girls brackets, including wins for freshman Brooke Martin, sophomore Eliana Martinez and sophomore Tabiah Walwyn-Ton. Other girls to hoist 6-6A titles came from Prosper and Plano West, both of whom totaled five gold medalists on Thursday.
Prosper's pair of second-place team finishes were buoyed by first-place performances from senior Cecilia Adams (119), sophomore Taylor Martinez (138) and freshman Audrey Walker (165). Prosper's boys team was paced by junior John Richardson (138) and senior Rylan Bonds (220), who captured district titles of their own.
West, which placed third in both the boys and girls team standings, sported a quintet of conference champions – including a continuation of two undefeated seasons for juniors Tagen Jamison (132) and Devin Patton (128). Joining Patton as tournament champions for the Lady Wolves were sophomore Dreanna Garrett (185) and junior Leilani Hernandez (148) – the latter upsetting Coppell senior Brooke Massaviol, ranked No. 1 in her weight class, in the finals – while West sophomore Farid Morbarak turned in a strong meet on the boys side by winning the 170-pound bracket.
McKinney Boyd senior Angel Rodriguez closed out the boys meet with a win at 285 pounds.
Those wrestlers, along with the other top four finishers in each weight class, automatically qualify for the Region II-6A meet, which takes place Friday-Saturday at Allen. The top four placers at regionals will advance to the Class 6A state meet on Feb. 21-22 in Cypress.
"We've seen most of the better teams in the region, like College Park and Vandegrift, and matched up pretty well with them," Best said. "Most of the districts went the way we thought, so our guys just need to keep their heads down and go wrestle.
"If we can relax and just have some fun out there, we'll be OK."