WACO – Nearly two years later, the Allen football team finally scored a measure of revenge against The Woodlands.
Staring down the last team to hand the Eagles a loss, the memory of Allen's 36-28 state semifinal setback against the Highlanders on December 2016 wasn't lost on the team leading up to Saturday's third-round rematch.
It didn't come easy, with the outcome marking the Eagles' closest game of the season, but after a late turnover on downs and an eventual knee taken by senior quarterback Grant Tisdale, Allen could exhale following a 31-24 victory over the Highlanders from McLane Stadium.
Bound for the regional finals for the seventh consecutive year, Allen will vie for the Region II-6A Division I title at 2 p.m. Saturday back at McLane against either Waco Midway or Klein Oak.
"We talked about it a lot. Our coaches really put a lot of emphasis on us getting beat by them two years ago," said KJ Willie, Allen senior defensive back. "We're just glad we were able to come out and get the win."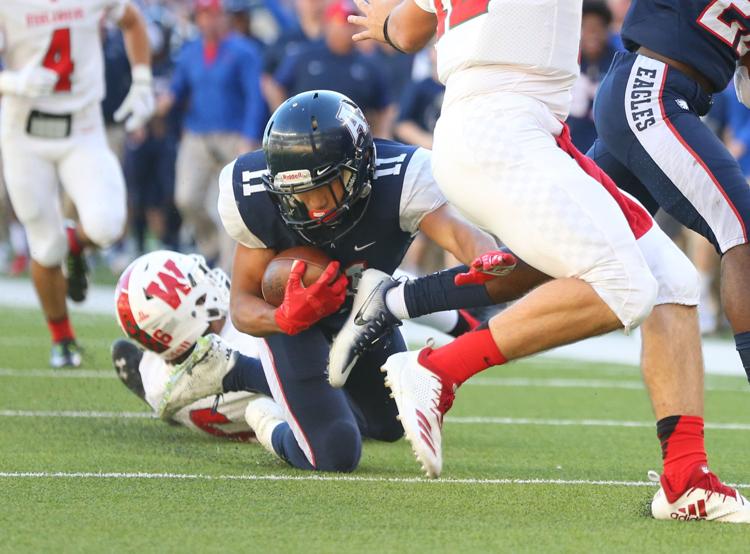 Willie had a critical hand in the unbeaten Eagles' 13th victory of the season, closing out the third quarter with an interception of The Woodlands backup quarterback Ben Mills. With Allen nursing a 24-17 lead at the time, the Highlanders' bid for the tying score went awry after Willie returned the pick to The Woodlands' 6-yard line.
Three plays later, sophomore Grant Robinson barreled into the end zone for a 2-yard touchdown and a 31-17 advantage with 10:44 to go.
"I was so close. I should have scored, but I was just glad we got the ball back," Willie said. "We scored on offense, won the game and that's all I care about. I just wanted to win."
Willie's takeaway proved timely, with the Highlanders derailing Allen's prior drive by blocking a 45-yard field goal try.
Despite the Robinson score, however, The Woodlands countered three minutes later on a 2-yard touchdown run by Bryeton Gilford, who led the Highlanders with 115 rushing yards, to cut Allen's lead to 31-24 with 7:40 remaining. Attempting to bleed clock akin to the team's game-sealing drive in the area round against Rockwall, the Eagles' effort hit a snag after an illegal procedure penalty wiped out a 54-yard touchdown run by Tisdale.
An Allen punt later ensued, but The Woodlands' crack at a tie fell by the wayside after a dropped pass on fourth-and-five surrendered control back to the Eagles for good with 2:39 to go. Tisdale followed with a pair of runs, including a 15-yard scamper, to seal the win.
"The big deal is when you have opportunities, you have to go make plays," said Terry Gambill, Allen head coach. "I thought our kids were really focused and had a great week of preparation. I thought we did some things that were really outstanding because of that preparation."
Such was the case late in the first half when Allen steered momentum in its favor with a 70-second drive for a 17-10 lead with 15 seconds remaining in the second quarter. Facing second-and-10 at midfield, Tisdale found Wease over the middle for a 42-yard gain that set up an 8-yard touchdown pass from the quarterback to sophomore Bryson Green.
"We knew we had to close out the half with some points, because it was going to be a dogfight in the second half," Tisdale said. "We had to execute on every play and that's what we did."
Allen exuded a similar mojo to begin the third quarter, forcing a three-and-out and swelling its lead to 24-10 in just one play – a 64-yard touchdown run by junior Celdon Manning.
The Eagles' first double-digit lead of the afternoon didn't come easy, recovering from a half that saw Allen outgained by The Woodlands, 207-164. Allowing only 319 yards overall, the Highlanders' speedy, stingy defense held the Eagles to 3.5 yards per carry in the first half and just a completion percentage of 55 for the game – nearly 20 percent below Allen's normal output through the air.
"They play the 3-4 and try not to give up big plays," Gambill said. "Their kids also play extremely hard. At the same time, we were able to get some, so our execution was spot on and we were disciplined."
Tisdale's day included 154 passing yards on 11-of-19 attempts, 54 rushing yards and a touchdown, while Manning found the end zone twice to complement his 90 rushing yards. Wease accounted for six of Tisdale's 11 completions, hauling in 113 yards in the win.
"Theo is going to be Theo," Tisdale said. "I've just got to get the ball to him and he's going to do what he does best and that's get yards and score touchdowns."