For the 11th consecutive year, it was Allen and everyone else.
The Eagles' wrestling team continued their dynastic run on Saturday, capturing an 11th straight UIL state championship and doing so in familiar fashion. Over two days of action at the Berry Center in Cypress, Allen amassed 203.5 points – a total that outdid the combined scores of Class 6A's second- and third-place finishers, Arlington Martin (100) and Katy (94).
"The kids did a great job. We had a little more adversity down there than we usually do,  but a lot of the guys held it together and turned in a great tournament," said Jerry Best, Allen head coach. "That showed in scoring double the points of the second-place team. Our kids really did a great job for us."
With 13 wrestlers competing across the event's 14 weight classes, the Eagles' depth overwhelmed the field once again. Ten Allen grapplers scored points by placing in the top six, with four emerging atop the podium to don gold medals following their respective tournaments.
Allen's championship cast included junior Braxton Brown (113 pounds), sophomore Mario Danzi (145), senior Elise Brown Ton (160) and senior Zane Davis (195). Three of those four scored repeat title wins, while Davis concluded his high school career in gratifying fashion by avenging a prior loss in the finals to El Paso Franklin's David Powers with a 6-2 decision for his first-ever state gold.
"Zane's a senior who has been one of our leaders. He's probably been the most improved kid we've had from last year to this year," Best said. "He wrestled a kid he saw in the finals backs at the Outlaw tournament. He got beat back then but came in with a great game plan and executed it over the whole match."
Brown Ton, meanwhile, capped his senior campaign with back-to-back state championships after outlasting Schertz Clemens' Darwin Hull for a narrow 2-1 victory in the finals.
"Elise didn't start until he was a sophomore and still got state runner-up and has gone back-to-back these last two years," Best said. "He's improved a lot and is in a tough weight class. He sacrificed a bit for the team in cutting down from 170 to 160 and did a great job as one of our senior leaders."
Saturday also saw Brown and Danzi continue perfect runs at state, with Brown now three-quarters of the way to the rare feat of a perfect four-year run of state championships. Brown's latest title run included three pinfalls in less than 90 seconds before scoring a second-round pin of Lake Travis' Carson Laughery in the finals.
"[Brown] is one of those guys who gets better and better each year," Best said. "He's another who sacrificed a bit for the team by wrestling at 113 this year. He's now three-quarters of the way to four state championships so hopefully he'll stay healthy and be hungry for next year."
Danzi is on a similar pace after a commanding run at 145 pounds, including a 13-1 decision win over Plano West senior Jacob Aragon — an opponent Danzi wrestled in competitive bouts at districts and regionals — in the finals.
"He was a lot more aggressive but was under control. He didn't get into any scrambles with [Aragon] and really showed how good he is. He just went to another level in the finals," Best said.
Allen sophomore Caden Garcia (106, fifth), sophomore Kade Moore (120, third), senior Rance Waigand (126, fifth), sophomore Jarrett Moore (132, fifth), sophomore Vincenzo Oliva (182, sixth) and junior Emmett Bivens (285, fourth) also racked up points for the Eagles — many of whom will be back in the lineup next season.
"Our focus is just on getting everybody's body back to being healthy and then we'll begin strength and conditioning and go out into freestyle," Best said. "We've got 124 points returning from our championship team … plus a lot of good, young kids coming up and some others who didn't start for us this year. We're real excited for the future."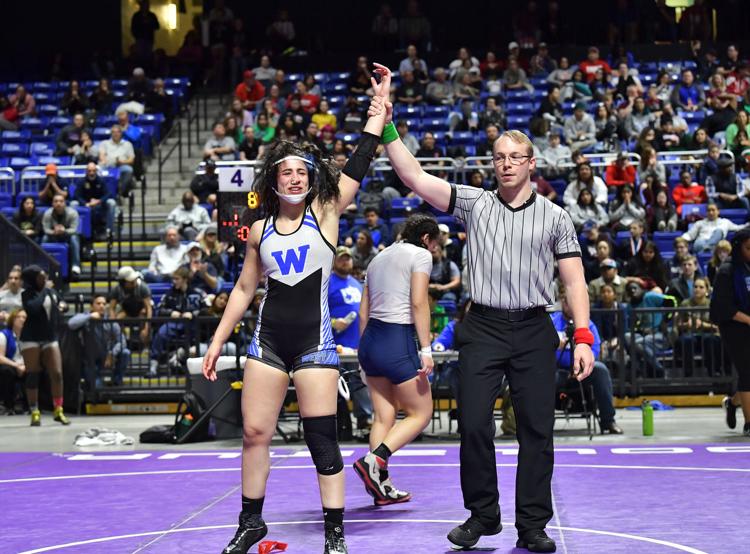 There's similar optimism brewing at Plano West, which has been on a steady ascent in recent years under head coach Clay Goodloe. On Saturday, the Wolves capped another milestone season with fourth-place team finishes for both their boys and girls teams  — the lone 6A high school to finish both squads in the top four — along with state championships won by juniors Devin Patton and Leilani Hernandez.
Patton cemented her status as the state's premier 128-pound grappler by going undefeated on the season, scoring pinfalls in 90 seconds or less in three of her four state tournament bouts. Hernandez, who took second at regionals, scored the signature win of her career by defeating national phenom Nia Miranda of Cypress Ranch, 3-1, in the finals.
"Devin's two other sisters won state for me in the past, so I just felt like it was meant to be," Goodloe said. "Leilani just wrestled out of her mind. The girl she beat in the finals was ranked No. 2 in the country. She put together the perfect plan and beat her rival from Coppell in the semifinals. It was just a magical weekend for her."
Three other Wolves donned medals in the boys' circuit, with junior Tagen Jamison (132) and sophomore Farid Mobarak (170) taking second in their respective weight classes. That, coupled with Aragon's runner-up finish at 145 and a fifth-place run for junior Brady Earhart at 138, helped the Wolves match last year's fourth-place team finish.
"We expected all three of those kids to make the finals. I talked earlier about us being a state tournament team and if you're able to have three wrestling in the finals, you're going to be in the conversation every time," Goodloe said.
The Wolves hope that remains the case going forward with seven of their eight state qualifiers returning next season — four of whom placed top two on Saturday.
"I think we just have a formula and a training schedule right now, plus the kids really believe in themselves and have proven they can rise to the occasion when they get to state," Goodloe said. "A lot of people wrestle better throughout the year, but our kids have done a great job peaking at the right time. 
"It's a testament to the great coaching staff, the club program and the parents and support this program has."