ALLEN – With the festivities of Senior Night in the air, coupled with a shot at regular-season perfection, the Allen football team made sure everyone had a hand in the coda to the program's sixth straight 10-0 campaign.
The Eagles flexed their depth Thursday night, using contributions all across the roster to down Plano West, 63-7, on the penultimate night of the District 9-6A schedule.
Now winners of 65 consecutive regular-season games, a streak that dates back to October 2012, the Eagles shift their sights to the playoffs and a defense of their Class 6A Division I state championship. West (0-10), meanwhile, heads into the offseason following a second consecutive winless campaign.
"It's a team game, it's a team district championship and it was a team win tonight," said Terry Gambill, Allen head coach. "It was so fun to see all our team members have a part in this one. That's what it is: It's the Allen Eagles. It's a commitment of our players to each other and our coaches, plus the hard work that everyone has put in all season.
"I couldn't be more proud. It's a great accomplishment."
Eclipsing 35 points in the first half for the third consecutive game, the Eagles spread the wealth on Thursday, limiting most of their starters to just the opening quarter and even holding out key pieces like senior receiver Theo Wease, senior defensive lineman Seth Mason, senior offensive lineman Caleb Baysinger and junior kicker James Griffith.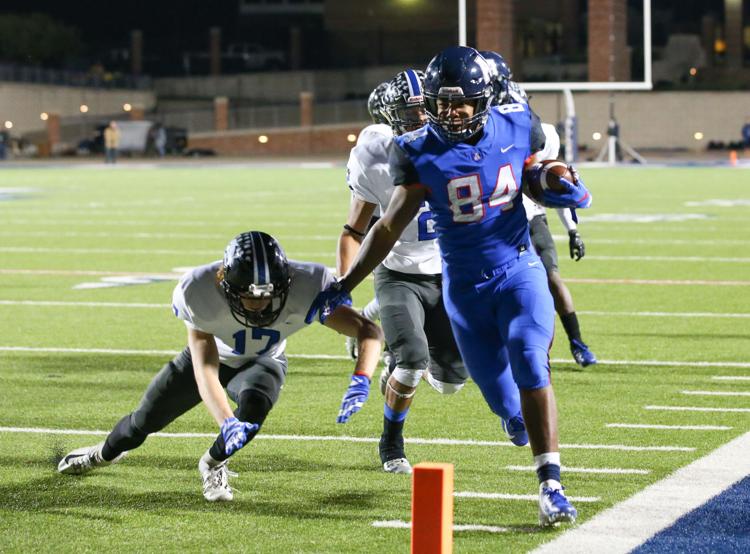 No matter the unit, Allen's firepower never quelled on Thursday, matching quarters of 21 points for a 42-0 lead at the half. The Eagles found the end zone on 6-of-7 first-half drives, with senior Grant Tisdale hitting sophomore Bryson Green on an 11-yard pass for the game's first points, followed by two short touchdown runs from sophomore Grant Robinson for a 21-0 advantage with 1:31 remaining in the opening quarter.
Junior Raylen Sharpe took the reins in the second quarter and offered no let-up, scoring on touchdown runs of 7 and 11 yards, sandwiched between a screen pass that senior Ja'Juan Mason took 75 yards to the house as part of the six-score halftime advantage.
Sharpe quarterbacked the Eagles during the second and third quarters, logging 148 passing yards, 82 rushing yards and four total touchdowns – three rushing and one passing.
"It's all God. He gives me the ability to play this game," Sharpe said. "If I don't see anything open and can find a lane, I just try to do what's best for my team."
The Eagles mustered 317 first-half yards against a West squad that carried the slimmest of margins for error into Thursday's contest and did itself no favors with a pair of turnovers within the game's first two-and-a-half minutes. The Wolves lost a fumble on a botched handoff during their fifth play from scrimmage and failed to come away with the kickoff following Allen's opening touchdown.
The result was a pair of short fields, of which the Eagles needed just three plays to amass their first two touchdowns.
"That hurt us bad. It's been our Achilles' heel all year – we have some good things happen and then we do something to shoot ourselves in the foot," said Scott Smith, West head coach. "It puts you behind the 8-ball and that's not a good place to be against those guys."
Despite the early deficit, the Wolves still managed 177 yards of offense in the first half – and totaled 371 on the night – with the majority coming on the ground behind the rushing of senior Noah Scroggins (164 yards, one touchdown) and junior Will Cannon (61 yards).
The duo fueled West to its most productive series of the half, an eight-play foray down to the Allen 10-yard line early in the second quarter. However, a 27-yard field goal try by senior Jack Swearingen was scuttled by Allen senior Mo Perkins, who blocked the kick and triggered another 21-point quarter for the Eagles.
In between, Allen's defense racked up tackles-for-loss by the score, with reserves like juniors Caulin Prince, Isi Moeakiola and Braydon Manning among those who brought down Wolves behind the line of scrimmage.
"All our starters were excited for them," Gambill said. "They know how hard everybody practices and they want to see everyone have success."
Three more rushing touchdowns followed for Allen, with Sharpe adding his fourth score on a 19-yard, third-quarter run, while junior Justin Hall and senior Zach Washington rounded out Allen's 63 unanswered points with touchdown runs of 43 and 2 yards, respectively.
"We cheer so much for those guys when they're on the field," Sharpe said. "When Justin had his score, we had so much fun on the sidelines jumping up and down and being happy for them. They don't get to play as much, but they can all make things happen out there."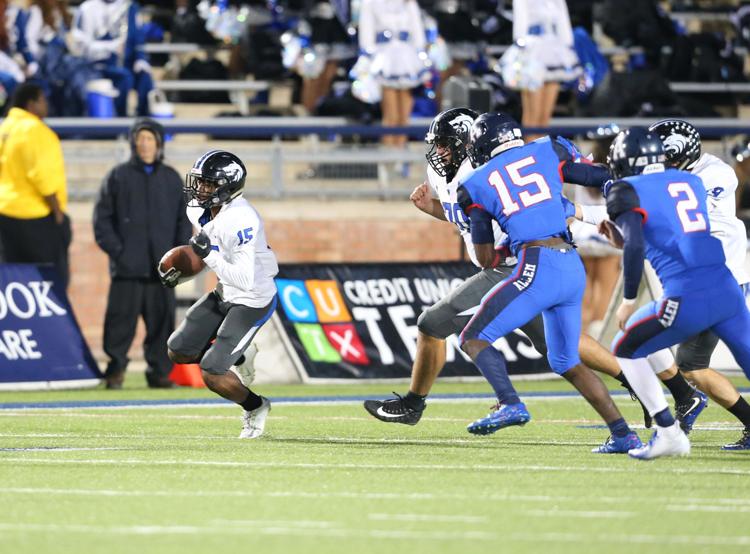 The Wolves averted the shutout inside the final minute of the game, as Scroggins scored on a 77-yard run with 44 seconds remaining to end his high school career in the end zone.
"That was a great way to finish for him," Smith said. "I know it's not the way he wanted from a score standpoint, but it's great for Noah. He really finished this season strong and these were probably his two best weeks."
With the playoffs right around the corner, Allen will draw the loser of Friday's Sachse-Rowlett game, with the bi-district matchup set for 7 p.m. Nov. 16 at Eagle Stadium. The Wolves look to regroup in the offseason in hopes of erasing the sting of a losing streak that stands at 26 straight games exiting the 2018 season.
"Everything doesn't always work out the way you want it to, but there's always that character piece that has to be there and how you handle adversity," Smith said. "… We have to regroup a bit, but I've just been so proud of this good group of kids. There was never a 'quit' or a 'we can't do that' or 'coach, we're done.' The fight was always there every week, right up to our last series. For that, I couldn't be prouder of this group."