With experience returning in the backfield, out wide and up front, there's plenty to like about Allen's offense this season. On Friday, in their first test of the season, the Eagles got to showcase that potential.
Allen scored on its its first five possessions of the game, uncorking big plays seemingly at will and mixing in a slew of defensive stops to cruise to a 52-27 victory over state-ranked Atascocita at Eagle Stadium.
"I thought we played the way we practiced. I thought we had a great week of practice and our focus was where it needed to be to go perform at a high level," said Terry Gambill, Allen head coach. "This was a great team win."
For one half, Allen's offense bordered on flawless. Senior quarterback General Booty completed all nine of his passes thrown through two quarters, averaging more 25 yards per completion. Seniors Blaine and Bryson Green had a hand in that production, routinely getting open deep on the Atascocita secondary. The twin pass-catchers combined for 249 receiving yards — Blaine catching four passes for 137 yards and two touchdowns and Bryson grabbing five passes for 112 yards. Five of their receptions went for at least 36 yards gained.
"They've worked extremely hard to be in the position they're in for their senior year," Gambill said. "I think first, you've got to notice they've put in the time and effort. Plus, they're very strong. When the ball goes up, they win battles because of how strong they are and the great routes they run."
Allen 42, Atascocita 7 @ 11:43/3QAllen strikes in just 2 plays to begin the 2nd half. General Booty is TEN FOR TEN after hitting Blaine Green for a 53yd TD. Booty has 280 pass yards and 3 TDs (2 to Green). #SLMGridiron

— Matt Welch (@MWelchSLM) October 3, 2020
Allen 14, Atascocita 0 @ 5:49/1QThe Green Twins have been able to get separation vs the Atascocita secondary early on. Here's Blaine Green hauling in an easy 47yd TD pass from General Booty. His brother Bryson had a 37yd catch on Allen's 1st series. #SLMGridiron pic.twitter.com/Qylc9mWvX3

— Matt Welch (@MWelchSLM) October 3, 2020
Senior Jordan Johnson added 82 rushing yards and two touchdowns, senior Touray Green caught a 32-yard touchdown that sent Allen into the half with a 35-7 lead, and Booty — making just his second start — completed 11-of-12 passes for 260 yards and three touchdowns. His lone incompletion came midway through the third quarter on a dropped pass.
"I think it's a direct reflection of [offensive coordinator Derek] Alford and the offensive coaches getting their unit prepared," Gambill said. "It starts up front with the offensive line and the receivers, running backs and quarterbacks have to execute. It's a reflection of how they study, practice and prepare."
That efficiency helped Allen swell its lead to as large as 52-14 early in the fourth quarter after an 8-yard touchdown run by senior backup quarterback Jake Wolff.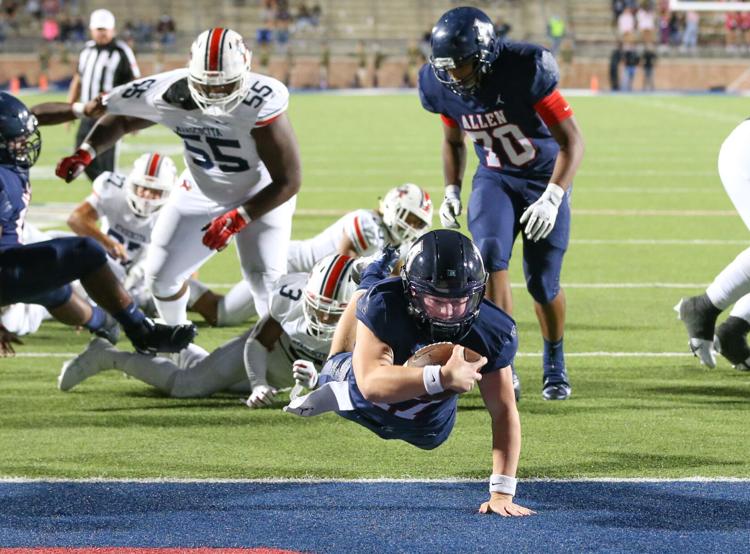 Allen totaled 530 yards in the win versus 579 gained by Atascocita. Although the visitor's success never translated to the scoreboard for most of the contest, Atascocita found some success with its run game behind quarterback Gavin Session. 
The junior signal-caller was busy on Friday, going 28-of-50 for 330 passing yards and rushing 34 times for 168 yards. Running back Quincy Thompson added 45 yards and two scores.
Session spearheaded a promising opening drive for Atascocita, advancing to the Allen 23-yard line before a fumble caused by senior Sam Hunter set the visiting Eagles back into an eventual fourth-and-13, which led to the first of three turnovers on downs.
Allen's defense was in bend-don't-break mode, out-snapped by Atascocita, 103-56, and tasked with slowing numerous drives that spanned at least 15 plays, but Allen surrendered just seven points in the first half and won the turnover battle, 3-1.
"There's no way you can play great defense without great communication," Gambill said. "You've got to be a great tackling team and give great effort. We created turnovers, got fourth-down stops and they did a great job preparing. We knew this would be a challenge because of the size of their offensive line and receivers. Their quarterback was a load. They've got a great, great football team. Atascocita is going to win a lot of football games."
Friday's win doubled as the first of two consecutive meetings on Allen's schedule against state-ranked opponents. The Eagles will next visit Cedar Hill at 7 p.m. Friday.