Allen boarded its bus Saturday morning with much more than just an afternoon tennis match with El Paso Coronado in mind.
Earlier in the week, the Eagles designed a banner and collaborated with nearby apparel vendor Home Team Prints to design commemorative T-shirts for the Coronado players – all as part of a collective donation to the El Paso Victims Relief Fund and a means of honoring the Thunderbirds' program and the El Paso community.
Prior to Saturday's match between state-ranked Allen and Coronado, held at Southlake Carroll, the Eagles – sporting shirts with the logos of both schools and "#ElPasoStrong" – unveiled a lengthy banner for the Thunderbird players with that very social media hashtag.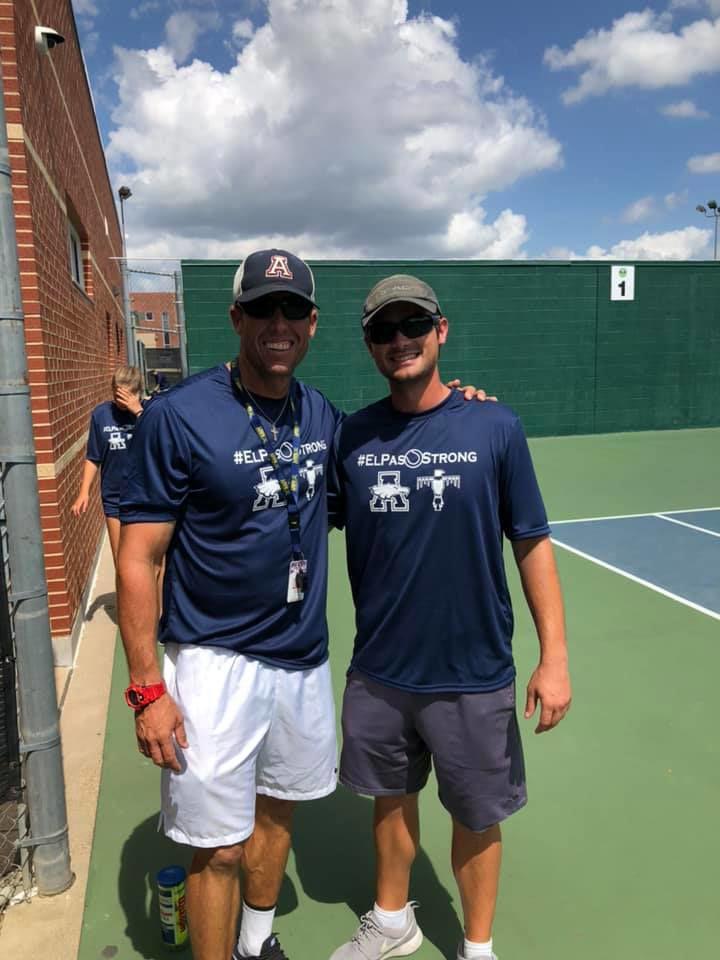 Allen head coach Justin Quest said that the idea stemmed from one of the Eagles' booster club parents, and upon getting the OK from Coronado head coach Steve Olivas, Quest and his players put the gesture of tribute into action – one that the coach said resonated with the Coronado program noticeably prior to Saturday's match.
"You can see they were kind of shocked and blown away by it. They saw that we made shirts for them as well, and I think that's something they were excited about," Quest said. "… We had a small donation for their program that we had put together and it was a really cool thing. They were very appreciative and it went really well."
Coronado made its annual Dallas trip last week, with Saturday's match concluding a busy stretch of action for the Thunderbirds. On Friday, the program squared off against defending Class 5A state champion Highland Park and then played area powerhouse Carroll the following morning. To mitigate any extra travel, Allen bused its way to Southlake on Saturday to play the Thunderbirds at a neutral site at 1 p.m., which Quest said made it easier proximity-wise for Coronado to fly back west from the Dallas-Love Field Airport afterwards.
The Thunderbirds did so with a token of appreciation from the Eagles in hand.
"For us, we've been rivals and had some great matches through the years," Quest said. "I think knowing we were going to have a good match but setting that aside for a little bit and just the compassion and humanity that can come out and be channeled through sports and being competitive was a really cool deal. There were great matches out there, but there was definitely an underlying tone of how sports can bring people together."
Allen's gesture was one of several throughout the state in the wake of an emotionally trying couple of months for the El Paso community following the mass shooting on Aug. 3 at a Wal-Mart, which resulted in 22 people killed and 25 wounded. The suspect of the shooting has been identified as Patrick Crusius, a 21-year-old Allen resident who attended Plano Senior High School.
Talking with Olivas beforehand, Quest got a sense of how the tragedy affected the Thunderbirds.
"He had a kid on his team that had a close friend or relative that wasn't in the Wal-Mart but nearby and he heard the shooting and had to take cover," Quest said. "There were some kids on his team who were indirectly influenced by the event."
The match itself was a productive one for the Eagles, ranked No. 3 in Class 6A by the Texas Tennis Coaches Association, in a 17-2 victory over Coronado, ranked No. 18. Allen swept its way through doubles before closing out the singles with straight-set wins by Grace Swenson, Macie Wu, Ali Goridkov, Jaci Walker, Avery Zavala and Kavi Bommakanti, among others.
The win doubled as Allen's 10th consecutive leading up to Friday's marquee district showdown against fellow juggernaut Plano West. That match, likely to determine the top two seeds for next month's District 9-6A tournament, takes place at 5 p.m. Friday at West.
"It's going to be a big match. It always is. We feel like we're the two best programs in the district and it's a good opportunity to see where the other is at," Quest said. "We already beat them once earlier in the season but we were both missing some players. Regardless of what happens Friday, hopefully we can get another look at them at the district tournament next month. 
"I think in terms of Friday, it's just a real good gauge to see what needs to be done going forward, win or lose."