ALLEN — Seeded No. 1 among the 32 teams in attendance, the Plano West volleyball team lived up to that billing Friday-Saturday at the Allen Texas Open.
It didn't come without a few doses of adversity along the way, but the Lady Wolves nevertheless finished atop the field by winning all four of their championship bracket games on Saturday — capped by a two-set sweep of Austin High (25-22, 25-18) in the tournament final.
West totaled a 7-1 record over two days of play at Allen High School, rebounding from a narrow loss to Allen on Friday (25-23, 25-23) with Saturday wins over Wylie East (25-15, 25-22), McKinney North (25-23, 24-26, 25-22) and Argyle Liberty Christian (25-20, 25-19) prior to downing Austin.
"They kept their energy levels up, which was good," said Justin Waters, West head coach. "… It was good to see how scrappy we were on defense. We were able to clean up our serving and serve aggressive. That had been a pitfall so far. We know where we need to get better and as long as we keep improving, we feel like we're in a good spot."
Plano West wins the Allen Texas Open! Lady Wolves sweep Austin in the final with a 25-18 win in set 2. Camryn McGough with match point below. Lady Wolves go 7-1 over 2 days in Allen. @planowestvb pic.twitter.com/EwDMWpgT6o

— Matt Welch (@MWelchSLM) August 21, 2021
The Lady Wolves managed a strong close to the tournament despite having one of their top hitters, senior Jean Dixon, sidelined for the match against Austin. Dixon had missed time since West's opener with a foot injury, and although she was back on the court during the team's run at Allen, Waters said that Dixon's injury resurfaced on Saturday. She was held out of the final against Austin and part of the semifinal against Liberty Christian.
The Lady Wolves persevered, with Waters deploying a 6-2 rotation and turning to junior Katherine Han to fill in for Dixon. Leading the charge was junior Blaire Bayless, who fresh off a verbal commitment to Pitt was named MVP of the tournament.
"Physically, it seems like she's growing every day," Waters said. "She's just playing at a whole different level now. She's committed and it seems like she's playing much more loose and without any stress. She still has some stuff to work on — she has her highs and lows, so we have to develop her game to being more than a straight-down hitter and that's what we're working on in practice."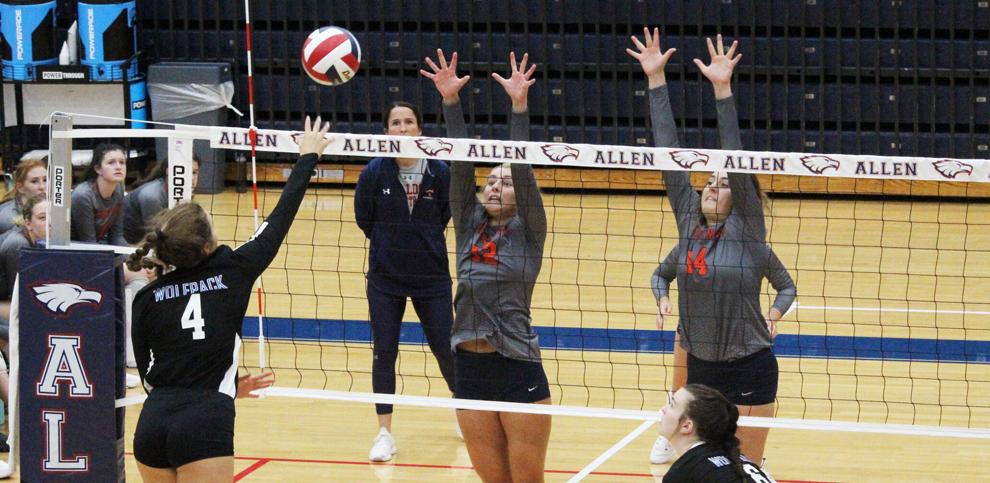 MISD powerhouses impress
With West atop the 32-team field with a 7-1 record by the tournament's end, only two other teams finished with one loss: McKinney Boyd and McKinney North.
The Lady Broncos, looking to build off a tournament win the previous weekend at the Battle of the Rock, matched West at 7-1 overall after claiming the consolation title in Saturday's championship bracket. Boyd managed to shrug off a three-set loss to Bishop Lynch (25-19, 19-25, 25-19) to begin the second day and rebounded with three consecutive wins, capped by a two-set verdict over Concordia Lutheran (25-18, 27-25) in the consolation final.
Led by all-tournament selection and senior Avery Calame, the Lady Broncos scored some early bragging rights prior to the start of District 5-6A play next month. Two of Boyd's three wins on Saturday came against conference opponents, taking down McKinney (25-16, 25-20) and Allen (25-27, 25-14, 25-11).
"We learned from our mistakes from that first match," said JJ Castillo, Boyd head coach. "We came in and didn't execute our normal plan and Bishop Lynch played really well against us, too. It was a good lesson for us to learn moving forward and they bounced back and played really well the rest of the day."
McKinney Boyd tops Concordia Lutheran to secure the consolation title at the Allen Texas Open. Freshman Ale Romo polishes off a 27-25 win in the 2nd set. @MBHSVolleyball goes 7-1 for the tournament. pic.twitter.com/Z7VsNfdbN9

— Matt Welch (@MWelchSLM) August 21, 2021
North, meanwhile, tied for fifth place after posting a 6-1 record. Led by all-tournament selection and junior Lily Nicholson, the Lady Bulldogs won their first five matches of the event before dropping a narrow three-set bout against West in the quarterfinals. North rebounded with a two-set win over Plano (29-27, 25-23) to close out its day.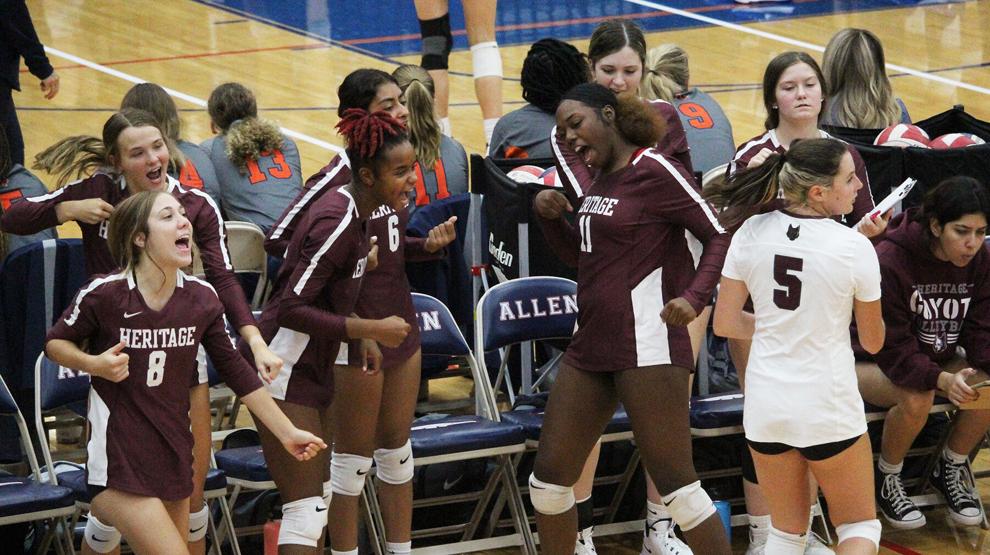 Heritage, Memorial lead FISD group
Like North, Frisco Heritage had its bid for a semifinal spot dashed in three sets on Saturday. 
The Lady Coyotes began the morning by taking down tournament host Allen in three sets (25-23, 18-25, 25-19) before going the distance against runner-up Austin. Splitting the first two sets 25-14 and 25-17, Austin eked out a 25-22 win in the decisive frame against Heritage.
Senior Mia Moore was named to the all-tournament team, leading a Lady Coyote squad that posted a 4-3 record and tied for seventh overall.
Heritage was one of five Frisco ISD programs in action at the Allen Texas Open. District rival Memorial broke even at 4-4 for the tournament, finishing 18th overall after a runner-up finish in the challenger bracket. The Lady Warriors shook off a 1-3 start on Friday and won three of their four matches during Saturday's bracket stage — defeating Bel-Air (25-11, 25-17), John Paul II (25-22, 25-11) and Rock Hill (25-14, 23-25, 25-15) prior to falling to Hockaday in a three-set final (25-16, 23-25, 25-23).
Other FISD programs in action included Lebanon Trail (3-4, 21st place), Centennial (5-3, 25th) and Frisco (2-5, 27th).
Also in action
Plano played a 2-2 finish on Friday into a spot in the championship bracket but fell one set why of booking a semifinal against rival West. The Lady Wildcats began Saturday with a win over Frenship (25-23, 25-15) before falling in a three-set quarterfinal against Liberty Christian (25-18, 15-25, 25-20). Plano, which landed senior libero Naylani Feliciano on the all-tournament team, tied for seventh place after going 3-4 overall.
Tourney host Allen mustered an 11th-place finish following a 5-2 showing. The Lady Eagles were the lone team to top West, besting the Lady Wolves in a crossover match on Friday, before going 1-2 in bracket play on Saturday. Sandwiched between aforementioned losses to Heritage and Boyd, Allen defeated Trinity Christian-Addison in consolation play (25-20, 25-15).
Plano East, meanwhile, came away with some hardware for the second straight tournament after placing third in the challenger bracket. The Lady Panthers broke even at 2-2 during Friday's pool round and picked up wins in three of their four bracket matches on Saturday — capped by a two-set victory over Rock Hill (25-16, 25-23).
Other local programs in action included McKinney (3-3, 13th place), Rock Hill (4-4, 20th) and John Paul (3-4, 21st).