ARLINGTON — With plenty of local high school football alumni chipping in along the way, Oklahoma capped its 2020 season in record-setting fashion Wednesday night at the Goodyear Cotton Bowl Classic.
The No. 6-ranked Sooners totaled 684 yards of offense, including 435 on the ground — both of which set new records in the bowl game's 85-year history — to cruise past No. 7 Florida, 55-20, at AT&T Stadium.
Closing out its year on an eight-game winning streak to finish 9-2 overall, OU's bowl win doubled as a homecoming for a number of players who starred on the Dallas-area gridiron during their high school days. Several of those student-athletes had a hand in the Sooners' lopsided victory.
🚨TOUCHDOWN🚨Spencer Rattler ➡️ Marvin Mims.#OUDNA | #BoomerSooner pic.twitter.com/0z60RFeNoz

— Sooner Gridiron (@soonergridiron) December 31, 2020
Marvin Mims, Frisco Lone Star
Mims compiled a historic high school career as a Ranger, setting the state's single-season and career receiving records during his senior year.
The Lone Star alum has carried that success over to the college level, exiting his freshman year as the Sooners' leading receiver in receptions (37), receiving yards (610) and receiving touchdowns (nine).
Mims recorded that ninth touchdown early into Wednesday's ballgame, beating his man deep out of the slot and hauling in a 27-yard pass from quarterback Spencer Rattler to stake OU to a quick 7-0 lead just over two minutes into the ballgame.
"To be able to come here and contribute the way I have this season, it's all to the coaches and to the other players on the team," Mims said. "It's not easy coming in here as a freshman and trying to prove a point to the other guys. But the guys in the receiving room, they help me every day, help me with my routes, help me with understanding the game a lot better. So it's all to my team."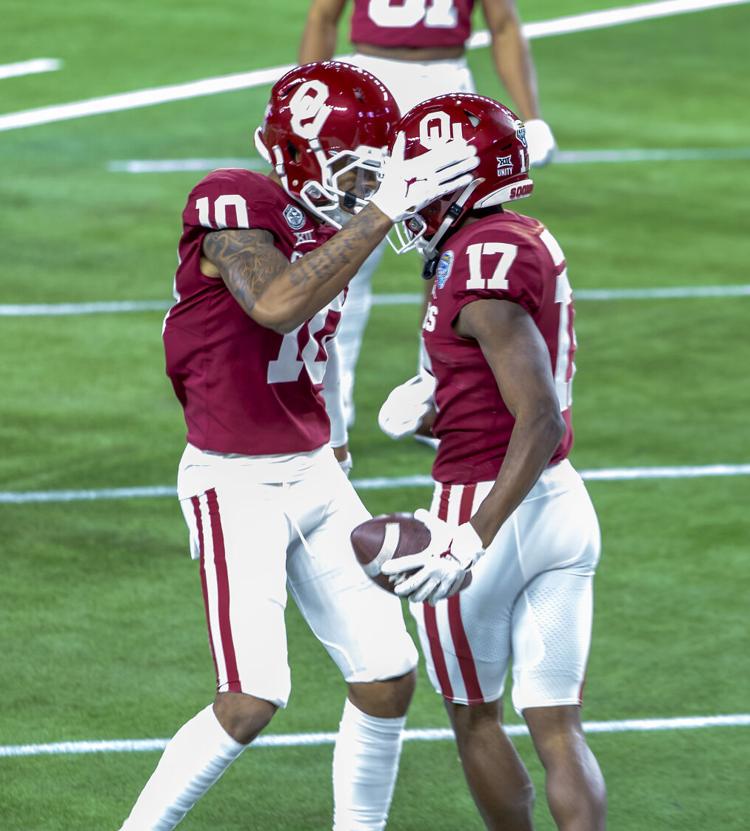 Theo Wease, Allen
Right in lockstep with Mims for the team lead in receptions was Wease, who helped lead Allen to a UIL state championship in 2017 during his high school days.
Wease carved out a starting role as a sophomore in Norman, hauling in four touchdown passes over the final four games of the season. That included another score on Wednesday, turning his lone reception into a 36-yard touchdown that upped the Sooners' lead to 24-13 with 4:08 left in the second quarter and halted a run of 13 straight points by the Gators.
Wease ran a short route over the middle and underneath the Florida coverage, turned upfield and cut inside to race past the rest of the Gator defense and go untouched into the end zone for a score that marked first of 38 consecutive points for OU.
On the year, Wease recorded 37 catches to go along with 530 yards and four touchdowns.
Rattler to Wease Jr. for the TD 👀 pic.twitter.com/Au2KgoFnVA

— ESPN College Football (@ESPNCFB) December 31, 2020
Seth McGowan, Mesquite Poteet
McGowan was as efficient as any player to don the crimson and cream on Wednesday. The former Poteet running back totaled 143 yards of offense on just four touches — churning out big plays one after another for the Sooners.
McGowan caught three passes for 70 yards, highlighted by a 47-yard scamper early in the fourth quarter, and took his lone carry 73 yards down the sideline to set up an eventual 20-yard Gabe Brkic field goal midway through the third quarter to up the OU lead to 34-13.
"I was proud of him. Every player's first year is always not easy," Riley said. "Seth got a lot of playing time for us early when so many of our guys were out. Probably wasn't quite ready for all we had to do. He really fought and did a good job, and he's had a chance to take a step back and get behind the scenes and learn and work. He's gotten better throughout this."
McGowan's first year at Oklahoma concluded with 58 carries for 370 yards and three touchdowns plus 13 catches for 201 yards and a score.
Tyrese Robinson, McKinney Boyd
Stellar play in the trenches has been central to OU's identity for years, receiving the Joe Moore Award in 2018 as the country's top offensive line.
Robinson started all 11 games at right guard for the Sooners this season, posting an 82.8 pass-blocking grade by Pro Football Focus that ranked tops among the team's starters. Robinson allowed just two sacks on 369 pass plays and was instrumental on Wednesday in helping pave the way for the Sooners' record-setting offensive performance, which posted an average of 10.5 yards per play.
"I thought our offensive line played outstanding because that's still a super-talented defensive front that we just played against," Riley said. "I thought our O-line was outstanding — probably the best game we've played all year."
Austin Stogner, Prestonwood Christian
Stogner made a return to action for Wednesday's ballgame, previously missing the Sooners' prior four matchups due to a quad injury. ESPN's Holly Rowe reported that Stogner's quad became infected after a hit sustained against Kansas on Nov. 7 and that surgery was required to remove the infection.
Stogner, who began the year as OU's starting tight end, saw action sporadically on Wednesday — deployed late in the first half during a Sooner scoring drive that upped their lead to 31-13 on a 1-yard run by Rattler with just 16 seconds remaining in the first half.
Stogner helped set up the score, blocking downfield to free up running room for Rhamondre Stevenson and then later hauling in a 12-yard catch over the middle that moved OU to first-and-goal from the Florida 9-yard line.
Stogner impressed as a sophomore, catching 26 passes for 422 yards and three touchdowns.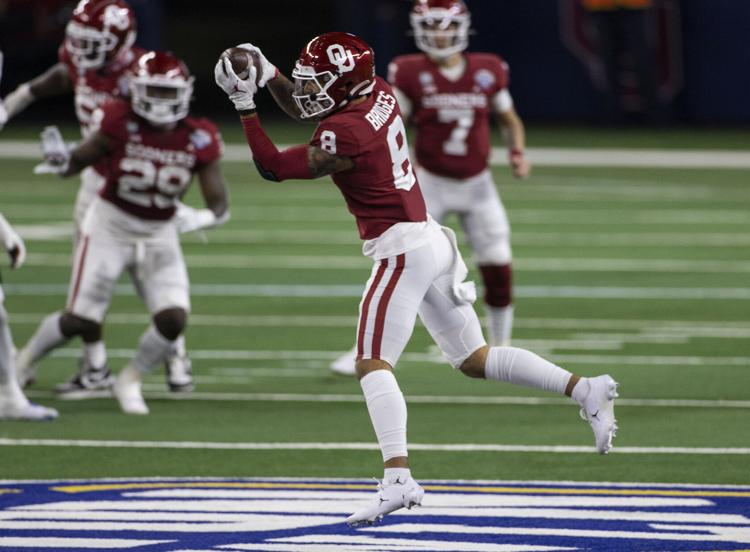 Trejan Bridges, Hebron
Bridges saw action for just the second time all season, debuting in OU's Big 12 championship win over Iowa State on Dec. 19 after being sidelined by a suspension dating back to the team's College Football Playoff semifinal loss to LSU in December 2019. 
Bridges was deployed out of the slot on Wednesday, prefacing Stogner's reception with two catches of his own to jolt the Sooners' final drive of the first half. Bridges finished the ballgame with two catches for 19 yards, including a 20-yard reception that moved OU into Gator territory.
Other local players rostered by the Sooners included Prestonwood alum Easton Reeves, Flower Mound alum Pierce Hudgens, Carrollton resident Hunter Longcrier, Frisco Reedy alum Nate Anderson, Sunnyvale alum Marcus Alexander and Coppell alum Obio Obialo.
Mesquite ISD was represented in the trenches for Florida with North Mesquite alum Jean Delance getting the start at right tackle.
Delance and the Gators were on the defensive from the onset, as the Sooners blitzed Florida for a 17-0 lead just under seven minutes into the ballgame. While Rattler and Mims got the ball rolling with an opening-drive touchdown, the first quarter was defined by a ball-hawking Sooner secondary that intercepted Florida quarterback Kyle Trask three times within the game's first eight-and-a-half minutes. 
That included a 45-yard pick-six from cornerback Tre Norwood that swelled the OU lead to 14-0 with 8:22 to go in the first quarter. Linebacker Brian Asamoah and cornerback Woodi Washington added first-quarter takeaways for the Sooners.
"We capitalized on a couple of mistakes they made. We were able a couple of times to confuse the quarterback and coverage. And he let go a couple of throws that weren't quite as decisive as what we're used to seeing him make," Riley said. "And our guys did a tremendous job with it. It says a lot about it. We have the most respect for that offense, for Kyle Trask who undoubtedly has been one of the best quarterbacks in the country this year."
Norwood went on to receive the McKnight Trophy awarded to the game's outstanding defensive player. Stevenson earned most outstanding offensive player honors after compiling 186 rushing yards and a touchdown as the spearhead of the Sooners' high-octane rushing attack.
Rattler spread the wealth through the air, distributing 247 passing yards and three touchdowns among 10 different targets. Nine of those pass-catchers caught two passes or less, with McGowan's three catches being the team high.
Despite the Sooners' hot start, Florida closed the gap to 17-13 with 6:05 left in the second quarter — rotating between Trask and backup quarterback Emory Jones behind center. Jones piloted the team's lone touchdown drive of the first half, scoring on a 1-yard run in the second quarter as part of a 146-yard performance by the signal-caller.
OU responded with 38 straight points to blow the contest open. Rattler threw touchdown passes to Wease (36 yards) and Cedar Hill product Charleston Rambo (20 yards) and added a 1-yard touchdown run during that stretch. Stevenson scored on a nifty 15-yard run with 3:58 left in the third quarter, evading six Florida defenders, and backup rusher Marcus Major capped the scoring onslaught with a 46-yard touchdown run with 6:11 left in the fourth quarter to make it 55-13.
"I like the attitude and the overall environment within our team, within our program — I like where that's at," Riley said. "A ton of young, exciting players that grew and learned so much this year and have a chance to be better for it. But it's going to be a great challenge to us to continue to climb because these last several teams have really set the bar high. I think we all sense the opportunity ahead of us."