Since exiting AT&T Stadium after a 44-35 state semifinal loss to Duncanville, plenty has changed for the Allen football team.
Nineteen of 22 all-district selections, including some of the top players to ever pass through the program, all logged their final snaps with the Eagles, giving way to an offseason rife with more questions than the perennial juggernaut has had to face in quite some time.
After three-and-a-half weeks of practices, fans got the opportunity to check in on Allen's progress Tuesday during the program's annual spring game.
"One side of the ball is not going to be happy once the ball is snapped, but I loved the way our kids competed and I loved their effort and communication," said Terry Gambill, Allen head coach. "This was an opportunity to get better tonight and it's one I thought our kids took advantage of."
The reps were fast and, at times, so were the highlights, as the Eagles concluded the first chapter of their offseason with their traditional intrasquad scrimmage. As players acclimate to new positions, roles and responsibilities – and with 53 percent of their 2018 roster lost to graduation, there's plenty of all three for the taking – Tuesday's spring game granted players a chance to ply their trade in the closest thing they've experienced to a game-time atmosphere since mid-December.
"For me, it's just about working on things that I need to work on," said Raylen Sharpe, Allen junior quarterback. "As a quarterback, it's about helping the whole team, so if we need to fix something, I need to be able to help correct it and show that I'm going to lead this team."
Sharpe is one of several Eagles in line for a greater role in 2019, helming the first-team offense during Tuesday's spring game. Sharpe split time between slot receiver and backup quarterback in 2018, but compiled numbers that gleaned plenty of potential – 388 passing yards (70.8 percent on completions), 640 rushing yards (13.9 yards per carry) and 16 total touchdowns.
Fresh off a productive track and field campaign – advancing to regionals as a hurdler – Sharpe can square his focus on leading the Eagles onto the gridiron next fall, and he'll do so with a receiving corps chalked in experience with the return of sophomores Bryson Green, Blaine Green and junior Darrion Sherfield.
Although screens and quick outs were on the menu for much of Tuesday's scrimmage, Sharpe had opportunities to display his downfield passing game – connecting on a pair of deep throws to Blaine Green, one a 25-yard touchdown pass on a well-placed toss to the back of the end zone and another on a 33-yard heave over double coverage.
Blaine Green's touchdown grab triggered an early surge of highlights in the scrimmage, with sophomore running back Sam Hunter immediately following up with a 75-yard touchdown run to cap a short-lived series between the second units, followed by an interception hauled in by junior Matthew Tousant to deny a deep strike by Sharpe to Bryson Green.
"Tonight was all about consistency," Gambill said. "How consistent, when you're on the field, can you be at your position? Can you play one great play? We don't ever look at it like someone had a bad game; we look at it as a bad play. There are going to be bad plays, so get it corrected, flush it and move on."
The Green twins, who combined for 655 yards and 13 touchdowns as sophomores, were among the constants in Tuesday's scrimmage, with Bryson Green later hauling in a 22-yard touchdown from sophomore backup quarterback Taylen Green.
"[Bryson and Blaine Green] have been unbelievable in the classroom and are having great offseasons," Gambill said. "They were on the varsity basketball and have had great springs with us. They provide leadership, work ethic and what you look for in a high school program that's wanting people to step up at this time. They bring that every day."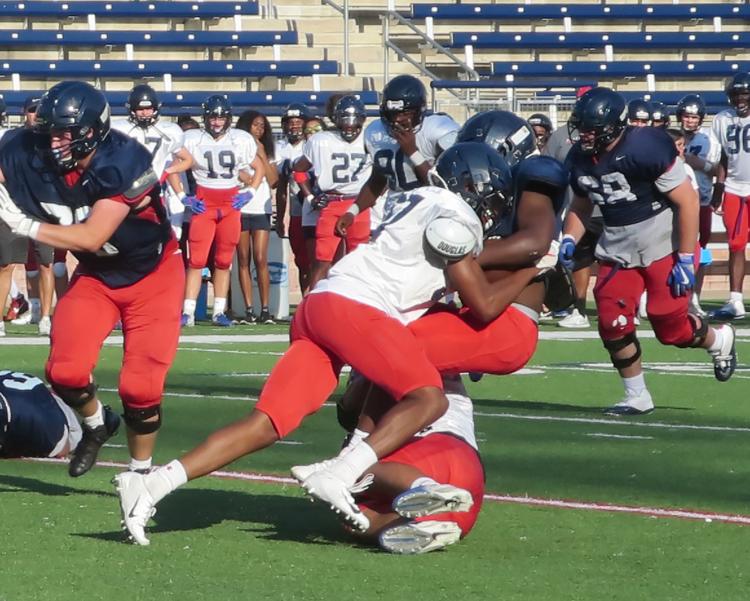 Beyond a few skill positions, however, the Eagles will be breaking in newcomers all across the top line of their depth chart. An offensive line already low on returning experience took a hit with an offseason transfer by junior Donovan Ford to California powerhouse Mater Dei, leaving an brand-new starting five in the trenches for a positional group accustomed to great expectations – evidenced last month with two alumni picked in the NFL draft (Greg Little and Bobby Evans).
Allen's defense was hit just as hard by graduation, with two of the group's more experienced holdovers from 2018 – junior defensive lineman Cole Latos (currently parking home runs in the playoffs for the Eagles' baseball team) and junior linebacker Jaden Healy – among a select few, including junior starting running back Celdon Manning, held out of Tuesday's spring game for precautionary reasons.
In between, the Eagles siphoned through reps with its special teams units, an area Gambill praised post-scrimmage. Juniors James Griffin, Alex Brown and Blake Simpson took turns attempting field goals, with Griffith – an all-district second-team pick in 2018 – converting a 51-yard try late in the scrimmage.
All the while, Tuesday's backdrop included everything from sporadic use of a drone whirring above the field to give Allen's staff a different perspective for evaluation, to a cast of college coaches lining the sidelines to later offer scholarships to several Eagles at the conclusion of the scrimmage. Among those who reported offers were Sharpe (Arizona), junior defensive lineman Elijah Fisher (Illinois State), Bryson Green (Illinois State), Blaine Green (Illinois State) and Taylen Green (Illinois State). Stephen F. Austin, Army and San Diego State were among the other schools in attendance.
Allen hopes there's more to come as the offseason moves into the summer phase of the grind toward Aug. 30 for the program's season opener against Cedar Hill.
"[This spring] has been great because we've improved every day. It's been a spring where we've been able to teach and learn and get better as a football team," Gambill said.