PLANO — It didn't take long for the emotions of the moment to set in for head coach James Burgess on Saturday as he gave one last postgame talk to his Texas Bombers Gold club softball team.
The Bombers had just finished their fourth game of the day, a grueling slate that began at 10 a.m. from Plano's Russell Creek Park against some of the top club programs in the state — all in pursuit of a Texas Fastpitch League championship. In what was the coach's final game, Burgess' squad gave him the perfect send-off — scoring an 8-7 walk-off win over Texas Glory Naudin to capture the first-ever TFL 16U title.
"It's hard because I took this team over basically their first year as 12s. It was really just a group of kids we were trying to keep together," Burgess said. "We thought they were decent ball players who liked playing together and we had some pieces along the way. This was my last game coaching, so for them to do what I've seen them do a hundred times over the last five or six years is just awesome."
True to form, the Bombers wasted no time in laying the groundwork for a dramatic finish. Trailing 7-6 entering the bottom of the seventh inning, Mihyia Davis and Abbie Flores singled to lead off the inning and advanced into scoring position with one out after a sacrifice bunt. A line-out and walk followed to stake the TFL 16U championship on who got the better of a bases-loaded, two-out exchange between two of the top club teams in the state.
"This team (Glory) run-ruled us [on Friday], and the last few times we've played them it's been close, but we kept coming out on top," Burgess said. "They got the best of us yesterday, but I said, 'Make no mistake about it — we've beaten them before, and nothing would be sweeter than to end this by walking them off in the bottom of the seventh.'"
Burgess dialed up a substitution, electing to re-enter University of Texas at San Antonio commit Olivia McFadden for the game's decisive at-bat. Three pitches later, McFadden came through by ripping a two-run double into right field to score the tying and go-ahead runs to seal the championship win.
"Olivia has 22 home runs for us this year. She has been in that situation and she came through for us once again. What more can you say?" Burgess said.
McFadden's walk-off blast was the last of several momentum shifts during Saturday's 16U championship game. The Bombers struck first with a five-run second inning that was promptly erased by Glory a half-inning later. Prosper junior Sydney Lewis then gave Glory its first lead of the game at 6-5 following a fifth-inning solo homer, and after the Bombers knotted it up in the sixth, Marcus junior Haidyn Sokoloski nearly penned her own momentous finish after homering in the top of the seventh for a 7-6 lead.
Glory's runner-up finish headlined a banner weekend for the organization, which split its 30-player squad into two separate teams for the summer. Over the course of five days of action in Plano, one finished second and the other placed third in the 16U bracket.
"I was really proud. We put together one program with 30 players. We're one team with two squads that have to go out there and compete, and they did that all week," said Ed Naudin, Glory head coach. "That's the only loss we took in the whole tournament and it was a nail biter. We just wanted to put the kids in a competitive environment, love them and hug them, and see them develop into outstanding kids. I'm proud of what they accomplished."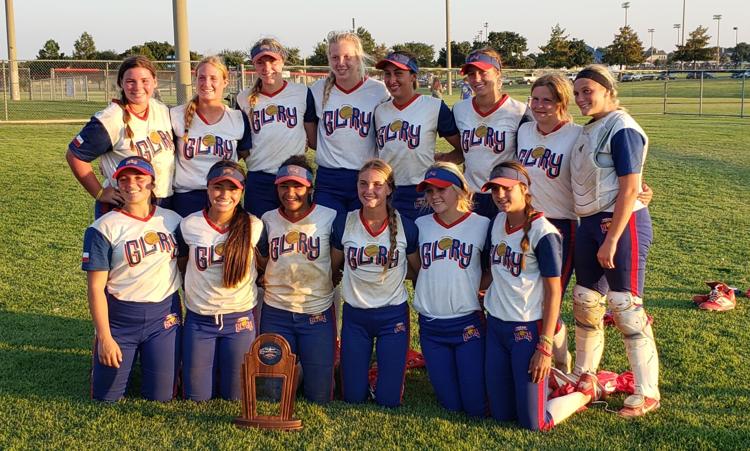 The two teams included a number of Metroplex standouts. In addition to Lewis and Sokoloski, Glory Naudin players from Star Local Media markets included Prosper junior Ayden Allen, Little Elm junior Georgia Heathcock, Allen junior Sami Hood, Frisco Centennial junior Sierra Corbin, The Colony sophomore Sydney Young and Frisco Independence senior Savannah Williams.
Among 44 teams competing in the 16U tournament, the two Glory sides squared off twice during the event. Both meetings were won by the eventual runners-up.
"What I loved about it most was that they knew they were competing against each other, but they realized they were still a family," said Maribeth Gorsuch, Lewisville alum and Glory Naudin pitching coach. "No matter who won or lost, they were a family, and that's what made it so special."
Hotshots ride big inning to 18U title
One day prior to the Bombers' dramatic finale against Glory, Houston-based Hotshots Premier put an exclamation mark on a 9-1 run through the TFL 18U bracket by besting Texas Bombers Gold-Smith in Friday's championship game, 5-3.
Hotshots broke a scoreless ballgame with five runs in the bottom of the fifth inning, scoring all with two outs remaining in the frame. Alexa Langeliers, a Keller product, plated the first run on a Bombers error, which gave way to consecutive RBI base hits from Chloe Gomez and Sam Graeter for a 5-0 lead.
Overall, Hotshots totaled 21 home runs at the four-day event, which included 27 other teams. Much like the 16U final, Saturday's championship game was a rematch from earlier in the tournament. On Thursday, the Bombers handed Hotshots their lone setback in a 7-1 loss.
Elsewhere, the Bombers' organization doubled up on its championship hardware with an unbeaten sprint through the TFL's 14U bracket. The Bombers' Gold 14U Malpass club went 8-0, scoring six wins by at least five runs in the 45-team field.
The only opponent that offered any resistance was the Blaze United, which dropped games of 6-5 and 7-5 to the Bombers, the latter coming in Saturday's championship game. Despite jumping out to a 4-0 lead in the second inning on two-run hits from Kaylee Blackledge and Kate Bubela, the Bombers had to hold off a late push by Blaze, which trimmed the deficit to 6-5 through six innings before Bailey Davis added an insurance run on a two-out RBI single in the top of the seventh to close out an otherwise unique summer for the Texas club softball circuit, which was largely conducted in state due to the COVID-19 pandemic.
"It felt a little different. We really only played in Texas — I think they played in one Oklahoma tournament. We're used to play all over the country and that was different, but the competition was definitely still there," Gorsuch said. "We're thankful to play in a state where the competition is so high, and although we didn't get to play in those big national tournaments, we still got to play some of the best teams in the country."