GARLAND — The dynasty marches on.
The pieces changed, including the promotion of a new head coach and the graduation of myriad key seniors, and the road map veered in a different direction at times than 2020's undefeated campaign, but the end destination was exactly the same for the Lovejoy volleyball team.
On Saturday, for the third year in a row, the Lady Leopards scaled the mountaintop for Class 5A supremacy — and in familiar fashion following a 3-0 sweep of Grapevine (25-19, 25-15, 25-20) at the Curtis Culwell Center. The win marked Lovejoy's third 5A title in a row and the program's ninth overall UIL championship.
"This team has come so far, and I couldn't be prouder," said Natalie Puckett, Lovejoy head coach. "We talk about doing your job and doing the little things right, and this team bought into that. That's why we're sitting where we are right now. It's indescribable — I feel like I'm on autopilot. We'll see in a few hours if my feelings come back."
It was a full-circle moment for Puckett, who was part of the Lady Leopards' initial rise to prominence during her own high school days. Puckett was a four-time all-state outside hitter at Lovejoy and helped lead the program to its first three state titles from 2008-10.
Fittingly enough, she and several of her former teammates were recognized by the UIL on Saturday just a few hours before she commandeered the sidelines to coach the Lady Leopards to state title No. 9.
With Puckett celebrating her first state championship as a head coach, Saturday's win marked a banner closure to the high school careers of an 11-player senior class that has been instrumental in the Lady Leopards' latest three-peat.
Look no further than senior Averi Carlson, who has qualified for state all four years of her varsity career. Closing out her run at Lovejoy as a three-time state champion, the Baylor commit received some individual hardware for her efforts after being voted as the 5A state tournament MVP on Saturday.
"There are so many great players on this team, it could been anyone," Carlson said. "I'm just so fortunate to have that award and to be next to some of the best players in the nation. It's awesome."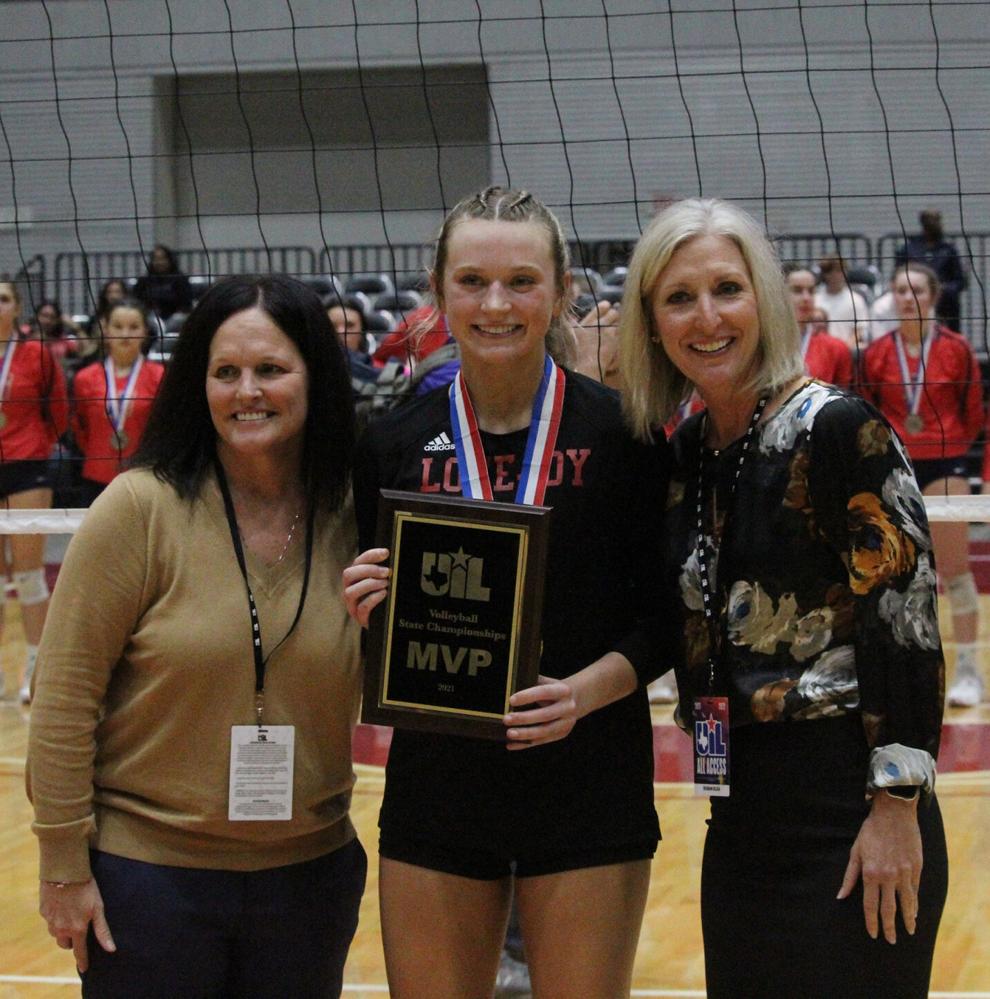 Carlson capped her hallmark Lovejoy career with a triple-double, leading Lovejoy in both kills (10) and assists (16) to go along with 10 digs and two aces across just three sets on Saturday. She added a match-high .474 hitting percentage.
"It's indescribable. I can't put it into words how great it feels to be here again," Carlson said. "I'm so thankful to be able to play with my best friends and under a great coaching staff. It's been so fun to end it this way."
Carlson dealt the first blow in Saturday's state final, serving up an ace on the evening's opening serve. That got the ball rolling on a match that saw Grapevine and Lovejoy trade points early into each set before the Lady Leopards gradually asserted their will as the match progressed.
The Lady Mustangs were game, building an 11-9 lead in the opening set before the Lady Leopards strung together a 4-0 run for a 13-11 lead they wouldn't relinquish all the way through a 25-19 set win.
One of the catalysts in that run, and several others on Saturday, was the play of junior Hannah Gonzalez. Not long removed from a five-block performance in Lovejoy's 3-0 state semifinal sweep of Manvel, Gonzalez rejected a whopping nine shots on Saturday — a mark just two blocks shy of the state tournament record.
Gonzalez, as well as senior Ava Camacho (22 digs), headlined a defensive effort that limited Grapevine to just .040 hitting for the match. The Lady Mustangs were paced by 12 kills from Janet deMarrais, a third-team All-American.
"Obviously, she's amazing. Janet is an amazing hitter and an overall amazing player, but you can't let that intimidate you," Gonzalez said. "We played them in the semifinal game last year, so we knew what to do. It was about trying to shut her down her block and get in her head. Just putting up a big block and being confident."
Gonzalez again helped spur the Lady Leopards in front after a closely contested start to set two. Consecutive Lovejoy errors pulled Grapevine to within 10-9 before Gonzalez accounted for back-to-back blocks to jolt a 5-0 run for a 15-9 lead.
The Lady Mustangs couldn't muster a counter, instead falling prey to a hail of errors — including four straight to close out the frame for a 25-15 Lovejoy win.
Grapevine's largest lead came one set later after asserting its block to spark a 14-11 lead midway through set three. The Lady Leopards countered by winning eight of the next nine points to again put the Lady Mustangs on their back heel.
"I feel like we're comfortable with back-and-forth volleyball at the beginning," Puckett said. "Both teams naturally just feel each other and see what the tone is going to be like. We're comfortable with a good, competitive environment at the beginning, then we figure out our groove and just hope to take over."
Grapevine hung tough, keeping numerous kill-shots by the Lady Leopards alive, right down to championship point — a spirited rally between the two sides that spanned 30 seconds before senior Lauran Richards sent a hard shot careening off the Lady Mustang back row and to the back of the arena.
Richards finished with eight kills, while senior Rosemary Archer chipped in seven kills to go along with 15 assists in their final high school matches. 
The win capped Lovejoy's 2021 campaign at 42-6 and marked the third consecutive year that the Lady Leopards have swept the 5A state final.