GRAND PRAIRIE — Frisco Independence senior Brighton Mooney heard the footsteps early into her race at Tuesday's Region II-5A cross country championships, or at least the cheers that accompanied them.
Mooney did well to distance herself from the 172-runner pack early on in the 5K but had company — racing alongside Lovejoy sophomore Kailey Littlefield and junior Amy Morefield at the front of the group.
"Any time I turned a corner, I heard a Lovejoy fan yell, 'Go Amy, go Kailey!' All I'm thinking is, "Oh crap, I've got to keep pushing,'" Mooney said.
If those cheers started to fade down the stretch of Tuesday's race, it was only because of the distance Mooney had built between herself and the rest of the field. The Independence star, one season removed a 10th-place finish at regionals, came up big with a personal-record time of 17:51.15 to win the Region II-5A championship at Lynn Creek Park.
"This was the first time I've really been pushed in a race," Mooney said. "It's always tough running with Lovejoy and that sea of red. I felt like they were behind me the whole time … they're both really fast runners, but I felt like if I could just stay with them that I'd have that extra kick at the end to get past them."
Mooney finished 19 seconds ahead of a Lovejoy-heavy top five on Tuesday. The state's No. 1-ranked team in 5A again matched that billing — Littlefield took second at 18:10.42 followed by Morefield in third at 18:42.85 and sophomore Sara Morefield in fourth at 18:54.27. In total, the Lady Leopards placed their first five finishers within the top 13 with sophomore Peyton Benson taking 10th (19:19.54) and sophomore Kate Carlson logging 13th (19:28.86) en route to 27 points and a first-place team finish at regionals.
The top four teams and top 10 individuals not already on qualifying teams all punched their tickets to the UIL state meet, scheduled Nov. 5-6 at Old Setters Park in Round Rock. Only six schools from 5A advanced both their boy and girls teams to state, including Lovejoy and Frisco Wakeland.
While the Lady Leopards continued their resounding 2021 campaign, the Lovejoy boys captured a regional team title for the sixth consecutive year. They did so behind 43 points to outpace second-place Wakeland's 98.
The Leopards were led by a third-place finish from senior Tate Barr (16:03.94), while sophomore Nick Yarad (16:30.46, 10th place), senior Rohan Sharma (16:31.57, 11th), senior Riley McGowan (16:38.47, 12th) and senior Matthew Murray (16:44.01, 15th) all finished within 14 seconds of one another.
"I think our guys went out and ran the way I knew we could run," said Logan Kelly, Lovejoy boys head coach. "There were a couple off-days, but I felt like we did better overall with the points than I had expected coming in. I was really happy with the way they finished and how they competed."
Wakeland, meanwhile, accounted for the region's boys champion after a strong race by senior Natnael Enright at 15:36.41 to outpace the field by 26 seconds — his fourth win in his past five races.
"You could see early on that he was getting into his rhythm," said Marty Tidwell, Wakeland boys head coach. "When I got to that two-mile mark, he had separated about 20 meters from second place. You can tell by their face if the heat is bothering them, but he just kept grinding.
"You talk about a kid who back in middle school finished dead last in track in the mile-and-a-half. To see him grow and mature over the years has been pretty fun."
Enright and Mooney headlined a cast of 25 runners from Frisco ISD who secured state qualifications on Tuesday. 
The Wakeland girls made it out with a fourth-place team finish of 154 — just three points better than fifth-place Royse City — and were paced by a top-10 run from senior Chloe Smith (19:09.47, seventh place). Ditto for the Reedy boys, who raced to third place with 115 points on Tuesday, led by a second-place finish from senior Aiden Gonzalez-Rodiles (16:02.89).
Frisco senior Kevin Curry IV (16:17.60, sixth) and Liberty juniors Chance Moore (17:01.18, 23rd) and Andrew Jauregui (17:02.30, 24th) all notched individual qualifications to state.
The Colony will also make the trip to Round Rock after its boys team logged a fourth-place finish on Tuesday. The Cougars, bound for state for the first time since 2015, were paced by a fourth-place finish from junior Devon Judelson (16:09.56) and a 16th-place run from senior Dylan Judelson (16:46.64).
"Our motto this year has been 'believing and competing' and really stressing a positive mindset and a proper competitive mentality. We've been working on that all year," said Tony Doran, The Colony head coach. "These guys put in the work all summer and it's a very young group with just two seniors. They've been persevering all year and we knew it would come down to two, three and four, but these guys know that nothing is given out there. I'm really proud of the way they ran today and how they've competed all year."
Prosper Rock Hill will send a healthy contingent to state with five runners making the cut as individual qualifiers. That includes junior Gabriel De La O (16:20.67, ninth place), freshman Matthew Kasenic (16:56.55, 18th) and sophomore Logan Dellenbach (17:01.01, 21st) on the boys side and junior Lena Schmid (19:14.57, ninth) and senior Rees Van Voorhis (19:50.79, 21st) from the second-year program's girls team. 
Count McKinney North freshman Galilea De La Garza among that group as well. The lone freshman to finish in the top 15 on Tuesday, De La Garza's regional debut resulted in a sixth-place time of 19:08.45.
"We felt like everyone would go out super fast, so we wanted to make sure she was within striking distance of that front group within the first mile," said Jessica Richards, North head coach. "She does an excellent job of working her way up throughout the 5K, so leading into that second and third mile, it was all about just racing hard. When she came out of the woods, she had gone from about 15th into the top 10. She was right in the mix."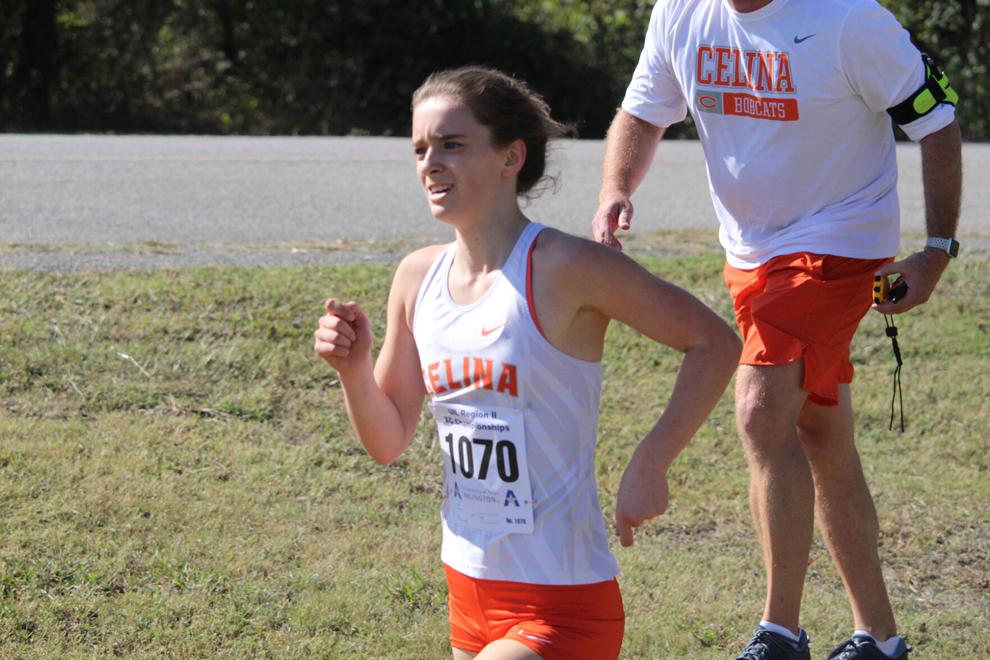 Celina defends regional crown
The Celina girls' pursuit of a 4A state championship remained on schedule following a first-place finish during Monday's Region II-4A meet.
The Lady Bobcats, ranked No. 2 in the state per the Cross Country Coaches Association of Texas, accrued 41 points to distance from second-place Sanger's 73. Those same two programs headlined the marquee 11 days prior at the 9-4A meet — a competition that saw Celina edge the No. 3-ranked Lady Indians, 32-37.
The Lady Bobcats enjoyed a bit more of a cushion on Monday, placing their top five finishers in the race's top 18. Senior Adele Clarke led the charge with a second-place finish of 11:01.91, followed by a third-place run from junior Alexis Frick (11:25.38). Freshman Samantha Quiroz landed in the top 10 in her first-ever regional meet after taking seventh (11:44.41), while sophomore Aimee Clarke (12:03.93, 15th) and senior Sarah Coblentz (12:08.03, 18th) also contributed to Celina's final tally.
"The girls followed through with the plan. We wanted to put five in the top 20 and we got five in the top 18 instead. That was the plan and the girls made us all proud today," said Eric Krepps, Celina head coach.
The Lady Bobcats look to replicate that success Nov. 6 in Round Rock — a stage they're plenty familiar with. Celina has finished as state runner-up each of the past two seasons, both times placing second overall to No. 1-ranked Canyon. The Lady Bobcats and Lady Eagles will cross paths once again next week.
"They've got a couple girls who can get out in front and so do we," Krepps said. "It's going to be between three, four and five to finish it. If we can pack up well, I think we can do it, but that's why you run the race. Everybody has to toe that line and show up that day. It's really exciting for our girls to have the opportunity to run at state again."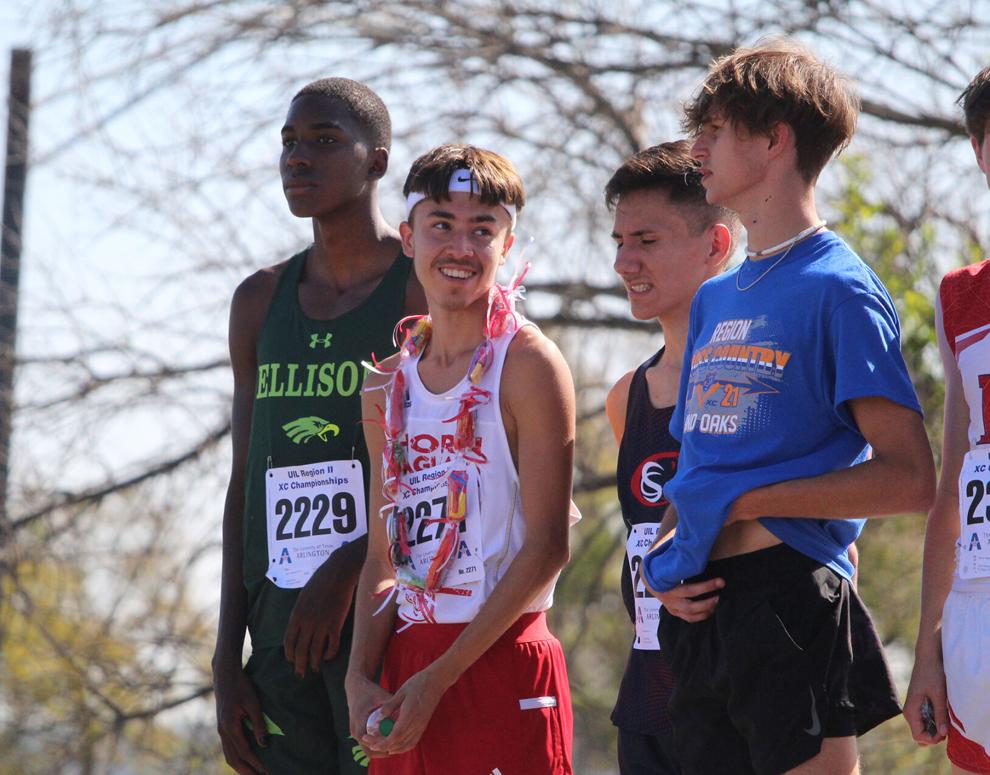 Horn's Villalva punches ticket to state
Mesquite ISD will have representation in the 6A state meet after Horn senior Alejandro Villalva made the cut as an individual qualifier during Monday's Region II-6A race in Grand Prairie. Villalva ran a 16:08.26 to place 15th overall.
Villalva began his postseason with a second-place run at the 10-6A meet on Oct. 15, clocking a 16:33.31. He helped the Jaguars to a second-place team finish at the district meet — on Monday, Horn finished 18th in the team standings. Joining Villalva in the top 50 at the regionals was senior Omari Sandifer, who raced to a 16:38.34 for 39th place.
Not far behind was Rowlett senior Jeremiah Evans in 46th place at 16:47.19. He headlined a 21st-place team effort by the Eagles. The Rowlett boys finished one spot ahead of rival Sachse in 22nd — the Mustangs were paced by senior Israel Garcia's 123rd-place time of 18:13.35.
On the girls' side, Mesquite senior Jadyn Dangerfield was the first MISD runner across the finish line. She took 50th overall after clocking a 20:25.30. 
Sachse, meanwhile, managed a 14th-place team finish for its girls squad. That lineup included four freshmen who ran on Monday, led by a 64th-place run from freshman Madeleine Herrera (20:48.78). Rowlett added 24th place as a team, led by sophomore Lyndi Bryan (22:48.51, 133rd).