McKINNEY — The elite of the elite separated from the pack early on during Friday's District 5-6A cross country championships.
Whereas those singular performances decorated the top of the leaderboards, it was strength in numbers that won out in the race for the league's two team championships.
The latest in several chilly mornings this week out in McKinney's Myers Park concluded with 5-6A championships hoisted by the Allen boys and McKinney Boyd girls, with runners from Prosper donning plenty of accolades as well.
"This is a special group of girls," said Keith Pierce, Boyd head coach. "We've got three seniors and we've always been really close to winning but just haven't been able to put it all together. Today, they ran really well and competed hard. It was really nice to see them pull it out."
With the top two teams and top 10 overall finishers all qualifying for the Region I-6A meet, scheduled for Nov. 10 at Mae Simmons Park in Lubbock, the Lady Broncos will be joined by second-place Prosper, which finished just four points behind Boyd in the team standings, 52-56. Denton Guyer earned the runner-up nod on the boys side, posting 54 points to trail Allen's 47.
"It's big. It's been a while for us, so when we started the actual season, I think winning our first meet shocked them a little bit," said Jon Cockroft, Allen head coach. "But I think that built a little momentum that we've been able to carry through the entire year and they've become more confident."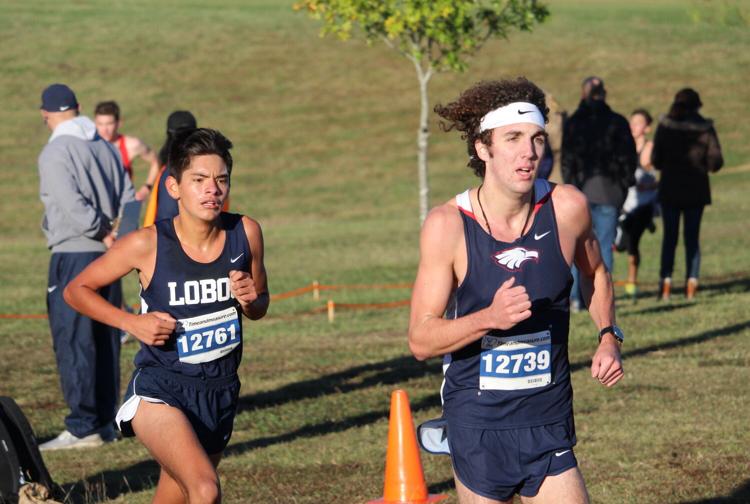 Although neither Allen or Boyd were within reach of the individual 5-6A title, the programs made up enough ground elsewhere in the standings. The Eagles and Lady Broncos were the only teams to qualify three runners in the top 10 of their respective 5K races — leading the charge for Allen was senior Matthew Jordan, who took third overall after running a 16:25.
He was joined in the top 10 by a pair of sophomores in Noah Green (16:41) and John Wallace (16:47).
"[Jordan] has done a great job. He's the one who has the most experience and has had the most success," Cockroft said. "Those guys got on his coat tails and followed his lead and work ethic."
Boyd, meanwhile, was paced by senior Kate Leonard, who also took third with a time of 18:38. Other Lady Broncos to crack the top 10 were senior Paige Maple (19:49, ninth) and junior Bella Evans (19:52, 10th) — both of whom entered Friday's race with times seeded outside the top 10 in the district.
"One thing about this group is that they're tough," Pierce said. "We've raced on some pretty difficult courses this year and I think they gained some confidence having already raced in difficult conditions. I think they look forward to it and I think that played in our favor today."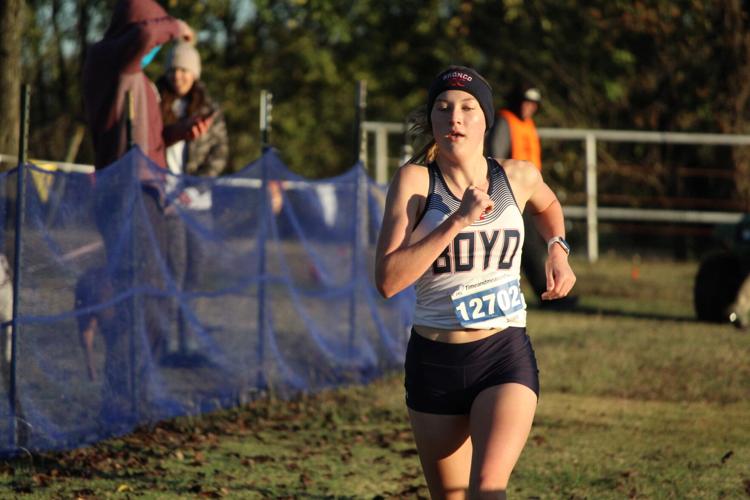 Prosper had plenty of say in the morning's festivities as well. Its sophomore tandem of Dawson Svoboda and Jack Johnston were neck-and-neck for the entirety of the boys race, finishing 14 seconds ahead of the pack. Ultimately, Svoboda turned it up late to edge his teammate with a 16:09, while Johnston placed second at 16:11.
On the girls side, Prosper junior Aubrey O'Connell cruised to a second-place finish after running a 17:58 but, like all runners in the girls 5K, played catch-up to Guyer national phenom Brynn Brown. The country's No. 4-ranked senior turned in a 16:46 for a lopsided district title win.
O'Connell was joined in the top five by teammate and sophomore Kate Parsons (19:27, fifth), while Allen freshman Mia McGlade (19:31, sixth) and McKinney freshman Tara Bouck (19:33, seventh) both punched their tickets to regionals as well.
Boyd sophomore Zach Martin also showed well on Friday, entering the race with the district's ninth-fastest 5K time and going on to finish fifth overall with a 16:31. Little Elm junior Jason Alcala booked his trip to regionals with a sixth-place run of 16:35, while Boyd junior Jack Morrissey also qualified with a ninth-place run of 16:44.
The competition only escalates from here, with qualifying runners bound for Lubbock for a Region I meet that includes eight teams ranked in the top 10 in either the boys or girls coaches polls by the Cross Country Coaches Association of Texas.
"It's the region of doom. Region I is so tough and there are so many good cross country programs out there," Pierce said. "The girls have been wanting for a long time now to make it out of the region and get to state, and I know they'll work really hard over the next couple weeks to get their minds ready to hopefully do that."