GARLAND — For the second consecutive year, and eighth time in its storied history, the Lovejoy volleyball team stood without peer on the UIL mountaintop. This time, however, the Lady Leopards made a little history along the way.
Lovejoy polished off the Dallas area's first-ever undefeated season in high school volleyball on Saturday, wrapping up a perfect 26-0 record with a 3-0 sweep of Fulshear (25-14, 25-17, 25-22) at the Curtis Culwell Center. 
The state-ranked Chargers, who captured a championship of their own at the 4A level last season, went the way of so many others who faced down the top-ranked Lady Leopards this year. Of Lovejoy's 26 wins, 24 came via sweep as the team dropped just two sets all season.
"You work so hard at your craft and you put so much time, energy and emotion and passion into it," said Ryan Mitchell, Lovejoy head coach. "It doesn't take that away if you lose, but when you win there's some added gratification about it all coming together. It's very humbling to have that hard work pay off."
LOVEJOY WINS STATE!!!!Grace Milliken hammers down match point to seal a 3-0 sweep of Fulshear. The Lady Leopards capture their 8th UIL state title and complete a perfect 26-0 season. Incredible! pic.twitter.com/KptlLGLPtu

— Matt Welch (@MWelchSLM) December 12, 2020
With a wealth of experience on the championship stage, the Lady Leopards wasted no time asserting control Saturday afternoon. Less than 10 minutes after the opening serve, Lovejoy already had Fulshear trailing by double digits. 
The Lady Leopards used a 9-0 in the first set, paced by some early offense from senior Cecily Bramschreiber and junior Grace Milliken, to stake the reigning 5A champs to a 13-3 lead. Lovejoy led by as many as 14 points in the opening stanza before sealing a 25-14 victory — a frame where the Lady Leopards totaled 14 kills to Fulshear's five and landed four aces to Fulshear's zero.
"We were very prepared. The girls knew what they were trying to do down to every last rotation," Mitchell said. "We've been working on that for the last four days in practice and we put forth a game plan that we executed probably better than any Lovejoy team ever has in the finals.
"When a team that's this talented executes to that level, you get the result you did today."
Bramschreiber was a constant all match long — leading all players with 13 kills along with nine digs and three blocks on her way to a second consecutive championship game MVP award.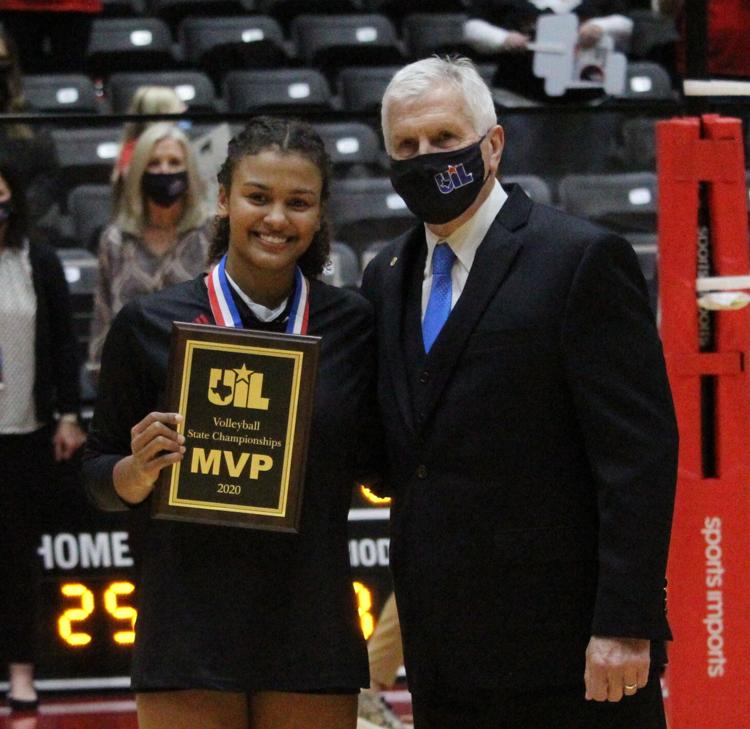 "She's an artist with the ball and can do anything she wants to do with it," Mitchell said. "She's a great, fiery competitor who's willing to do whatever she has to do for the team, whether it's hit hard, roll shot or tip — she finds the holes and exploits the other team."
"When they called my name, I was so thankful," Bramschreiber added. "My teammates were telling me that I'd get it, but we have so many studs on this team that it could have gone to. It just makes me that much more appreciative of the award."
That depth shined all year long, and Saturday was no different. Senior Ellie Jonke chipped in 10 kills, senior Callie Kemohah dug 16 balls, and junior Averi Carlson tallied 32 assists on top of three kills and two blocks. Lovejoy also benefited from an efficient outing from its middle blockers, Milliken and senior Lexie Collins — both of whom hit over .300 in the win.
Milliken (seven kills) accounted for set points in the first and third frames, while Collins (seven kills, four blocks) and sophomore Hannah Gonzalez (three blocks) turned in numerous key points at the net over the final two sets.
"Fulshear was so dominant at the pin, especially in three areas. They have some big, physical kids, but we thought we could win the middle matchup today," Mitchell said. "We thought it was important to be able to pass well enough to get those middles involved.
"… Middles were one of the main areas we were trying to key in on and we did an amazing job."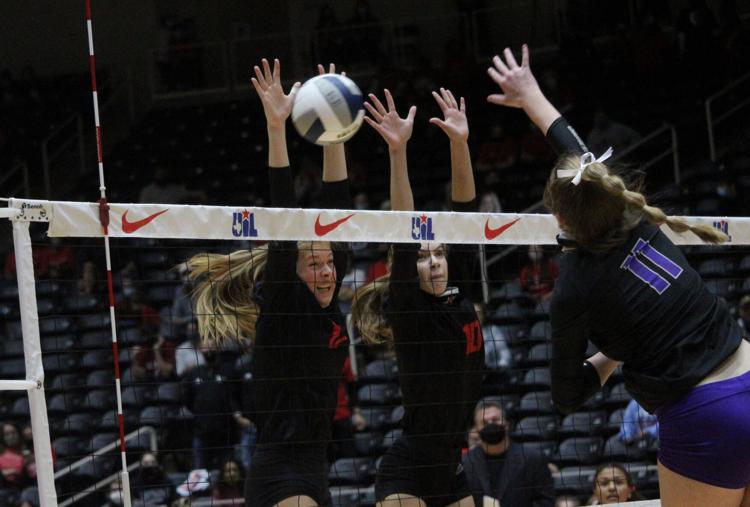 Fulshear was paced by 11 kills from Ellie Echter and 10 from Brielle Warren — a duo that helped keep the Chargers game for much of the third set. That frame featured eight ties, the last coming at 10-10 before Lovejoy strung together a 6-1 run thanks to kills by Bramschreiber, Jonke and Milliken to seize control.
That carried over into the match's waning moments, as Bramschreiber delivered a hit that was initially dug by the Fulshear defense. The ball careened right back to Bramschreiber, who offered another emphatic swing to put down the kill and send the Lovejoy crowd into a frenzy as the team swelled its lead to 23-19.
The volume further amplified one point later after a block from junior Rosemary Archer – the team's ninth total rejection of the contest. Following a string of three straight points by Fulshear, Carlson found Milliken for a quick set over the middle that was promptly hammered off the hardwood for championship point — the second straight year the Lady Leopards have swept their opponent in the state championship game.
"It's a great moment. I'm speechless right now thinking of a program that had to kind of start over with coach Ryan coming in with new players and a whole bunch of seniors on the team," Bramschreiber said. "I think it's a great feeling to be able to start from scratch and do it all over again."