For the first time since opening its doors back in 2012, the Allen football team tasted defeat inside Eagle Stadium.
The state's longest regular-season winning streak went up in smoke on Friday at the hands of state-ranked Atascocita, which caught fire late in the first half and went on to outscore Allen 21-3 over the final two quarters en route to a 41-20 victory.
Allen had won its previous 84 regular-season games — a streak that dated back to October 2012 and began with the first start at quarterback of alum Kyler Murray's career. The Eagles' home winning streak predated that mark — Allen had won 122 straight games inside its $59.6 million venue, which began Aug. 31, 2012 with a 24-0 shutout of Southlake Carroll.
To go back even further, Friday's loss was the first time since September 2008 that Allen had suffered defeat by double digits — that occurrence last came in a 24-14 loss to Euless Trinity.
But streaks are made to be broken, and Atascocita made its push after falling behind 17-7 with 2:48 remaining in the second quarter. Sophomore quarterback Mike Hawkins found junior Steven Gorski for a 41-yard score to stake Allen to a double-digit lead before Atascocita answered with 13 straight points before halftime.
Quarterback Gavin Session found Chase Sowell for a 35-yard score, and following a lost fumble by Allen, that same Atascocita quarterback-receiver combo struck again on a 29-yard touchdown on the final play of the half for a 20-17 lead at the break.
Atascocita carried that momentum into the third quarter. Session found Sowell once again for an 8-yard touchdown and Tyras Winfield scored on an 8-yard run to sink Allen into a 34-17 hole with 9:18 remaining in the fourth quarter.
Allen's lone counter came on a 39-yard field goal by senior Caden Williams with 7:50 to go before Atascocita found the end zone one last time on a 1-yard run by Session for the game's final points.
Atascocita totaled 618 yards against Allen, with Session leading the charge. The quarterback threw for 300 yards and four touchdowns and ran for 117 yards and an additional score. Sowell caught seven balls for 182 yards and four touchdowns.
Allen tallied 386 yards in the loss. Hawkins posted 243 yards and two touchdowns but committed a pair of turnovers, while senior Jordyn Tyson hauled in 11 passes for 133 yards and a score.
Allen, now 1-1 on the season, looks to right the ship at 7 p.m. Friday back home against Cedar Hill.
Panthers can't keep pace with high-powered Lake Highlands
For the second consecutive game, Plano East found the end zone on its opening drive. Senior Ismail Mahdi did the honors, scoring on a 2-yard run for a 7-0 lead on visiting Lake Highlands.
The Wildcats struck back with a run of 31 consecutive points — a stretch that doomed the Panthers on their way to a 55-24 loss in their home opener Friday at Kimbrough Stadium.
Much like East's 56-30 setback against Allen the week prior, two explosive run games were on display on Friday. Mahdi ran the ball 22 times for 194 yards and two touchdowns and added three catches for 61 yards and a score.
Lake Highlands' Noelle Whitehead was plenty potent in his own right — tallying 241 rushing yards and three touchdowns on a night when the Wildcats averaged more than 9 yards per carry as a team. Whitehead found the end zone on runs of 39 and 11 yards in the first quarter to give Lake Highlands a 14-7 lead that only swelled as the game wore on.
Whitehead scored for a third time on a 44-yard run midway through the second quarter, and quarterback Caden Dotson found Jeremiah Richards for a 44-yard touchdown to stake Lake Highlands to a 31-10 halftime lead.
Mahdi helped pull the Panthers within two scores by the end of the third quarter at 38-24, catching a 49-yard touchdown from sophomore quarterback Drew Devillier and running another in from 29 yards out, but East ran out of gas with a scoreless fourth quarter.
The Panthers, 0-2, seek their first win of the season in their non-district finale, set for 7 p.m. Friday on the road against Wylie.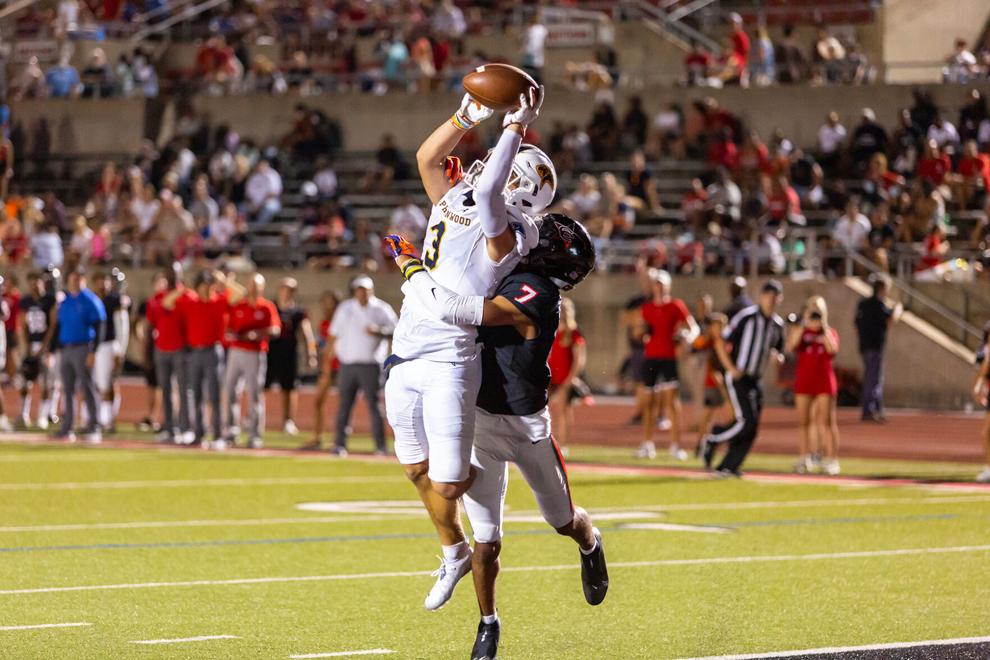 Prestonwood distances from Coppell
Coppell was unable to build on a halftime lead Friday as Prestonwood Christian erupted for 24 third-quarter points to hand the Cowboys a 55-41 non-district loss at Buddy Echols Field.
The loss spoiled a four-touchdown, 143-yard performance by Coppell's Blake Robbins.
The Lions' third-quarter explosion came after the Cowboys (1-1) had posted 21 points in the second quarter to come alive offensively and take a 21-17 halftime lead.
The only points of the first quarter came courtesy of a Prestonwood field goal.
The Lions outgained the Cowboys 504-428 on the night, and while Coppell's rushing attack totaled 215 yards compared to Prestonwood's 123, it was three interceptions by the Cowboys that proved to be the difference on this night.
Senior Dylan Nelson, who was coming off a 246-yard performance receiving-wise in Week 1 against Sachse, caught seven passes for 98 yards and also rushed four times for 50 yards. Zach Darkoch had three receptions for 80 yards and a score.
Coppell quarterback Jack Fishpaw completed 14-of-29 passes through the air for 213 yards and also rushed for 22 yards on five totes with two total touchdowns.
Prestonwood quarterback Maguire Martin was brilliant, completing 21-of-30 passes for 381 yards with five touchdowns.
The Lions also received big receiving performances from Derek Eusebio (143 yards, two TDs) and Nate Stafford (110 yards, two TDs).
Coppell will look to bounce back Sept. 10 against Highland Park. Kickoff is set for 7 p.m. at Buddy Echols Field. It serve as the final non-district game for the Cowboys.
-David Wolman