For all the adjustment and uncertainty that encompassed the UIL's 2021 wrestling season, the end result was a familiar one on Saturday at the Berry Center in Cypress.
Allen added one more championship chapter to its dynasty on the mats with a 12th consecutive state title. And even though the outcome dealt the Eagles the closest call of their decade-plus reign, Allen still made history on Saturday as its boys were joined in celebrations by the school's girls team, which captured its first state title ever.
The first-ever sweep of the state team titles in UIL wrestling history, Allen's boys posted 169 points to outlast a game effort from second-place Arlington Martin at 151, while the Lady Eagles tallied 81.5 points to best Katy Tompkins' 66.
"We've been putting in a lot of hard work. Our coaching staff has put in a lot, we've had some girls come up through our youth club and some others who came out. Everything just came together for them Friday and Saturday," said Jerry Best, Allen head coach. "It was a really exceptional thing, a great experience for the kids and a great thing for our program to have both win the state championship at the same time."
There wasn't a wrestler whose contributions went unnoticed for Allen. Of the 14 student-athletes who made the trip to Cypress between the Eagles' boys and girls teams, all performed well enough to score points and boost Allen up the standings.
"We talked about going into the tournament how every point was going to count," Best said. "Our kids went out and wrestled hard the entire time they were on the mat and it paid off for us."
That included 12 athletes who cracked the top six in their respective weight classes, eight who medaled top three, and five who captured individual state titles. Senior Braxton Brown's championship at 120 pounds came in historic fashion, becoming just the fourth boys wrestler in UIL history to win four individual state titles in high school. He joins Allen alums Nick Cobb, Braeden Redlin and Alexandria Liles as former Eagles to accomplish that feat.
"[Brown] deserves every accolade he gets. He's a great kid and a great wrestler," Best said. "He's been in our program since he was about 4 years old. Being a four-time state champ doesn't come easy and he's been fortunate to not have any serious injuries along the way. It's great for him to end his career that way, especially under the circumstances of this season."
Brown got his run started as a freshman back in 2018 — a path that freshmen Joseph Liescheski and Jasmine Robinson could one day follow after going undefeated in their inaugural varsity campaigns. Liescheski scored a state title at 106 pounds while Robinson polished off a championship win of her own at 148.
"They both kind of came out of nowhere," Best said. "Those around the program knew they were exceptional but they hadn't really made names for themselves throughout the state and nation. Their names will definitely be on those radars now after going undefeated as freshmen."
Junior Eliana Martinez, meanwhile, scored a measure of redemption after placing fifth at state last season. She needed less than three minutes total to pin her semifinal and finals opponents this time around, capturing the championship at 102 pounds.
"Last year was real disappointing to her, but she turned around and worked real hard to get to this point," Best said. "The team gelled together really well this year especially, and I think that helped a lot of the girls do better than they did last year. It's exciting to see her win a state title because she puts a lot of effort into it."
Best praised junior Kade Moore for a similar resilience after earning second and third at state during his first two years on varsity. Moore broke through with an unbeaten junior campaign, culminating Saturday with a win at 132 pounds.
"He was disappointed getting second and third the last two years and that really motivated him to put in some extra work for this year," Best said. "He traveled around and did some camps late in the summer and the fall and trained with some really quality guys. He turned up his work ethic with us, too, and it paid off going undefeated and scoring bonus points in all his matches at state. He became a very dominant wrestler for us this year."
Allen's state medal count included second-place finishes by sophomore Ryan Nichols at 170 pounds, plus seniors Isaiah Steel (220) and Emmett Bivens (285), while junior Mario Danzi placed fourth at 152 and junior Caden Garcia finished sixth at 132. On the girls side, junior Tabiah Walwyn-Ton (110) and freshman Esther Peters (215) took fourth in their respective divisions.
Only three of the Allen boys' qualifiers will graduate, while the Lady Eagles are projected to return all four of their state competitors for next season.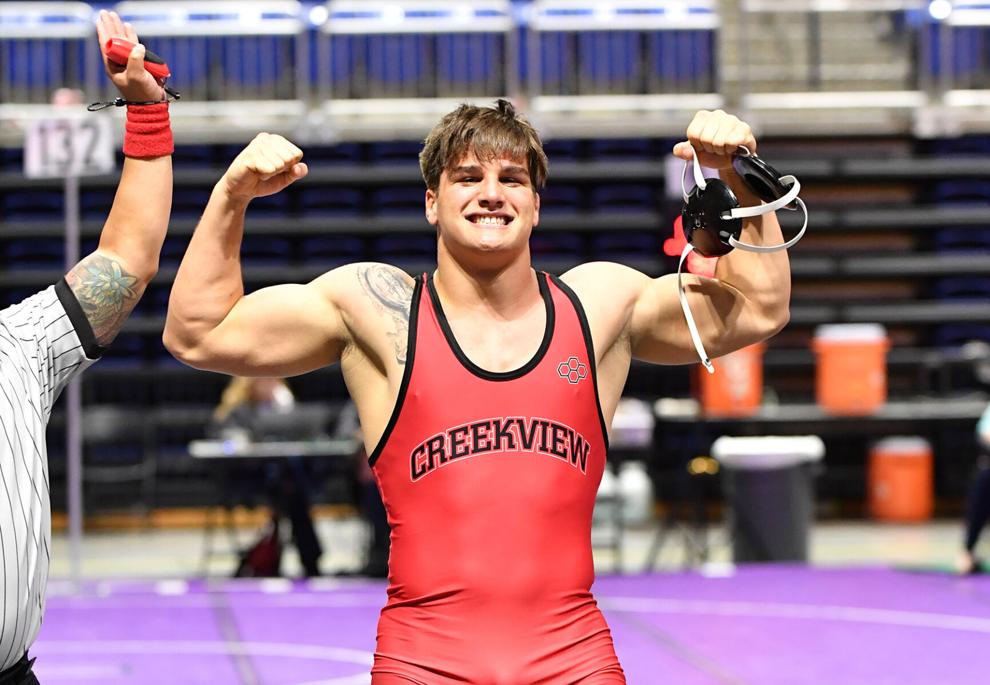 Creekview, Turner turn in strong meets
The Creekview boys and RL Turner girls wrestling teams finished their respective seasons among the best in Class 5A. The Mustangs, one year removed from a third-place team finish, took fourth overall on April 23 while the Lady Lions submitted a sixth-place effort on the girls side.
"I was very proud. The kids did a great job to get there and it was really good for them to finally get a chance to compete at the state tournament," said Sean Kitchen, Creekview head coach. "Missing out of that would have been tough, so it was great to see them excel this year."
The Mustangs were once again led by the one-two punch of junior Conrad Hendriksen and senior Mason Ding. The two reigning state champions carried unbeaten records into the state meet and lived up to that billing — Hendriksen won a state championship at 113 pounds and Ding closed out his high school career on a winning note by winning gold at 220 pounds.
"They outwork everybody. The message after last year was staying humble and continuing to outwork people — whether it's working hard, putting in those extra practices and early-morning lifts," Kitchen said. "They had to stay consistent with everything they do, right down to their diets and exercise routines. That confidence builds with their work ethic."
Ding punctuated his tournament with a 45-second win in the finals to become a two-time state champion for the Mustangs.
"He set the bar — two years in a row undefeated and pinning his way through pretty much all his opponents," Kitchen said. "The only way to go up from there and is to be our first three-timer and that's something that Conrad has a chance to do now."
Creekview sent two other wrestlers to the podium. Junior Nicholas Berumen placed fourth in the 126-pound bracket and senior Connor Morin finished sixth at 152.
All three Carrollton-Farmers Branch ISD schools had at least one medalist at state. Turner's girls were paced by a pair of bronze medals won by seniors Kelly Reyes and Mia Uvaldo at 95 and 102 pounds, respectively, while junior Kenia Gonzalez took sixth at 110. Newman Smith senior Daniel Ocampo finished his high school career donning a medal as well, placing third at 285.
Plano West, Prosper wrestlers win gold
Plano West has enjoyed its share of success at the state meet in recent years, including a pair of top-five team finishes in 2020. The Wolves had some more history this time around, as senior Tagen Jamison became the first wrestler in Plano ISD history to win multiple state championships.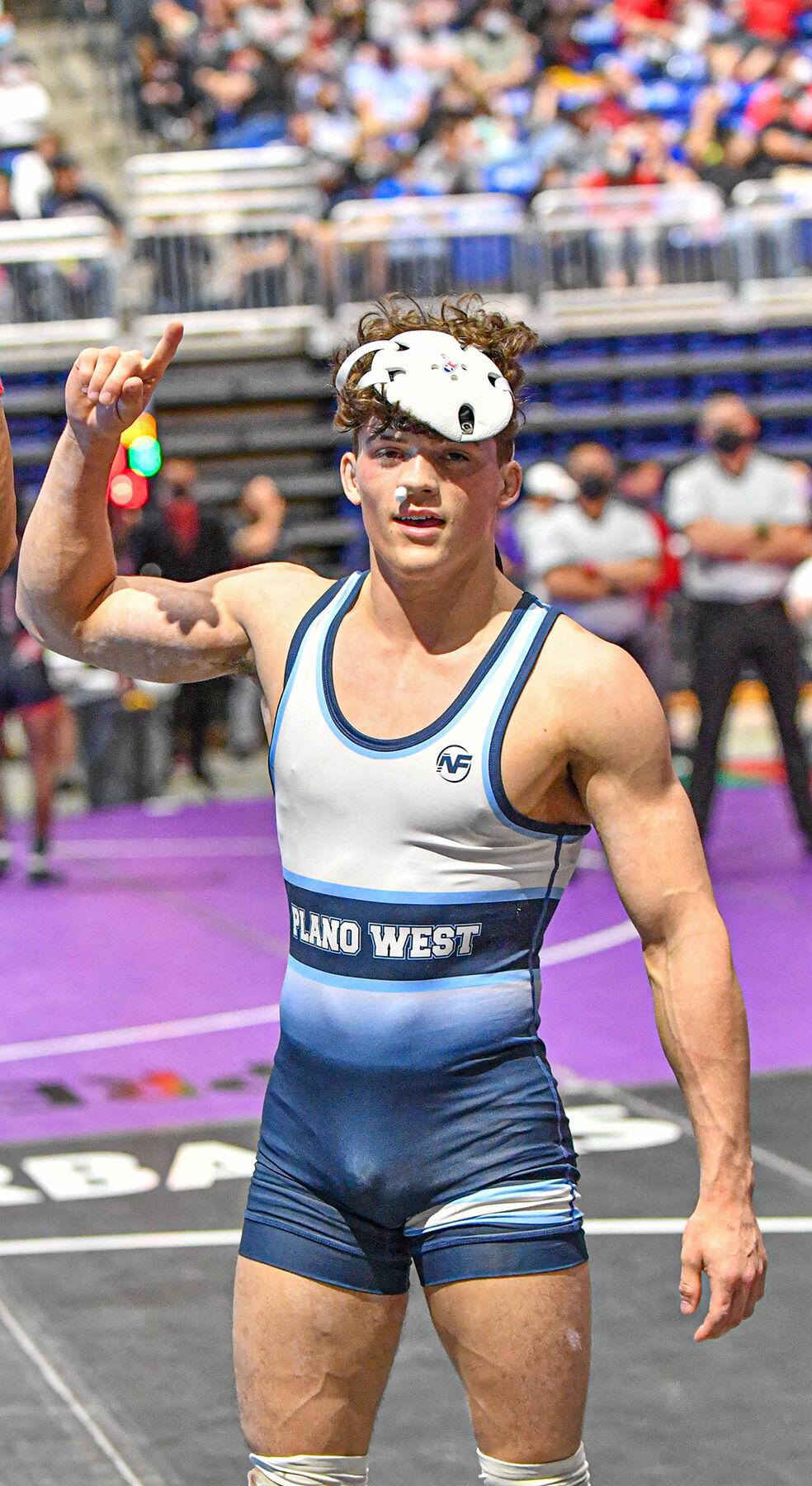 After capturing a state title at 132 pounds as a sophomore, Jamison capped his high school career on a winning note Saturday by winning the 138-pound bracket at state. A four-time state finalist, Jamison went unbeaten as a senior.
Senior Devin Patton and junior Farid Mobarak joined Jamison on the medal stand after placing second in their final high school meets of the season. Patton, a state champion in 2020, added another medal to her ledger by taking silver at 128 pounds, and Mobarak finished runner-up at 182.
Jamison and Mobarak contributed to 47 points and a sixth-place team finish for the Wolves — one spot below Prosper, which tallied 53 points. Senior John Richardson highlighted that effort, punctuating an unbeaten season of his own a lopsided decision win in the 160-pound finals to win his first state title.
Senior Chase Parham (195 pounds) and sophomore Joseph Richardson (120) also cracked the top six for Prosper, finishing second and sixth, respectively. On the girls side, junior Taylor Martinez took second at 138 pounds.
In the 5A meet, Lovejoy finished sixth overall on the boys side with 57 points. In total, the Leopards had five wrestlers competing at state, headlined by a championship at 195 pounds for senior Jakob Underwood. After suffering his first loss of the season the week prior at regionals, Underwood rebounded to win three of his four matches at state via pinfall.
Sophomore Jackson Lambert (106) and junior Austin Blair (220) both placed sixth at state, while junior Avery Ashley cracked the medal stand with a third-place finish on the girls side at 110 pounds. Senior Charis Vela took fourth for the Lady Leopards at 102 pounds.
Lewisville ISD also had a contingent of wrestlers competing at the 6A level at state. On the boys side, Lewisville senior David Adegbenro won a sudden victory in his opening-round bout before suffering a pair of losses, while Marcus senior Jeremy McPherson fell short in both of his matchups. 
Lady Farmer senior Elyse Nelson and Flower Mound junior Poorna Babu were bested in their two respective state contests as well.