ROUND ROCK – Allen sophomore Anna Reysa made sure that her senior teammates wouldn't have to relive another overtime in the regional finals – or be late to prom Saturday night.
Already mired in a 110-minute delay due to inclement weather during the morning, and playing three hours south of Allen, the Lady Eagles at last cracked the stingy Rockwall-Heath defense with a 78th-minute goal from Reysa to take a 1-0 victory at Kelly Reeves Athletic Complex and book a trip to the UIL state tournament for the first time since 1998.
"I knew that it was getting late in the game and our seniors have prom tonight," Reysa said. "They wanted to get home as soon as possible, and after losing to Marcus last year, we weren't about to let it go to overtime again.
"We wanted to come back and redeem ourselves, so as soon as I got that ball, I knew I had to put in the back of the net."
Competing in the regional finals for the second consecutive year, any notions of reliving last season's 3-1 overtime loss to Marcus were put to rest with 2:23 remaining in regulation. Sophomore Ashleigh Williams sent a ball into the box for Reysa, who avoided a pair of Heath defenders and sent a shot low, past the outstretched arms of rangy Lady Hawks keeper Savannah Hall and to the back post for the match's lone goal.
"Before the game, we were told that their keeper was very good out of the air, so we had to put it on the ground so she had a tougher time," Reysa said. "She's obviously a very good keeper."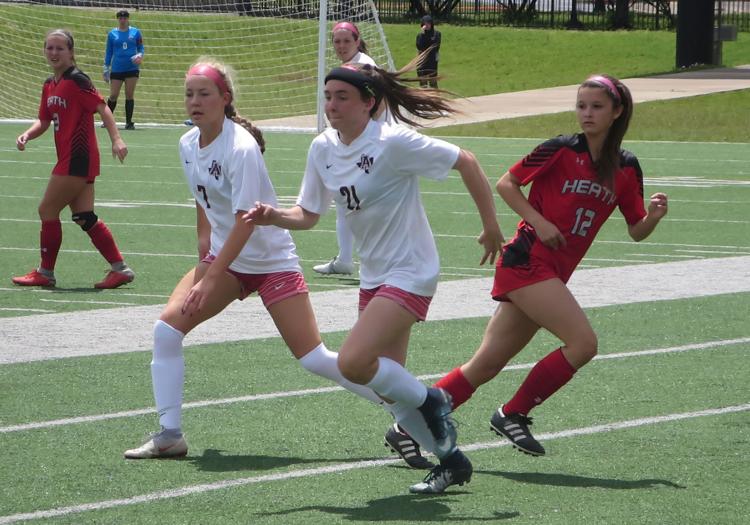 With only two minutes and change to muster an equalizer, Heath had a free kick headed from Reysa to Williams, who controlled the ball until time expired as celebrations ensued for the District 9-6A champions. 
"That was amazing. It maybe wasn't our best game, but we didn't stop fighting," said Kelly Thompson, Allen head coach. "The wind, rain, lighting and all the elements came into play, but the girls stayed focused and got the job done. Anna Reysa stepped up to finish in the box late and that was just amazing composure."
Although Reysa's goal proved the signature moment in Saturday's regional final, the Lady Eagles didn't lack for opportunities beforehand. Allen put six shots on goal to just one for Heath, including a boomer from senior Jordan Colbert that deflected off the crossbar in the 37th minute and another off a Colbert corner kick that was headed by junior Haylee Spray in the 63rd minute.
"Sometimes in the game of soccer, it just doesn't come," Thompson said. "So you always worry that might be the case, but I have so much faith in these girls and we have some tremendous finishers. If we keep shooting and keep playing our game, we feel like we'll eventually get one, and we sure did."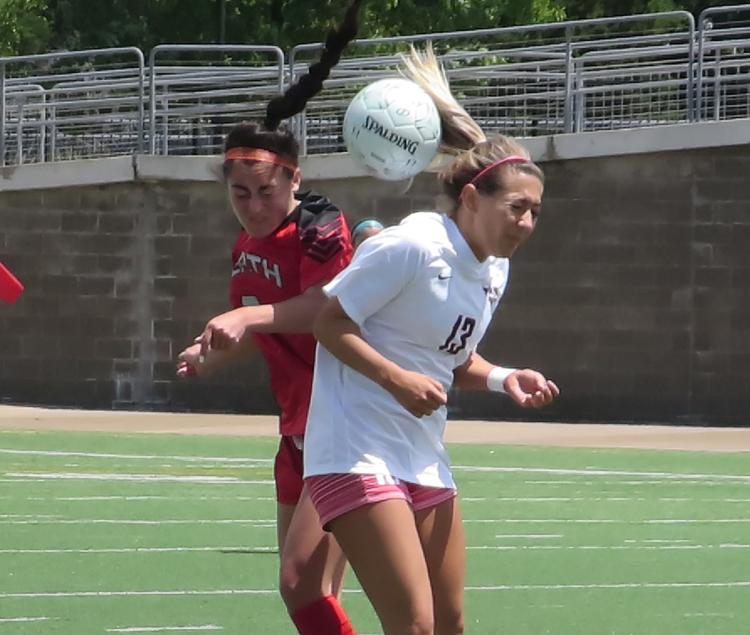 Having a back line and goalkeeper that have helped post four consecutive clean sheets helps as well, and Saturday was business as usual for the Lady Eagles' defense – despite an injury to sophomore Cassie Taylor in the regional semifinals one day prior against Vandergrift. Senior Claire Carney drew the start on Saturday and, alongside fellow seniors Maddison Williams, Elizabeth Moreno and Addie Tate, limited the Lady Hawks to just one shot on frame for senior goalkeeper Jennifer Peters – a fifth-minute cross for a Mackenzie Stricklin header that was immediately snuffed out by the Allen netminder, who previously dove to break up a cross in the match's first 30 seconds.
"[Carney] played a great game and the whole unit played well, and you can always count on Jen Peters to come up with great saves when she needs to," Thompson said.
It's a formula that has helped the Lady Eagles outscore their five Region II-6A opponents, 17-1, and now has the program bound for Birkelbach Field in Georgetown and a spot among the state's final four in Class 6A. The state semifinals commence at 9 a.m. and 12:30 p.m. Friday.
"It's very exciting and something we've talked about all season," Reysa said. "We've had our peaks and valleys and now to be able to make it to our end goal, which is to not just be there but to win – hopefully we can do that next weekend."
The win was particularly emotional for Thompson, a 2004 Allen graduate and soccer program alum now in her first year coaching the Lady Eagles. Hired after a successful stint on the private school pitch at Ursuline, Saturday's victory resonates on a different level for both the head coach and the program as a whole.
"For me as a (former) player, I remember the regional finals at Allen," Thompson said. "I know last year's team did the same thing and all they wanted to do was make state, so this is the greatest feeling ever to do it for my teammates, previous players and everybody.
"We fought for a long time to get here, so it feels really good."