JUSTIN – Four more tickets to the Division I 7-on-7 state tournament were punched on Friday at a state qualifier at Justin Northwest.
That cast included Coppell, Frisco, Denton Guyer and Cedar Hill – all of whom turned in standout showings among the event's 32-team field, clad in Metroplex programs fine-tuning chemistry within their skill-position ranks as the offseason grind continues.
With only two more weeks of state-qualifying tournaments remaining before the Division I state tourney commences June 28-29 at Veterans Park and Athletic Complex in College Station, here are some observations on a few of the local programs in action last week in Justin.
Consistent as they come
Few programs in the Dallas area have enjoyed a run as steady in 7-on-7 action as Coppell, now having qualified 11 of the past 13 years after going unbeaten in four games played on Friday.
The Cowboys had their way with Pool D, winning all three contests by at least 13 points and doing so with quarterback Drew Cerniglia out of town. In the signal-caller's place was Jesuit transfer Kevin Shuman, who helmed a versatile Cowboys passing attack to an average of 41 points per game at Friday's SQT.
Coppell needed every last one of those points in a 50-34 shootout win over John Paul II, scoring on all but one possession to fend off a tall, athletic Cardinals receiving corps.
"They had a pretty accurate quarterback and that made it pretty hard to slow down," said George Teague, John Paul head coach. "That was a very proficient offense. We knew going in that it was going to be a high-scoring game after watching them beforehand and figured it would be hard to stop them, but we had some mistakes as well."
The Cowboys had their own answer for much of the day, with rangy pass-catcher Anthony Black on the receiving end of numerous Shuman touchdown passes.
Defeating the Cardinals capped a pool run that included wins over Saginaw Chisholm Trail (48-34) and Lake Dallas (33-20) before the Cowboys edged Trophy Club Byron Nelson in the semifinals, 33-28, to book a third consecutive state tournament berth.
Surprise, surprise
Before Friday's SQT even began, perhaps the tournament's most head-turning entrant was Frisco.
Not just because of the Raccoons' dearth of 7-on-7 history – only having qualified for state one time (2004) – but because Frisco ISD's eldest high school has been perennially among the area's most run-heavy programs.
For at least one day, Frisco traded in its wing-T offense for 7-on-7's six-receiver spread attack and was among the event's biggest surprise performers. The Raccoons, embarking on their first year under new head coach Jeff Harbert, turned in an unblemished run of their own that included wins over Southlake Carroll (20-19), Justin Northwest (37-8), McKinney (48-13) and Sherman (32-27).
Frisco's performance against a Carroll team that had already qualified for state at a prior tournament, was enough of an eye-opener, but set the tone for a defensive-minded morning for the Raccoons. In four games, Frisco held opponents to just 16.8 points – chief among that effort coming at the end of the Carroll game when the Raccoons denied a go-ahead two-point conversion in the matchup's closing moments.
Oh so close
For the second straight SQT, John Paul II looked the part in holding its own against UIL competition on the 7-on-7 gridiron.
Two weeks removed from a 3-1 run at the Blue Raider SQT in Hurst, the Cardinals showcased one of the premier offenses of any squad in action on Friday, averaging 39.3 points behind the likes of quarterback Grayson James and receivers Jerand Bradley, Donavon Johnson and Jordyn Tyson.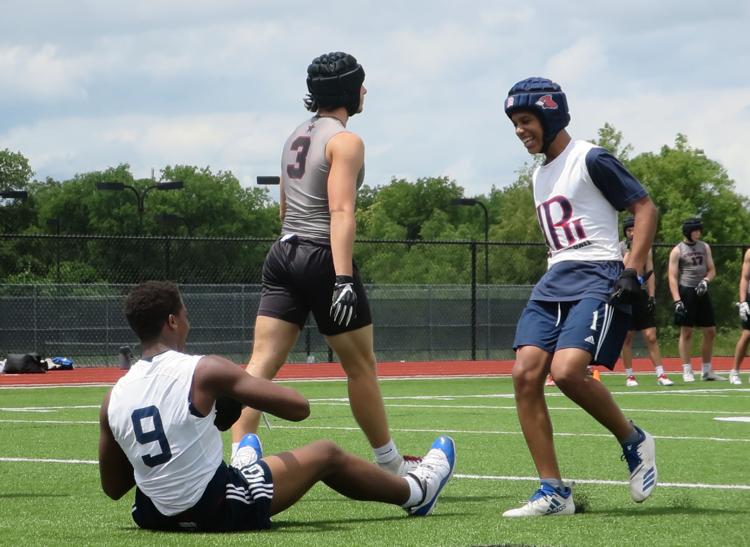 That side of the ball afforded the defense more than enough cushion in lopsided wins over Lake Dallas (40-12) and Saginaw Chisholm Trail (44-28) before running into a surging Coppell bunch to conclude pool play.
"I can't compliment Grayson James enough on his ability to understand what to call and know which guys to hit," Teague said. "We weren't forcing things anywhere. If teams were trying to double team Jerand or Donavon, it didn't faze Grayson at all and he'd find someone like Jordyn."
Although John Paul piled up more points than any of the Cowboys' four opponents, the Cardinals fell into a two-score hole after allowing consecutive touchdowns to end the first half and begin the second half.
John Paul chipped away to close the gap to 36-34 late but surrendered two unanswered scores to fall short of a comeback and conclude the day at 2-1.
Teague added that senior Lawrence Thiele turned in a strong tournament on defense, calling the Cardinals' secondary coverages.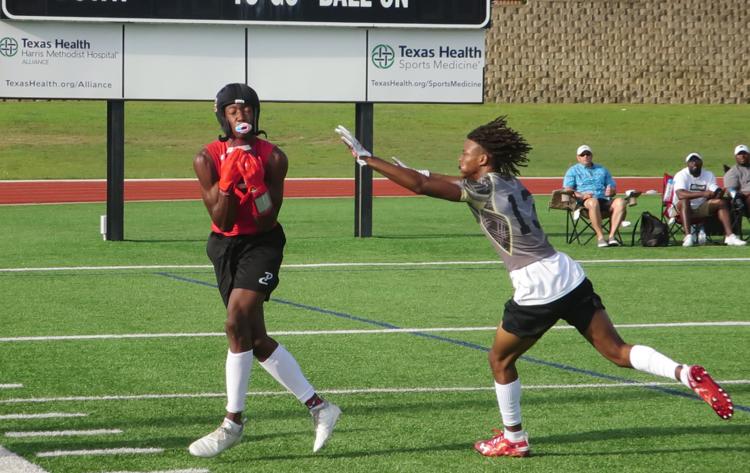 No let-up from Lovejoy, Marcus
Although Marcus and Lovejoy were among five teams in action that had already locked up state tournament berths earlier in the summer, neither the Marauders nor the Leopards rested on their laurels – both posting unbeaten records on Friday.
The Marauders, buoyed once more by the quarterback-receiver connection of Garrett Nussmeier and J. Michael Sturdivant, posted wins over Keller Fossil Ridge (34-14), White Settlement Brewer (40-20) and Arlington (41-40) to finish atop Pool A, while Lovejoy made short work of Crowley (32-6) and Sherman (54-20) before ousting Waco Midway (32-27).
Overall, the Leopards sit at 6-1 in 7-on-7 SQT competition, while Marcus owns an 11-2 record after participating in four qualifiers. 
Steady gains for Falcons, Lions
Two programs making their respective SQT debuts for the summer were Lake Dallas and McKinney, both finishing with 1-2 records in pool action.
The Falcons' morning was one of gradual gains, beginning the day with a 40-12 loss to John Paul II, followed by a 33-20 setback against eventual state qualifier Coppell, and concluding the festivities with a 28-20 win over Saginaw Chisholm Trail.
Working in a bevy of new skill-position players, Lake Dallas leaned on Brandon Engel for its quarterback work during Friday's SQT, with players like Kobee Minor among the team's top pass catchers.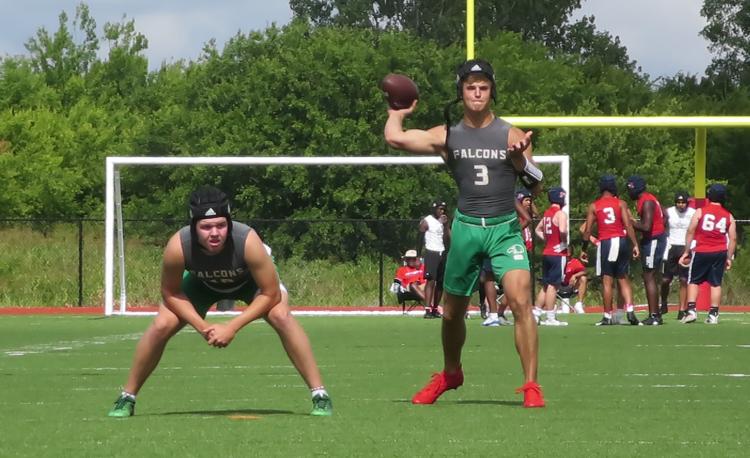 McKinney, entering its second offseason under head coach Marcus Shavers and tasked with breaking in a litany of new skill players, rode the arm of Seth Cox and a slew of key stops on defense to a 26-13 win over Justin Northwest in its first game of the morning before being tripped up by Southlake Carroll (41-14) and Frisco (48-13).
Those teams, plus any others who fell short of qualifying on Friday, still have opportunities left before state with remaining SQTs set for Saturday in Hurst with the HEB Classic and June 21 in Rowlett.