McKINNEY – For the third consecutive year, Liberty and Lovejoy squared off in the regional quarterfinals, and for the third straight season, there was the same result.
Despite a ferocious rally by the Lady Redhawks to force a fifth set, the No. 1 state-ranked Lady Leopards were just too much and held on for an exuberant victory (25-16, 22-25, 25-15, 32-34, 15-12).
It was the second time in the past three playoff meetings between the two to require five sets to determine a winner in what proved yet again to be another postseason classic.
"We shouldn't be matching up this early," said Ryan Mitchell, Lovejoy head coach. "I knew this was going to be a knock-down, drag-out fight. If you can't get excited about volleyball tonight then you're going to have a hard time getting excited about it."
The defending state runners-up seemed to be out for the count after it squandered multiple chances to put Liberty away in a fourth set that required a whopping 34 points to decide a victor. The wild frame featured ferocious back-and-forth action, including 14 ties and nine lead changes, as the two juggernauts slugged it out in dramatic fashion.
After losing to Lovejoy by 10 in the third game, the Lady Redhawks bounced back and soared ahead by as many as five in the fourth with a 13-8 advantage following kills by senior Kyla Crawford and freshman McKenna Gildon.
However, Lovejoy quickly erased that deficit and eventually reeled off seven points in a row to grab a commanding 20-16 lead, which then shifted to 23-20 moments later.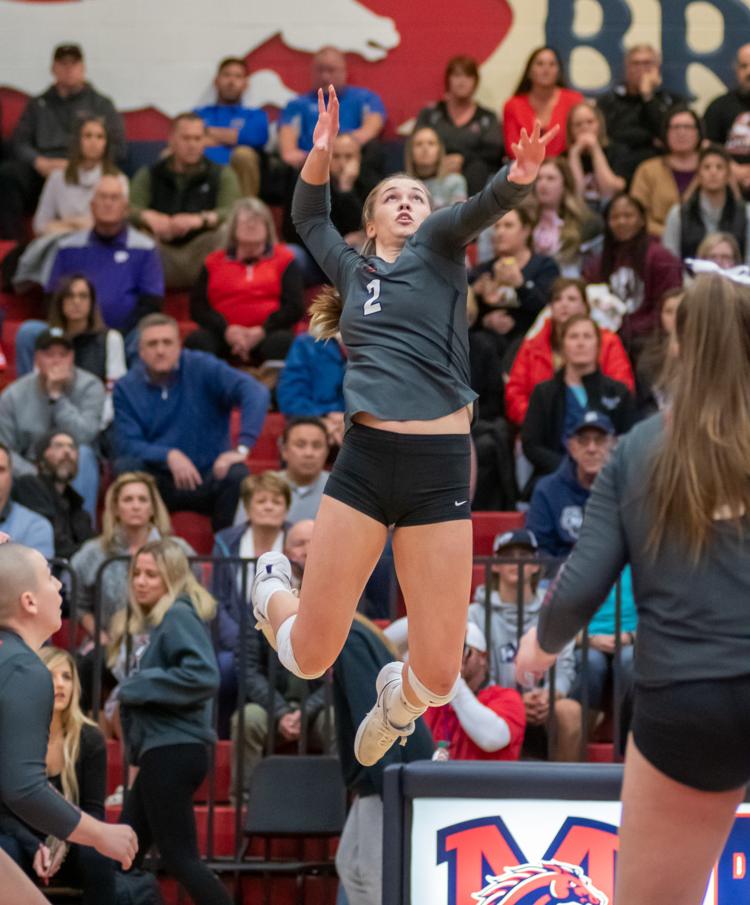 With its stellar season on the line, Liberty refused to go down as Crawford spearheaded a 4-0 run to put the Lady Redhawks back in the driver's seat to force a fifth game.
What ensued was pure madness with both sides exchanging dazzling digs and thunderous kills, as neither team succeeded in compiling three points in a row until Liberty senior superstar Jenna Wenaas, who finished with a game-high 27 kills, added the finishing touches with a monster kill to secure to the 34-32 triumph.
"Jenna continues to shine, and there's nothing else to say," said U'iLani Womble, Liberty head coach. "She always has been that kid, and she put the team on her back tonight.
"But that fourth game was nuts and out of control. I really thought that once we managed to get that fourth game then we had it, but I also knew Lovejoy wasn't going to just let us have it."
And Womble was right, as Lovejoy flexed its muscle in the fifth set despite falling behind early, 4-1, after more big-time plays from Crawford and Wenaas to force a Lovejoy timeout.
A collective effort from Lady Leopard standouts in sophomore Averi Carlson and juniors Brynn Egger and Cecily Bramschreiber led the charge on a suffocating 9-0 run to give Lovejoy a 10-4 lead it would not relinquish.
The Lady Redhawks attempted to make things interesting down the stretch and even clawed their way back within two points late, but Bramschreiber blasted over the match-clinching kill to send her squad to the regional tournament yet again.
"For us to lose that emotional game and then be able to win Game 5, you don't ever really see it," Mitchell said. "During that timeout, I told them that if we played even with them until [Wenaas] got on the back row then we stood a chance to get back in this game. That 9-0 run is almost unheard of and, obviously, the turning point."
Bramschreiber, a TCU commit, paved the way for Lovejoy with 25 kills of her own, while Carlson, Egger, and juniors Callie Kemohah and Lexie Collins were all key in the win.
The Lady Leopards now must gear up to take on Red Oak in the regional semifinals at 7 p.m. Friday at Berkner with a chance to then take on either Highland Park or Midlothian for a trip to state.
Meanwhile, Liberty's 2019 campaign comes to an end following a brilliant, undefeated district run through 9-5A, as the program says goodbye to four-year lettermen Wenaas and Lauren Ransom, as well as Crawford, Alyssa Franklin, Maddie Aronson and Emily Nickell.
"They have left a legacy, and the idea that they're leaving is rotten," Womble said. "We will miss all of those kids, and they all have made an impact on our program."