McKINNEY — For a program that's just a decade-and-a-half old, Lovejoy has already developed one of the area's richer traditions in cross country, and part of that includes a successful start to the postseason.
The program's boys and girls squads had swept first place in the team standings at the annual District 10-5A cross country championships the previous three seasons, and that streak extended another year on Tuesday at Myers Park. The Leopards and Lady Leopards finished comfortably atop the leaderboard with 27 and 18 points, respectively, to extend their district championship streaks.
"It's kind of our tradition. I'm not sure our boys team has ever lost a district title," said Logan Kelly, Lovejoy boys head coach. "It's fun and the guys know about the expectations here. They work hard to keep it going."
Just as the Leopards and Lady Leopards added some more team hardware on Tuesday, they also sported 10-5A's two individual district champions in junior Amy Morefield and senior Tate Barr. Morefield ran an 18:11.6 to capture her third 10-5A title in as many years on varsity, while Barr donned a gold medal after running a 16:06.1 to win the district meet for the first time in his career.
"Tate is a senior who had a great track season and has been really solid in cross country," Kelly said. "It was a big goal of his to win this race and it just came down to doing whatever it took."
Barr got the better of an otherwise competitive 5K that included him, The Colony junior Devon Judelson and Prosper Rock Hill junior Gabriel De La O packed tight at the front for the majority of the race.
That group slowly narrowed to Barr and Judelson, and it was over the final half mile when Lovejoy's top boys runner made his push to distance for an eventual first-place finish. Judelson wound up taking second overall with a 16:11.6, while De La O (16:17.7) managed to hold off a late surge by Lovejoy senior Rohan Sharma (16:17.9) and place third overall.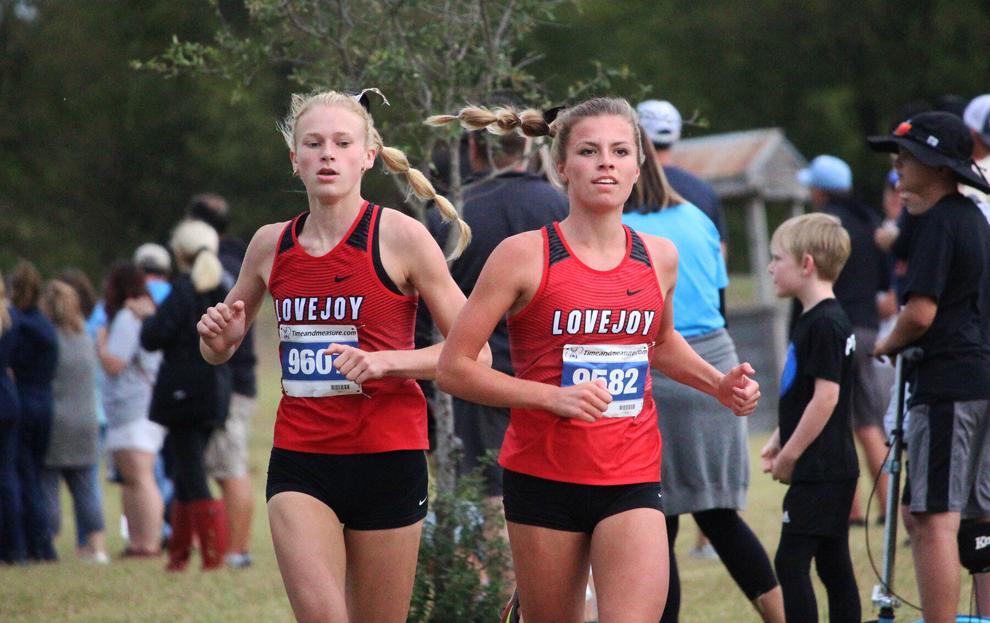 On the girls side, the Lady Leopards accounted for four of the top five finishers, with Morefield ultimately building an 11-second lead over teammate and sophomore Kailey Littlefield (18:22.2, second place) en route to first place. Lovejoy sophomore Peyton Benson took third (18:54.0), sophomore Sara Morefield placed fifth (19:27.0) and sophomore Kate Carlson added seventh (19:33.4).
"Amy is definitely on a mission and her goal is to podium at state," said Carly Littlefield, Lovejoy girls head coach. "She's been really smart with her training this year and is headed in the right direction. We just told her to run to win today, which is exactly what she did for this one."
Tuesday's win was the latest in a score of first-place team finishes this season for the Lady Leopards, who enter the postseason ranked No. 1 in Class 5A by the Cross County Coaches Association of Texas.
"We're young, of course, and have a lot of sophomores. But talent and work ethic-wise, we're ready for it as long as we can control those nerves when it counts," coach Littlefield said.
The meet's top three teams and top 10 individual finishers were all assured spots in the Region II-5A meet, scheduled for Oct. 25 at Lynn Creek Park, and 10-5A's representatives will include athletes from Lovejoy, Rock Hill, The Colony and McKinney North.
In addition to Barr, the Leopards enjoyed top-10 finishes by Sharma (fourth), freshman William Carlson (16:32.7, fifth) and sophomore Nick Yarad (16:41.2) to earn another trip to regionals.
"The boys team is pretty strong right now. We're ranked fourth in the state, but our goal is to be a podium team at state," Kelly said. "We've got three or four guys that have been consistent for us, but it's just those last couple spots where we're still working to develop that. We've had guys in and out due to sickness at the wrong time, but I think everything is clicking the way it needs to right now." 
Lovejoy's closest competition in the team standings came from The Colony boys, who earned second place with 50 points on the morning. While Judelson, a regional qualifier from 2020, led the charge, he was one of three Cougars to crack the top 10 on Tuesday — senior Dylan Judelson managed an eighth-place run of 16:50.1 with sophomore Adam Medina right behind in ninth place (16:51.9).
Alongside Lovejoy, Rock Hill was the only other 10-5A program to qualify both its boys and girls teams for regionals. The Lady Blue Hawks took second overall with 61 points on the strength of top-10 runs by junior Lena Schmid (19:27.4, sixth place) and senior Reese Van Voorhis (19:35.6, eighth), and the boys notched third with 62 points. In addition to De La O, freshman Matthew Kasenic finished in the top 10 with a time of 17:02.9 (10th).
North's girls team locked up the third qualifying spot after posting 72 points on Tuesday. Freshman Galilea De La Garza continued her ascent with a fourth-place finish in the girls race (19:17.2) and was joined by sophomore Alma Pena (20:31.1, 13th), junior Danica Anaya (21:02.6, 18th) and sophomore Mackenzie Lee (21:21.3, 20th) in the top 20.
Junior Lance Hulin will represent the Bulldogs' boys team at regionals after carving out a seventh-place run of 16:44.7.