GARLAND — The Lovejoy volleyball team waited a year for a chance at redemption after falling one win short of a Class 5A state championship last season. The Lady Leopards didn't let that opportunity go to waste.
Lovejoy captured its seventh state title on Saturday after scoring a 3-0 sweep (27-25, 25-17, 25-15) of Canyon Randall at the Curtis Culwell Center. The Lady Leopards' championship campaign concludes at 48-5 overall, culminating in the program's first state title since 2014.
"This is really special for this group. To come back like this was a big thing for our girls. We really didn't talk about state this year — just about being the best version of ourselves," said Ryan Mitchell, Lovejoy head coach. "I love the character the girls had. The semifinal versus Friendswood wasn't pretty, but they found a way to win and there some things tonight we didn't do well, but we still found a way to win. That speaks to the character of these kids."
It was a gratifying moment for a Lady Leopard squad that was edged on this exact stage in 2018, falling to Kingwood Park in three sets. Saturday's return to the state final dealt Lovejoy, ranked No. 1 in 5A by the Texas Girls Coaches Association, an anticipated bout with No. 2 Randall.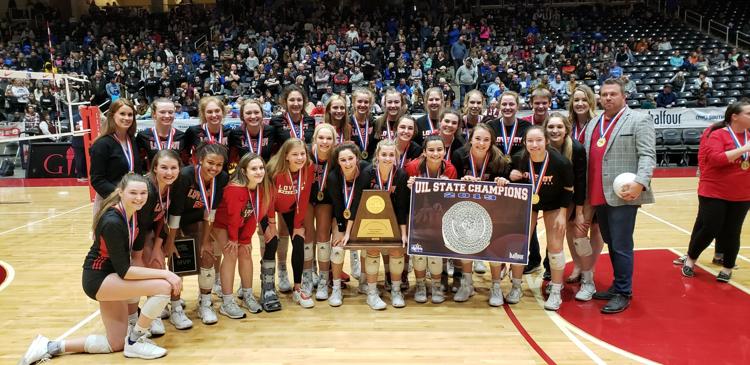 Despite the pedigree between the two programs, the Lady Leopards asserted themselves with a pair of commanding runs to close out the second and third sets en route to the championship. In the second stanza, Lovejoy erupted with a 9-2 run to close down a 25-17 set win and sink the Lady Raiders into a two-set hole.
One frame later, with the match gridlocked at 15-15, the Lady Leopards polished off the sweep by scoring the final nine points of the match. Errors piled up for Randall while Lovejoy tacked on five kills during the decisive run — capped by a strike from junior Cecily Bramschreiber for the 25-15 win.
"All year long, we've gotten our energy from our defense. Cecily gets a lot of pub for having a heavy arm and getting a lot of kills for us, but she's a libero at heart," Mitchell said. "We've got six kids who have bought into digging balls, so I really felt like the difference was when we started playing defense and extending rallies, we wore them out a little bit."
Overall, Lovejoy held the state's No. 2 team to just .213 hitting for the match versus a .382 clip for the eventual 5A champs. Bramschreiber was at the forefront of the effort, hammering down a match-high 20 kills and adding seven digs en route to tournament MVP honors.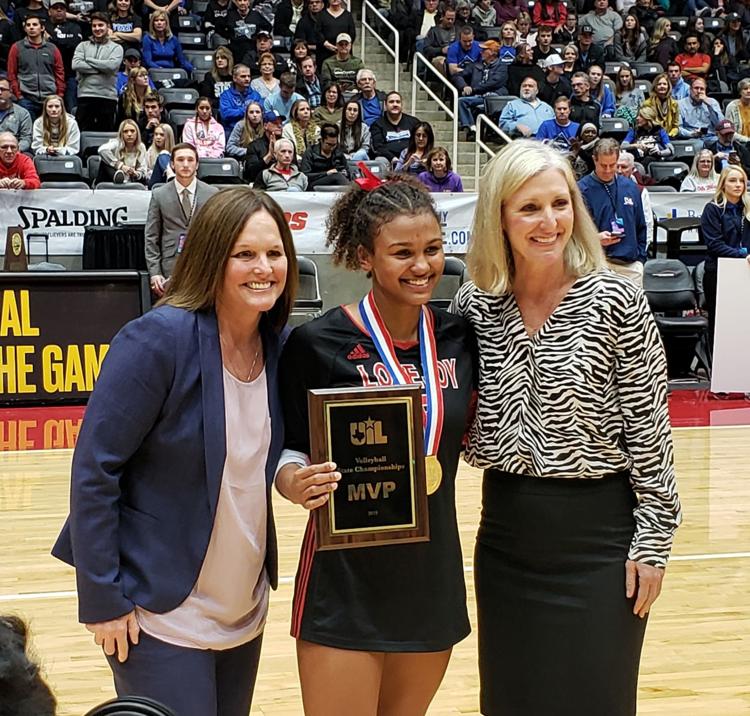 "I was honestly caught off guard a bit. It was so unreal when I heard my name," Bramschreiber said. "I was just thinking, 'That's me. We all just accomplished this.' I was really proud of the team."
Lovejoy junior Ellie Jonke added 11 kills and junior Lexie Collins chipped in eight kills alongside a pair of blocks. At the controls of the offense was sophomore Averi Carlson, who racked up 44 assists for a Leopard attack that boosted its hitting percentage in each set.
"We had a pretty good game plan coming in as far as knowing what they were going to do," Mitchell said. "As the match progressed, we started executing those things we wanted to do. You spend so much time studying a game plan and when it works, it builds confidence in what coaches and players have said. You believe in what you're doing."
It was enough to fluster one of the state's more potent hitting units, with Randall led by 13 kills from Brianna Ford. Generating steady offense elsewhere proved difficult against a stingy Lovejoy back row that helped total 42 digs, led by nine from Carlson and senior Emma Johnson, and eight from junior Callie Kemohah.
"Their ball control is unmatched and it's hard to beat a team that won't let a ball hit the floor," said Haleigh Burns, Randall head coach. "Their speed came into play. They have a great setter that knows where to put the ball. They just did a great job of staying in system and they played the mental game pretty well."
It all coalesced into a return to state supremacy for the Lady Leopards, whose dynasty took off shortly after the program's inception with five consecutive state championships won from 2008-12 — all with Mitchell at the helm. A sixth in seven years followed in 2014 under former head coach Jason Nicholson, with this year marking the 10th time in 12 years that Lovejoy has competed in the state tournament.
"In 2006 when we opened, there were no other varsity sports, so the community really got behind volleyball," Mitchell said. "The community and the fans have been a big part of what we're doing since the very beginning. Our crowd's special. I know we're only 30 miles away, but to bring that crowd on a random Saturday afternoon speaks a lot to the community being behind us.
"It's one of the reasons I love Lovejoy so much — it's just this little slice of hometown feel that's close enough to get the big-town stuff around you. You get a lot of hard-working kids and it shows."