Offense was tough to come by for the Allen softball team in Game 1 of its bi-district playoff series against Plano on Thursday — unable to so much as generate a hit off sophomore Jayden Bluitt. 
As it turned out, putting the ball in play would be good enough for the Lady Eagles.
A ballgame headlined by two lights-out pitching performances wound up being decided by defense, as an error by the Lady Wildcats led to Allen's lone run of night in a 1-0 walk-off victory and a 1-0 lead in the best-of-3 series. The win doubled as Allen's first in the playoffs since 2005.
"This is huge. This senior group, there's 10 of them. They accepted me as their head coach and bought into what we were teaching in the fall," said Kathy Schoettle, Allen head coach. "You could see that develop leading into the spring and see it come to fruition on the field. This group is so tight-knit and they have such great communication. That helps us develop and these seniors have taken the reins and run with it."
Schoettle, who picked up the 300th win of her career earlier in the season, couldn't recall ever having won a game akin to Thursday's against Plano — a contest where the Lady Eagles were no-hit by the opposing pitcher and still found a way to win.
That needle-in-a-haystack finish materialized with one out in the bottom of the seventh inning as junior Taylor Wright drew Allen's first walk of the night. Schoettle swapped in senior Maddie Slaughter as a courtesy runner, who didn't wait long to steal second base and move into scoring position.
Lady Eagle senior Alexis Telford then followed with a short ground ball down the third-base line. That led to a throwing error by the Lady Wildcats, which allowed Slaughter to scamper around third and head home for the walk-off finish.
"We talked a lot in the huddle before that inning about what our district has done for us," Schoettle said. "We talked about using everything we gained through district to help apply it here. We're in a tough district and their pitcher threw a heck of a game against us. She was super effective and kept us off balance, but we kept talking about putting the ball in play. We finally put one in play and made something happen."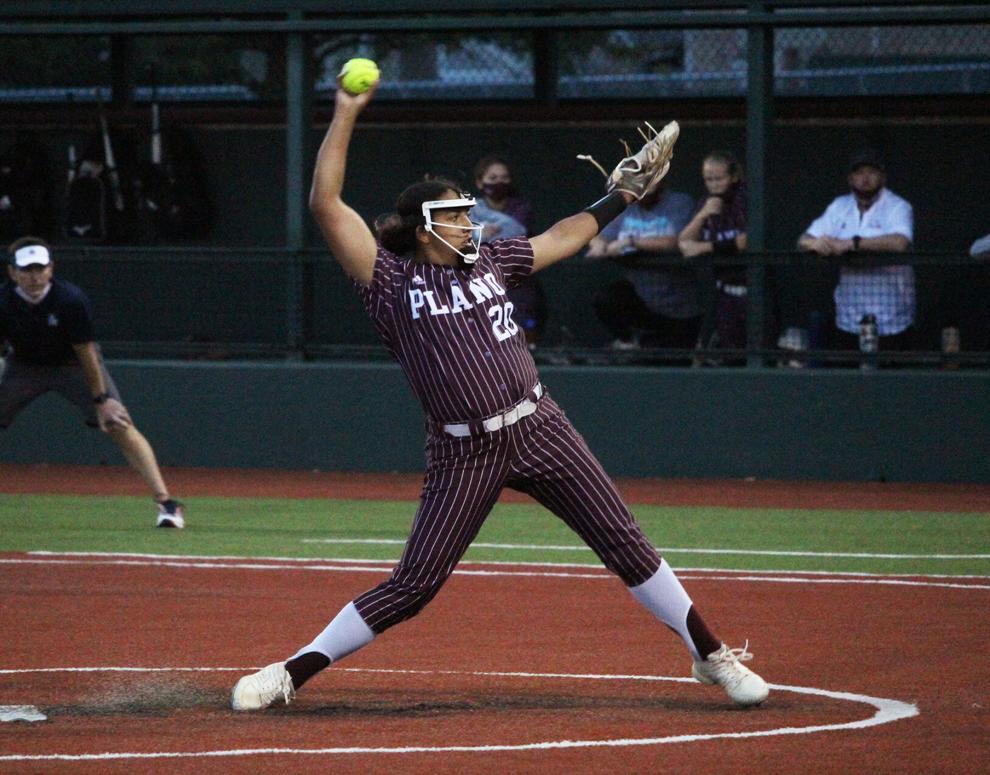 The dramatic finale broke a stalemate between two teams that weren't separated by much on Thursday. Despite Allen carrying a No. 1 seed into the matchup after its first district championship in 17 years, the No. 4 seed Lady Wildcats were game, and that had plenty to do with Bluitt's work in the circle.
Pitching in her first playoff game, the sophomore silenced a potent Allen batting order. Bluitt held the Lady Eagles without a hit and put just three runners on base all night — adding five strikeouts and one walk.
"That's one of the best pitching performances I've seen all year by any pitcher. She shut it down," said KK Stevens, Plano assistant coach. "I'm so incredibly proud of her and she gave everything she had in every pitch."
Although the Lady Wildcats were able to counter with three hits, including a second-inning double by sophomore Penelope Hurtado, Telford kept Plano off the scoreboard with seven shutout innings of her own. She struck out 11 batters and walked just one in the win.
"[Telford] was really locked in. At this point in the season, everyone knows that she's really good at keeping batters off balance," Schoettle said. "The biggest thing with her is controlling emotions because she gets so excited for these big games and is such a competitor, so we really talk about what's important now, whether it's spot or throwing it hard. We try to manage location versus trying to gas people with speed."
The series will shift to Plano for Game 2, scheduled for 7 p.m. Friday. If necessary, Game 3 will be played at 2 p.m. Saturday at Plano.
"I told the kids that we're going to come back tomorrow and fight at our place," Stevens said. "We're going to keep our heads high and these girls know that they have nothing to be disappointed in. They played a really good team and stayed in the game with them until the end."