DALLAS — With a trip to the Class 5A state cross country meet hanging in the balance, everything came up Lovejoy Monday afternoon at Jesse Owens Memorial Complex.
The Leopards and Lady Leopards captured first place in the overall team standings at the Region II-5A meet, assuring a healthy representation on Nov. 23 when teams will head south to Round Rock's Old Settlers Park for the state meet.
"It's pretty impressive and pretty rare for the guys and girls to both win it at this meet," said Logan Kelly, Lovejoy boys head coach. "It's really special for our guys team to do. It's the fifth year they've done so, and that was our goal. I'm really proud they were able to do that."
With the top three teams and top 10 individuals not on qualifying teams advancing to state, Monday's win doubled as the Leopards' fifth consecutive regional title — compiling 64 points to finish ahead of second-place Frisco Reedy (80) and third-place Prosper Rock Hill (104). The Blue Hawks continued their resounding debut campaign behind a first-place run from senior Blake Barnes (15:33.87), who finished 14 seconds ahead of the pack.
"It was really hot today, but we've been working for state for a while," Barnes said. "We've been practicing for six months and to try and be the first generation of Rock Hill boys to make it to state, we all had that on our minds today."
So much so that Barnes had the letters "FTB" — "For the Boys" — inscribed on his forearm.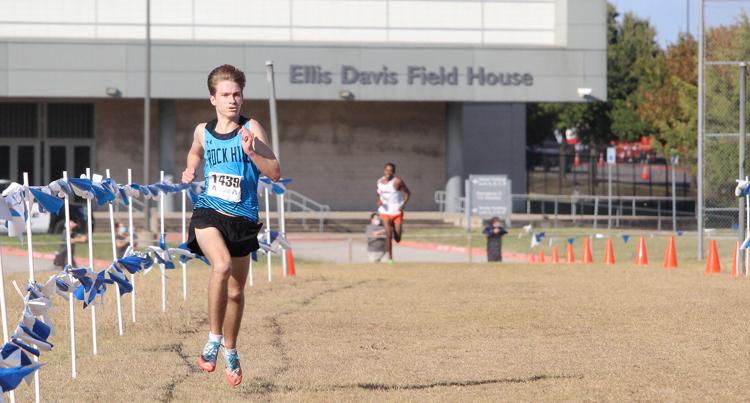 As Barnes and the Blue Hawks continue to make history, Lovejoy added to its ledger as well on Monday. The Leopards were the only program in the region to advance its boys and girls teams to state, with the Lady Leopards joining the mix atop the team standings. After falling one point short against Highland Park in last year's regional meet, Lovejoy scored a measure of revenge by totaling 47 points to best the second-place Lady Scots (68) and third-place Frisco Wakeland (81).
"We've been progressing and getting better and better," said Carly Littlefield, Lovejoy girls head coach. "Today was one of those days where the biggest thing was just getting out. We just wanted to get through to state and winning was just icing on the cake."
The Lady Leopards left it all out on Monday's 5,000-kilometer course, with multiple runners passing out as they crossed the finish line. That included sophomore Amy Morefield, who won the first regional title of her budding career with a 17:43.79 before being carried off the course by event staff following her first-place finish.
Morefield distanced from Highland Park senior Cameron Fawcett (17:50.64) and Reedy senior Colleen Stegmann, the defending 5A state champion (18:28.42). The Lady Leopards' regional title win also included key efforts from freshman Kailey Littlefield (18:41.59, fifth place), junior Rachel Malik (19:22.94, 11th), freshman Sara Morefield (19:43.04, 16th) and senior Lily Bouldin (20:08.92, 24th).
"We've had some seniors who have really laid a good foundation," coach Littlefield said. "Today, we had a senior (Bouldin) step up and compete in her first-ever varsity race. She was huge and ran our No. 5 spot."
The Lovejoy boys, meanwhile, were paced by a third-place finish from senior Trevor Malik (15:54.00) and four others within the race's top 25. Junior Tate Barr took 11th (16:47.19), followed by junior Matthew Murray (16:58.95, 13th), junior Riley McGowan (17:03.34, 15th) and senior John Armstrong (17:26.11, 22nd).
"We were packed pretty well for the first mile-and-a-half," Kelly said. "We fell apart a little bit but still held our ground where we needed to and snuck by today. It was close — it nearly gave me a heart attack — so we were glad to come out for the win."
Despite those anxious moments, the Leopards managed to hold off a Reedy bunch that landed three runners in the top 10. Senior Luke Lawson ran a 16:08.04 to finish fourth, followed by sophomore Garrick Spieler in fifth (16:14.95) and junior Aiden Gonzalez-Rodiles in seventh (16:27.95).
With the Lions bound for state, they won't be alone. Overall, 20 runners from Frisco ISD secured qualifying bids for a trip to Round Rock, including a return trip for the Wakeland girls.
"This is one of the best regions in the state," said Braegan Enright, Wakeland girls head coach. "You've got two of the best in the state with Lovejoy and Highland Park, plus Rock Hill has done a great job for being a brand-new school. It's just a day where we were fortunate to get up there."
The third-place Lady Wolverines were paced by top-10 runs by senior Mackenzie Davis in sixth place (19:06.72) and junior Chloe Smith in eighth place (19:14.12).
"This is one of the more special groups that we've had. They've really taken ownership of it and with COVID, they've done so much. They just wanted to get out and run for each other today and see where it got them."
Although Monday's race saw Wakeland's boys fall short of qualifying for state as a team for the first time in eight years, according to Enright, the program won't be without representation as juniors Natnael Enright (15:47.27, second place) and David Corujo (16:44.12) were among the individual qualifiers.
Other FISD runners bound for Round Rock not on qualifying teams included Lone Star sophomore Veronica Ambrosionek (18:53.74, sixth place), Independence junior Brighton Mooney (19:16.07, 10th), Reedy senior Elise Warhoftig (19:35.70, 15th), Memorial freshman Peyton Benson (19:45.70, 17th) and Heritage senior Soham Patil (16:35.76, 11th place). Rock Hill's qualifying contingent also included seniors Alexis Svoboda (18:33.19, fourth) and Kirstin Towle (19:11.14).
Also making the cut were a pair of runners from McKinney North. Senior Sydney George mounted a second-half charge to place 14th overall at 19:35.55, while teammate and senior Azlyne Garza nabbed the last individual qualifying spot in the girls race after running a 19:52.82 for 19th place.
"It was really stressful, actually," said Jessica Richards, North head coach. "As the runners started coming in, I thought that Wakeland was going finish third. So then, I was trying to count the individuals and I really thought the Memorial girl (Benson) was the last one. I was yelling at [Garza] to go get her, but they both wound up being nine and 10 and it worked out."
West Mesquite junior Jesus Escamilla-Camargo is also headed to state, qualifying behind a sixth-place run of 16:21.18 — a personal-record time following a district championship won on Oct. 29.
Other programs in action on Monday included The Colony, paced by a 29th-place finish from sophomore Devon Judelson (17:30.66) in his first-ever regional run — one spot ahead of Mesquite Poteet senior Juan Martinez in 30th place at 17:30.99.
Carrollton RL Turner had its boys and girls teams on hand, led on the boys side by a 69th-place run from senior Jose Hernandez (19:06.83) and a 47th-place run on the girls side by senior Elizabeth Stepaniak.
"It's the little things worth celebrating in 2020. For them to work through everything they've been through starting back in June — to even get to race this was amazing," Richards said.