PROSPER — Allen head volleyball coach Kelley Gregoriew has led plenty of teams similar to the McKinney squad her Lady Eagles squared off against Monday night. 
In fact, many of her seniors this season were in a similar place not too long ago — playing major minutes as underclassmen in high-leverage situations against more seasoned opponents. Just as those players developed into a quality group, Gregoriew said McKinney will only get better in the years to come.
But just as was the case for Allen, getting to that point meant taking some lumps along the way. On Monday, the Lady Eagles dealt the Lionettes just that in a 3-0 sweep (25-22, 25-17, 25-12) in a play-in match for the final playoff spot in District 5-6A.
"Allen's a good team, but I think good teams will find ways to expose some of the weaknesses when the two teams are even," said Leslie Jackson, McKinney head coach. "We're still very young and have a lot to learn, and I think we'll be able to take care of some of that in the offseason."
Sure enough, the Lionettes and Lady Eagles were equal in the district standings, tying for fourth place and splitting their regular-season series, which set up Monday's winner-take-all bout for a postseason berth.
An Allen team that has been through those fires relied on that experience — sweeping a McKinney team that bested the Lady Eagles in five sets in their previous meeting on Oct. 23. On Monday, the Lionettes only led after two points across the three sets played, 1-0 and 19-18 in the first set.
"We're predominantly juniors and seniors and they play a lot of sophomores," Gregoriew said. "With that experience, you deal with momentum a bit better. I think it helped that we were seasoned and ready to go, but they're going to be good."
That momentum firmly resided with the Lady Eagles on Monday, taking control of that match behind a 7-0 run early in the second set for a 13-3 lead. Junior Emma Vu keyed the surge from behind the service line, tallying two of her match-high eight aces during that stretch to help Allen blow the contest open.
"That was huge. She's normally a really good server," Gregoriew said. "There's a lot of movement on that ball and she was serving great tonight. It really controlled the game in certain stretches."
The Lady Eagles kept McKinney from finding a rhythm on offense, limiting the Lionettes to just five total kills in the second stanza opposite 16 for Allen. Senior Chloe Thomas and juniors Divine Muo and Sophia Henderson all had four kills apiece in a wire-to-wire frame that Allen won, 25-17, to put McKinney in a 2-0 hole. 
The Lady Eagles were even emphatic one set later, closing a dominant final frame by scoring eight of the final nine points in a 25-12 victory, including three more aces from Vu. Thomas and Muo, meanwhile, tallied 10 kills apiece to lead all Allen hitters.
"I thought the kids played well. We adjusted our defense for them and I think it went well," Gregoriew said. "It was a good change and they weren't able to score as many points on us as they did last time. The defense did a good job and our right sides did a great job. They scored a lot and gave some of our other hitters a break."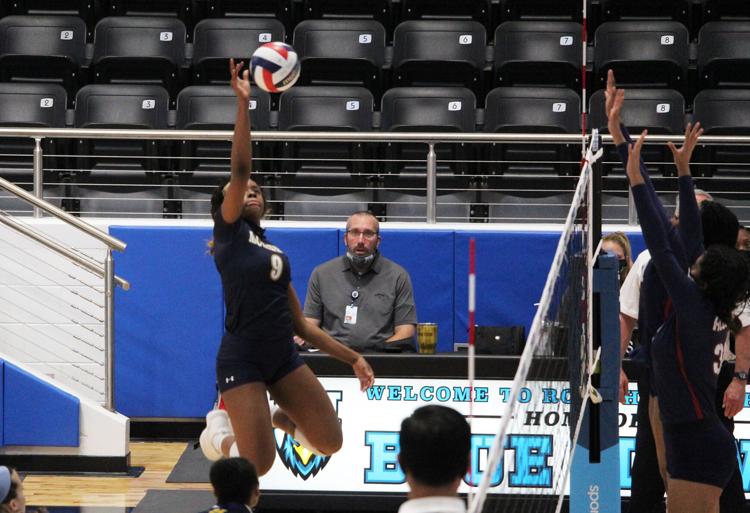 Although stringing together runs proved challenging for a youthful McKinney bunch, the Lionettes were game early on. Despite trailing by as many as five points in the first set, McKinney rallied mid-frame behind a 7-1 run that included key points from sophomores Sydnee Griffen, Kyanna Creecy and senior Demari Drake for an 18-17 advantage.
"They have the potential to play like that," Jackson said. "I just think we have a young group that's just not used to playing at a high level. Once they get that experience and that exposure, I think they'll be ready to go."
Even in defeat, Drake was a constant with 12 kills to lead all hitters — recording at least three in each set on Monday. Griffen added six kills and a pair of blocks in the setback, a loss that dipped McKinney to 8-10 in Jackson's first year at the helm.
"Our goal from the beginning was to grow a little bit day by day and I thought they did that," Jackson said. "I told them to go back and watch one of our games at the beginning and compare it now — just so they can see that growth and the difference, and taking that mentality into the offseason of wanting to get better every single day."
Allen, meanwhile, improves to 10-9 with the victory and turns its sight to a bi-district playoff match against state-ranked Flower Mound. The Lady Jaguars are just two seasons removed from a Class 6A state championship and are fresh off capturing a third consecutive district championship.
Allen and Flower Mound will take the floor at 6:30 p.m. Thursday at The Colony.
"We just have to make sure we're going at them and try and knock them down," Gregoriew said. "We'll look at film and see if there are any specific matchups. We don't have the size that they do, but if we can frustrate them by digging the ball a bit then I think we can stay in there."