ALLEN — Fresh off her team's biggest win of the season — a four-setter over state powerhouse Plano West on Friday — Prosper head coach Erin Kauffman admitted there was some concern about a potential letup Tuesday when visiting Allen.
Although the hosts offered some moments of resistance, Prosper still managed to gain the upper hand each time when it mattered most — prevailing in three sets (25-22, 25-19, 25-22) to stay undefeated in 9-6A play as the district midpoint closes in.
"I was nervous myself tonight because even though we had scouted Allen, we didn't know them as well as Plano West," Kauffman said. "We didn't want them taking Allen lightly. They're very well-coached and they came in tonight with a game plan and did a good job with that. When they're in a groove, they're tough to stop."
Improving to 5-0 in district play, with three of those wins coming via sweep, Prosper rinsed and repeated its path to victory on Tuesday — shifting gears late in all three sets and controlling the homestretch to hold off a game Allen bunch. 
That included a third set that saw Prosper overcome an 18-11 deficit by outscoring Allen, 14-4, the rest of the way. Prosper flexed its depth during the comeback, with players like senior Taylor Kaiser, junior Kailah Jefferson and junior Taylor Youtsey all shining down the stretch. 
Allen's best counter for much of the night was junior Maddie Wendland, who led her team with 10 kills and managed to drag Prosper to a 20-20 stalemate before the reigning district champions again pulled away.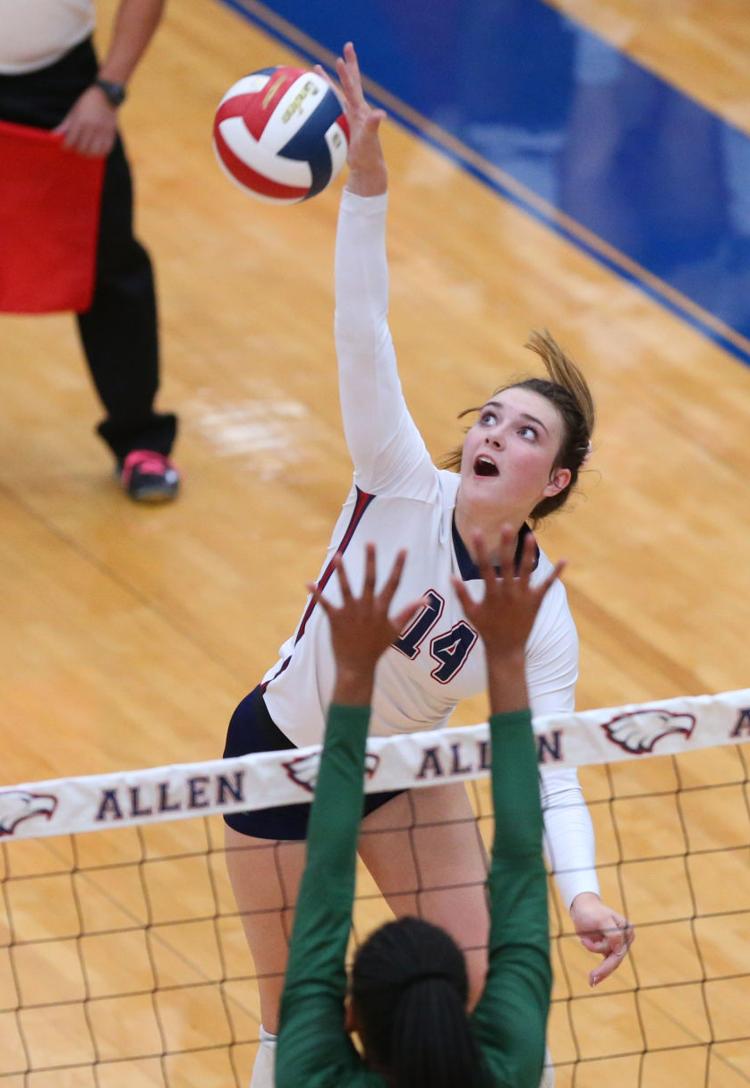 "Anybody who has scouted us knows that our ball control can break down. It's why we went five with McKinney Boyd," Kauffman said. "But we're consistently inconsistent, so the girls expect that and don't falter when they have to dig out of a hole. We just went back to basics, changed up our blocking scheme and tried to take away the sharp cross on [Wendland] and were able to shut down the middles."
While Prosper maintained its perch atop the 9-6A standings, Tuesday marked Allen's second straight setback after a 3-0 start to district play.
"We've been working on trying to make sure we were there for the faster offense, but our passing just wasn't up to par for us tonight and we couldn't stay in system like we normally do," said Kelley Gregoriew, Allen head coach. "But I'm proud of how we played. It felt like all three sets were relatively tight."
Gregoriew stressed wanting to make sure her team made Prosper earn its points, regardless of the final outcome on Tuesday, and was pleased in that capacity. Kauffman intimated as much, noting the back-and-forth between the Prosper and Allen middle blockers and the effect it had on how both teams run their offenses.
With Allen's athletic middles like junior Chloe Thomas and sophomore Tori Wilson helping force much of Prosper's attack to the outside, that paved the way for a big night by Prosper junior Bailey Birmingham, who led all hitters with 12 kills in the victory. Fellow junior Shaylee Shore notched six kills while junior Nikki Steinheiser chipped in four kills, as did Youtsey alongside three blocks.
For Allen, Wendland was complemented by Thomas' four kills and three blocks, while junior Maya Detwiler came alive in the second set with a trio of kills.
"I thought they played well. We had a game plan and were right there," Gregoriew said. "If someone is going to beat us, we want them to earn it, and I feel like we made Prosper fight for their points tonight. They had to play efficient."
Allen won't get much of a reprieve later in the week, drawing Plano West in a road showdown at 5:30 p.m. Friday. Prosper looks to polish off an unscathed first half of district play when it hosts Plano Senior that same time.