LUCAS — Despite some early flashes of resistance from the Frisco Memorial defense, the Lovejoy football team needed just one opening to get the ball rolling in its latest blitz of District 7-5A Division II.
A breakdown in the Warrior secondary left Lovejoy sophomore Parker Livingstone all alone for a 46-yard touchdown pass from fellow sophomore quarterback Alexander Franklin. Despite needing three drives to find the end zone for the first time on Thursday, the Leopards didn't miss a beat the rest of the night.
Livingstone had his way with the Memorial secondary and the Leopards sparked big plays elsewhere in all three phases to fuel a 53-0 shutout from Leopard Stadium to remain unbeaten on the season at 6-0. Lovejoy improved to 4-0 in district play while dropping the Warriors to 2-3 in 7-5A Div. II and 4-3 on the season.
It's been nothing short of a tour de force for the state's No. 3-ranked team in 5A Div. II this season. No team has finished closer than 30 points to the Leopards, whose average margin of victory is up to 46.3 points following Thursday's win.
"I think a lot of it goes back to these kids," said Chris Ross, Lovejoy head coach. "What you're seeing on Friday is the commitment that people didn't see in February, March and June. They consistently work harder than any team I've had in a long time."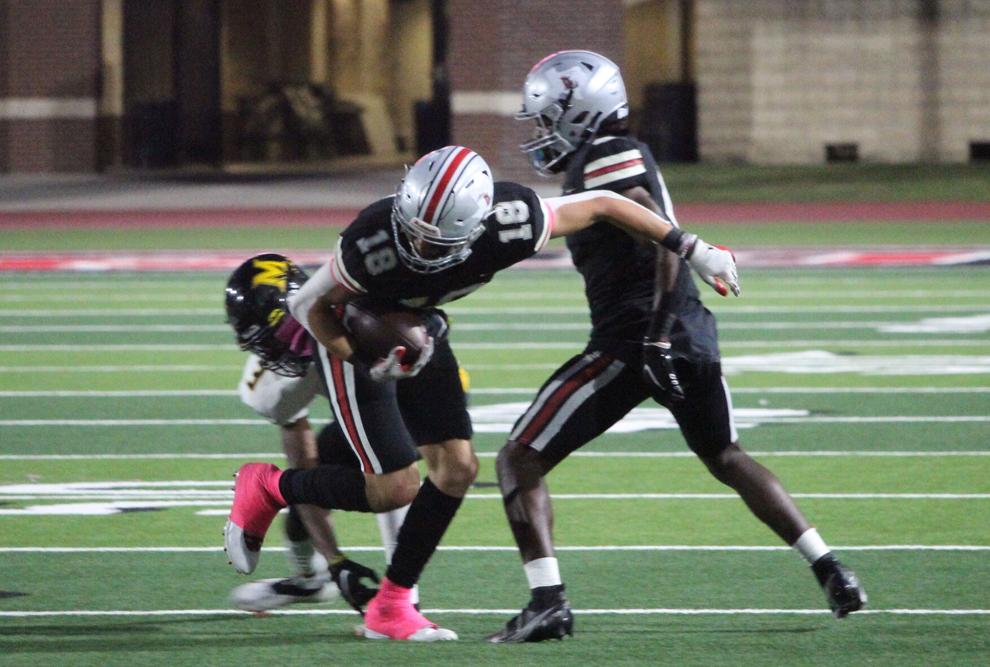 Memorial could take pause in at least curtailing a quick start by the Leopards after a pair of stout defensive series to begin the ballgame. The Warriors clamped down near the goal line to force Lovejoy to settle for a 24-yard field goal by senior Trent Rucker on the team's opening drive and then proceeded to force a turnover on downs on the following series.
The Leopards would find the end zone on five of their next six possessions to blow the contest open. The aforementioned strike from Franklin to Livingstone got the ball rolling, as Lovejoy went on outgain the Warriors 256-97 for the half.
"Once we spread them out, we felt like we had matchups inside and Parker was able to take advantage of that," Ross said. "[Franklin] threw an unbelievable ball. He's extremely accurate and did a lot of good things tonight. We struggled at times in the run game and we've got to clean up some stuff there, but it was still a great performance. Our defense played an outstanding game against a great offensive football team."
Senior Noah Naidoo powered in a 4-yard touchdown run and Franklin added second-quarter touchdown passes to Livingstone (42 yards) and Naidoo (13) to spark a 31-0 lead at halftime.
Memorial's best opportunity at the counter went awry along the way. Freshman quarterback Braeden Mussett maneuvered the Warriors as close as first-and-goal from the Lovejoy 10 before losing 15 yards on a sack by senior Dillon Magee and then heaving an interception to Rucker just in front of the end zone.
Interception, Lovejoy! Trent Rucker derails Memorial's best drive of the night with a pick on 3rd and forever. Leopards take over at the Memorial 38 with a 17-0 lead. pic.twitter.com/NwvprwDgdw

— Matt Welch (@MWelchSLM) October 8, 2021
Lovejoy's special teams even had its say. Following Livingstone's second touchdown catch, the Warriors fumbled away the ensuing kickoff to Leopards junior Jacob Reid — a takeaway that set up Franklin's touchdown throw to Naidoo as part of 14 points scored inside the final 40 seconds of the first half.
The Leopards' defense complemented that effort with another shutout victory, generating a steady pass rush in the first half that disrupted the timing of a Memorial passing attack that ranked No. 7 in the area entering Thursday's ballgame.
Lovejoy pressured the Warriors into just 169 yards through the air on 14-of-33 completions. Musset was held to just 116 passing yards on the night, while sophomore Brandon Tullis rushed for 34 yards. Junior Ferron Cotton caught five balls for 55 yards in the loss.
"They're playing so well right now," Ross said of his defense, which is allowing just 9.3 points per game. "It's not a starting 11 either, it's really all about 16 guys. Coach (Jason) Johns and our defensive staff have done an outstanding job."
Franklin went on to throw for 230 yards and five touchdowns on 18-of-32 attempts, adding scores to senior Omari Murdock (10 yards) and junior Jaxson Lavender (19) in the third quarter as Lovejoy built a 46-0 lead before funneling in its backups. Livingstone was by far his most popular target on the night, accounting for 12 of the quarterback's 18 completions for 164 yards and two scores. 
"Our offense doesn't necessarily work that way. It's a lot of option routes and that particular play he first scored on could have gone to three different guys," Ross said. "[Franklin] did a really good job putting the ball on the spot and Parker made a great play on the ball."
Lovejoy 46, Memorial 0 @ 4:29/4QMake it 5 TD passes for Leopards QB Alexander Franklin. Some tight coverage by Memorial but the QB manages to thread a 19 yd TD pass to Jaxson Lavender. That's the 4th different receiver to catch a TD pass for Lovejoy in this one. pic.twitter.com/ENVEljiCY4

— Matt Welch (@MWelchSLM) October 8, 2021
Naidoo and sophomore Matthew Mainord both hit triple digits on the ground with 135 and 107 rushing yards, respectively.
Lovejoy junior Brayden Hagle polished off the team's night with a 3-yard touchdown pass to senior Will Branum in the fourth quarter, and the Leopards managed to hold Memorial off the scoreboard late thanks to a missed 41-yard field goal and a fumble recovery by senior Collin Cook in the red zone.
Lovejoy looks to stay unbeaten at 7 p.m. Oct. 15 when it travels to Lake Dallas, while Memorial eyes a bounce-back performance that same time on Thursday when it hosts Prosper Rock Hill from the Ford Center at The Star.