FRISCO — The Lovejoy football team entered Saturday's regional final allowing less than 15 points per game and never having surrendered more than 27 points this season. It was all for naught opposite a South Oak Cliff bunch in the midst of a historic run.
The Golden Bears cleared that 27-point plateau in less than one half of football on Saturday at The Ford Center at The Star — a torrid start that blindsided one of the area's stingiest defensive groups and fueled a 42-21 victory in the Class 5A Division II regional finals.
With Saturday's win, SOC, attempting to become Dallas ISD's first state football champion since 1950, advanced to its first state semifinal since 1970. 
"That is an excellent team and they came out and played faster and harder than we did," said Chris Ross, Lovejoy head coach. "They did a tremendous job. Offensively, they didn't really do anything that we didn't think they would do, but a lot of the time we just played slow and we missed some opportunities." 
The Golden Bears couldn't miss early into Saturday's ballgame, finding the end zone on each of their first four drives and each one following a similar manuscript. Lovejoy did well to back SOC into third-and-long and numerous fourth downs, but no matter how tight the quarters, the Golden Bears found a way to move the chains. 
Over SOC's first four drives of the game, it went 5-of-8 on third-down conversions and 3-of-3 on fourth-down tries.
"I thought at times we played too soft," Ross said. "I think they may have been more worried about their speed than they should have been — just go play. They're fast, but we've played fast teams all year."
Unable to get the Golden Bears off the field, Lovejoy's defense sprung one leak after another behind a brutish SOC offensive line and an airtight passing performance by quarterback Kevin Henry-Jennings. The signal-caller competed 14-of-19 passes for 201 yards and a touchdown in the first half alone, adding a 7-yard touchdown run with 8:12 to go in the opening quarter for the game's first points.
One series later, backed into third-and-10, the Golden Bears showcased their speed on the edge after Ke'Undra Hollywood beat the Lovejoy defense outside for a 16-yard touchdown run. Henry-Jennings added a 58-yard touchdown throw to Randy Reece in another third-and-long situation one series later, and already Lovejoy was in uncharted waters — trailing 21-0 by quarter's end. Across those same 12 minutes, the Leopards totaled just seven offensive snaps for 5 yards.
"We hadn't had back-to-back three-and-outs all year," Ross said. "That's obviously a credit to [SOC]. We just made some mistakes we don't normally make."
SOC outgained Lovejoy 266-103 in the first half, slowing senior Noah Naidoo and the ground game to just 3.4 yards per carry and limiting sophomore quarterback Alexander Franklin to just 4.3 yards per pass.
And even when the Leopards looked to be on the verge of conjuring some sort of rhythm, the Golden Bears' defense had an answer — baiting Lovejoy into turnovers on downs on three consecutive series spanning the second and third quarters.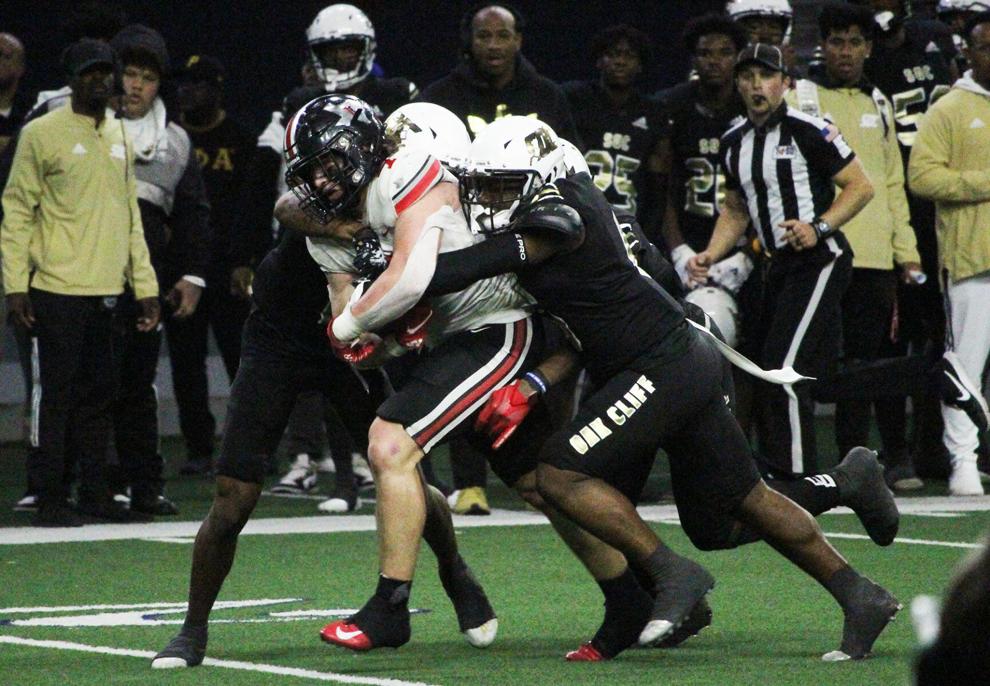 With 3:03 remaining in the third stanza, the Leopards at last cracked the scoreboard — sophomore Parker Livingstone got behind the SOC defense and hauled in a long ball from Franklin for a 54-yard touchdown to cut the deficit to 35-7.
Lovejoy tacked on 14 points in the fourth quarter — Franklin scrambled for an 8-yard touchdown run and sophomore Payton Pierce concluded the contest with a 3-yard touchdown run with 18 seconds to go.
Franklin was limited to 260 passing yards and a touchdown on 17-of-36 attempts, while Livingstone caught six balls for 153 yards and a score. Pierce paced the rushing attack with seven carries for 45 yards and a touchdown.
"You just keep stressing how the next play is the most important one," Ross said. "You can't change what happened, you've got to learn from it and attack the next play. That's all you can do whether you're up or down, and I thought they did a solid job of that. Our kids don't quit."
It was hardly the endgame that Ross and Co. envisioned, as Lovejoy carried a 12-1 record into Saturday's ballgame. Along the way, the Leopards amassed a 38-point margin of victory and didn't so much as trail in a ballgame until the final week of the regular season on Nov. 4 against Frisco Liberty.
Playoff wins over Crandall (77-27), Burleson (28-23) and Mansfield Timberview (24-20) followed to send Lovejoy back to the regional finals for the second straight season. 
It marked the second time in program history that the Leopards have made back-to-back trips to the fourth round of the playoffs, the last coming during 2009-10.
"It's such a bittersweet thing. It's so hard and takes so much work to get to this point and to be so close. I'm proud of them," Ross said. "I think what they saw is that their hard work and focus paid off. It gave them another chance to potentially win a championship and now it's this feeling of knowing what it takes, but you've got to go do it again."
South Oak Cliff 42, Lovejoy 21 @ :18/4QLeopards get likely their final points of the season on a 3 yard TD run by Payton Pierce. pic.twitter.com/Ngen9cRmrQ

— Matt Welch (@MWelchSLM) December 4, 2021