FRISCO — For all the state tournament appearances that span Lovejoy's illustrious history on the volleyball courts, head coach Natalie Puckett never wants that feeling taken for granted.
Given the elation that overtook the Lady Leopards as they swarmed their teammates at center court on Saturday, that feeling carries plenty of weight for the eight-time state champions — particularly after what it took to withstand a ferocious effort by Frisco Reedy for a 3-1 victory (25-13, 25-19, 24-26, 29-27) in Saturday's Region II-5A final.
"This doesn't come by chance. I know it happens a lot for this program, but it's not by chance. They worked for this and will continue to work for that next one," said Puckett, who in her first year at the helm, coached the Lady Leopards to the 13th state tournament appearance in program history.
Not much of a phone signal in the gym, so apologies for the lack of videos. Here's the match point that sent @leopardvb back to the state tournament for the 13th time after winning a wild 4-set regional final vs Reedy. pic.twitter.com/OxBSf273OW

— Matt Welch (@MWelchSLM) November 13, 2021
It didn't come easy, and Puckett didn't expect any less — particularly given Reedy's surge through their half of the regional bracket, highlighted by a 3-0 sweep of McKinney North in the regional quarterfinals followed by a five-set thriller over No. 2-ranked Highland Park in the regional semifinals.
The Lady Lions' mettle shined late against long odds as Lovejoy senior Rosemary Archer hammered down a kill to up the Lady Leopards' fourth-set lead to 23-18 — just two points away from a return to state.
Reedy didn't go quietly into the night — stringing together a 5-0 run, capped by an ace from senior Jordan Chapman, to knot the match at 23-23. 
From that point forward, chaos reigned. Reedy fought off three match point attempts by Lovejoy, with the Lady Leopards warding off one attempt by the Lady Lions to extend the outing to five sets. With four ties and two lead changes spanning the match's final 10 points, the two sides were knotted at 27-27 before Lovejoy at last seized command.
Reedy was whistled for a net violation to put the Lady Leopards in front 28-27 and match point followed moments later after an outstretched dig by senior Ava Camacho found its way to Archer, who set up senior Avery Villarreal for the decisive kill.
"We're always finding new levels. I think they dug deep and found a different level of composure," Puckett said. "Reedy is a great team and they really fought hard after those first couple sets, and that's what you've got to expect at this point in the playoffs. We fought back and finally figured out how to manage their outsides."
"It was insanity. I feel like the opportunity we had throughout our district helped us to be able to fight in the very end here," said Katie Rudd, Reedy head coach. "We had to fight in district to be district champs. It wasn't anything we haven't been a part of — we've been down and had to fight to the end. We've had to play at a high level all season."
After sweeping its way to Saturday's regional final, Lovejoy put itself in position to do just the same to Reedy. The Lady Leopards came out firing to begin the match, scoring the afternoon's first four points and building an early 8-2 lead before the Lady Lions called timeout.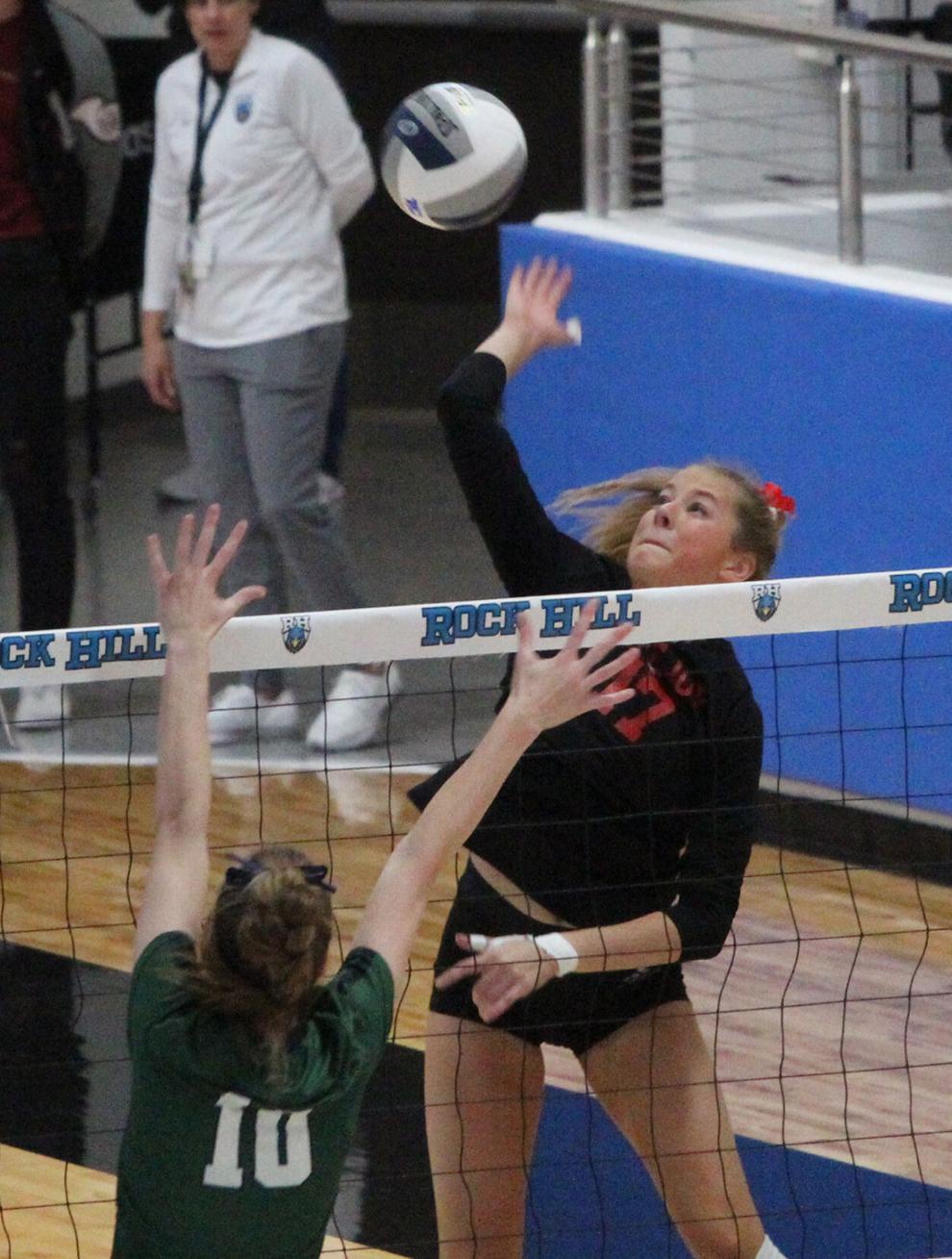 Reedy had no answer for Lovejoy's initial barrage, which included 16 kills in the opening set with Archer and Villarreal combining for 10 en route to a 25-13 victory.
"We had a game plan and they stuck to it. We don't keep 25 people on the bench for no reason. We have an army and we made sure to use that to our advantage," Puckett said.
The second set was more of the same. Despite some early resistance from Reedy, the Lady Leopards used a 7-1 run to build a 12-6 lead that only swelled from there. Lovejoy led by as many as nine points, leaning on a balanced attack between Villarreal, senior Grace Milliken and senior Lauran Richards, to take a 25-19 verdict and a 2-0 set lead.
Reedy found its rhythm in the third set, nearly leading wire-to-wire on the strength of nine kills from junior Halle Schroder, who totaled 15 kills over the match's final two sets on Saturday.
"[Schroder] is such a dynamic player," Rudd said. "Not only does she perform during high levels, she wants the ball. There's not very many athletes in pressure situations who want the ball, but she does and she'll take care of it for us."
Lovejoy made it plenty interesting late, however. With Reedy on the doorstep of set point at 24-21, the Lady Leopards tied the match at 24-24 on a kill by senior Averi Carlson before Schroder fired off consecutive points to keep the Lady Lions' hopes alive.
Saturday's loss closed out Reedy's season at 32-7, including a 17-1 showing in 9-5A en route to a district championship. The Lady Lions parlayed that success into their first-ever appearance in the regional finals.
"We made school history. We've struggled with the third round and getting past there for six years," Rudd said. "We made it past that third round with a great game against McKinney North. We'll walk out of this one with our heads held high and knowing that we fought and overcame adversity. I couldn't be more proud."
Lovejoy, meanwhile, kept its pursuit of a ninth state championship intact. The Lady Leopards will take the floor at the Curtis Culwell Center in Garland at either 11 a.m. or 1 p.m. Friday in the 5A state semifinals against an opponent to be determined.