The Carrollton teen who posted a video earlier this year of herself threatening to spread COVID-19 inside of a store has received 12 months of deferred adjudication and has been ordered to pay a $500 fine.
Lorraine Maradiaga pleaded guilty to a lesser charge of making a terroristic threat, a Class B misdemeanor. In April, Carrollton police arrested Maradiaga on a felony charge of making a terroristic threat.
According to police, Maradiaga, who was 18 at the time, had taken a COVID-19 test a few days prior and was awaiting results. In a Snapchat video Maradiaga was at Walmart in Dallas and said, "I'm about to infest every (expletive) because if I'm going down all you (expletive) are going down."
Carrollton police said Maradiaga had initially said she had tested positive for COVID-19, but police later said there was no proof Maradiaga had the virus.
Ultimately Denton County prosecutors and the defense agreed on terms for the lesser charge. The conditions of Maradiaga's deferred adjudication include standard guidelines, such as not breaking other laws, not using drugs, avoiding persons and places of disreputable or harmful character, permit the supervision officer to visit her at her home and work faithfully at suitable employment.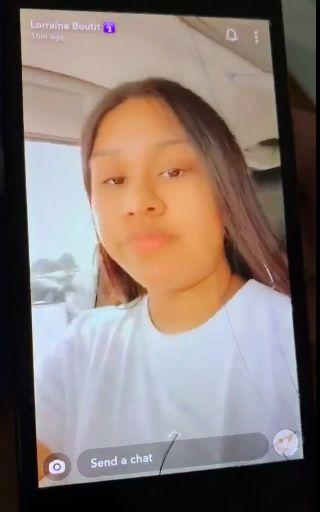 Specialized conditions include avoiding any form of cannabidiol (CBD) and products derived from CBD, submit to a psychological evaluation and attend weekly counseling with the county's Life Skills course.  
Scott Edgett, Maradiaga's attorney, said Maradiaga's actions were simply a case of a teenager getting caught up on the social media craze.
"Lorraine is your typical young adult teenager who can't enough social media," Edgett said. 'Social media can now be compared to the statement from years ago 'keeping up with the Joneses' because every teenager or young adult has to outdo the other. Well, Lorraine got caught up in this wicked cycle in April 2020 when the COVID-19 pandemic was just starting to hit our country pretty hard, including North Texas."
Edgett said the frustration of waiting for the test results and the drive for attention on social media came into play that day.
"Social media is amazing, but it can also be the demise of society, young or old," he said. "Competition. Who can get the most views or likes or attention or be the most popular on social media. Who can create the most controversy."
Edgett said Maradiaga plans to put this behind her and continue pursuing her college degree.
"The Denton County prosecutor agreed with us that this young adult got caught up in the social media craze and didn't make a smart decision," Edger said. "But Lorraine is not a bad person. She just made a bad decision and definitely learned from it."