Inside Mazie's Mission's 4,000-square-foot suite in northeast Carrollton are exam rooms, treatment areas and various other rooms that provide hope for thousands of animals.
There's also a restroom. Depending on the day that can be just as valuable.
"Every single person in this clinic has gone to the bathroom and cried and just needed a moment to themselves because of something that upset them so much," said Erin Shults, founder of Mazie's Mission.
Named after Shults' first rescue dog, Mazie's Mission is a nonprofit organization that provides low-cost treatment strictly to homeless animals from the rescue or shelter system to help them become adoptable.
Some of these animals often have serious ailments – skin conditions, trauma, orthopedic cases, etc. Some have been hit by a car. Others neglected.
Shults said the job isn't for everyone, but those who can make it past the often horrible conditions animals are in when they arrive know they are making a difference.
Without providing an affordable option for rescue groups, the alternative is often euthanasia.
"When rescuers see (the treatments needed) they see a price tag," said Emily Mayer, lead veterinarian technician. "But we're impacting the number of animals that rescue groups can rescue."
How it began
Shults said she had been a veterinarian for 10 years before she realized that puppy mills often produce dogs with health issues.
"It never dawned on me why so many of these animals that were coming to me were so ill," Shults said. "They had viruses and parasites and just looked poor."
Shults said a volunteer opportunity showed her the type of mass breeding that takes place at puppy mills. A turning point for her came in 2009 when she learned of a puppy mill raid in Kaufman in which a woman was arrested for having 546 dogs.
Shults said some of the animals were overbred or inbred.
"A lot of those didn't have arms or jaws because they were so genetically messed up," Shults said.
Shults connected with rescue groups to learn how to help.
"Talking with them I realized one of their biggest obstacles as a rescue is finding affordable, good veterinary care," Shults said.
Originally Shults planned on creating an animal "fortress" with medical care for homeless dogs and cats she rescued.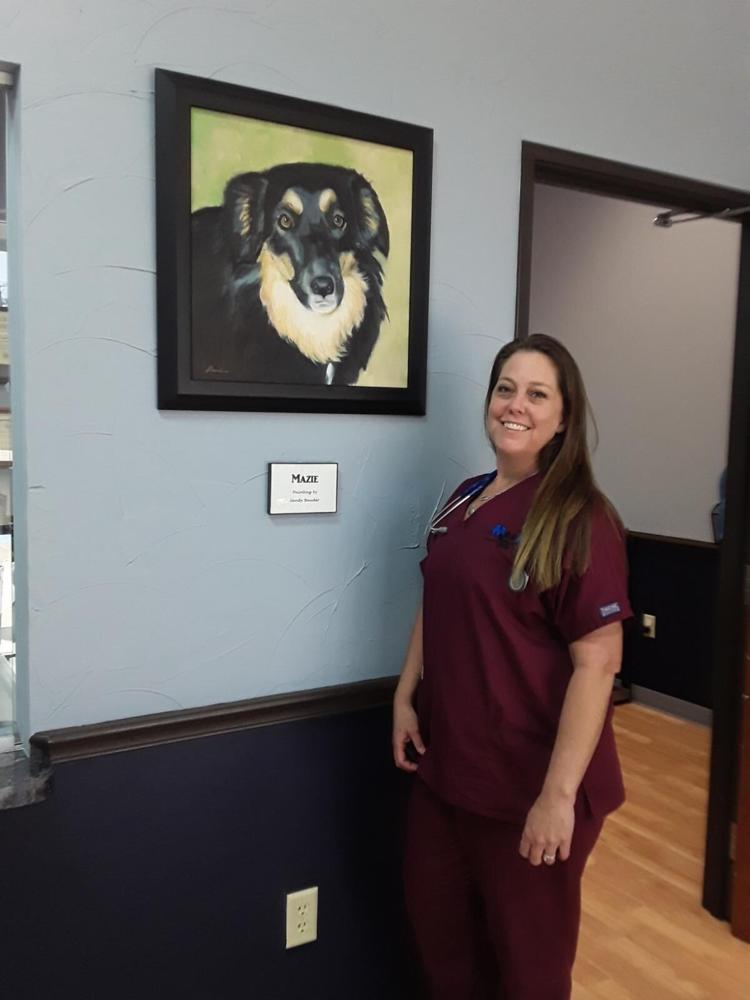 Shults also considered starting her own practice to treat rescued animals, but she knew the emotional toll and owning a practice could be too much to handle.
"The suicide rate for veterinarians is six times higher than the national average," Shults said. "We deal with compassion fatigue a lot."
So she combined the two ideas, and in 2014 Shults opened Mazie's Mission, a 2,000-square-foot suite in Frisco.
"We had already outgrown the space in six months," Shults said.
In March of 2019 Mazie's Mission relocated to Carrollton.
Serving a need
Shults said Mazie's Mission, while not a practice, does its due diligence to ensure the animals come from a nonprofit or a shelter.
"We had to devise procedures to make sure we weren't offering low-cost care for breeders or hoarders," Shults said. "If we find out you're not taking care of the animals like you should, we don't offer our services to you anymore."
Shults said participants must be from a nonprofit or a municipal shelter.
Shults estimates Mazie's Mission has helped between 1,500 and 2,000 animals a year since 2014.
"The shelters know they can pull the animal and go to Mazie's and help the animal because it's not going to cost $7,000," Shults said.
Along the way a few have stood out. There's Rufus, an American Bulldog that was found in the park by the police.
"He was so starved he couldn't even stand," Shults said. "We took him into our program and got him super handsome. He was very popular."
Then there's Cajun, a black Pitbull that was pregnant. All of her babies were stillborn because of her condition.
"When she woke up, she was looking for puppies," Shults said.
So Mazie's Mission put a call out on social media for newborn puppies without a mom.
"Within three days we had two different litters, and she adopted those dogs," Shults said.
Branching out
In addition to its core service, Mazie's Mission has a program where it offers reduced-cost treatment for heartworm since the treatment expense can often be a deterrent in adopting.
Serving Our Shelters is a program in which a shelter pays Mazie's Mission $200, and the organization will provide any treatment necessary for the shelter to adopt the animal. Shults said the average cost is around $1,500.
In the Hope's Door program, the organization provides free boarding for the pets of domestic abuse victims until they are in a safe place.
Mazie's Mission also includes community outreach programs, a rescue program and forensic veterinary medicine.
Looking ahead, Shults said she would still like to have an animal fortress that would feature a larger clinic, multiple veterinarians, a forensic center and an adoption center.
Shults said finding the land for the project is key. Ideally it would be approximately 10 acres and somewhere in Collin, Denton or Dallas county areas.
Shults sees it as a chance to enhance a program that has already saved thousands of animals.
"At the end of the day, we're changing the lives of many animals for the better, just by showing up for work every day," Shults said.
For more information on fostering, volunteering, donating and discussing land options for an animal fortress, go to maziesmission.org.