It's no secret that years of hard work go into earning an opportunity to play college athletics. Hundreds of student-athletes around the Metroplex can attest after inking letters of intent Wednesday as part of National Signing Day.
That included a who's who of standout performers through Denton County, including some of the top athletes to ever pass through their respective high schools — all of whom realized the dream of taking their talents to the collegiate level.
Take The Colony, for example. The Cougars' football team sported its most star-studded senior class ever in 2019 and several of the program cornerstones responsible for that success were front and center during Wednesday's festivities. That included seniors Christian Gonzalez (Colorado), Mikey Harrington II (Oklahoma Baptist), Keith Miller III (Colorado), Marcus Moore (Louisiana-Monroe), Myles Price (Texas Tech), Dominique Puentes (Evangel) and Kyair Warner (Evangel).
The football signees were joined by two linchpins of The Colony's softball team, which produced a state championship in 2017 and a state semifinal nod in 2019. The Lady Cougars will be led this season by seniors Jayda Coleman (Oklahoma) and Jacee Hamlin (Texas Tech), both of whom were recognized on Wednesday.
Hebron's football program is accustomed to no shortage of success and sported one of the area's larger signing classes with nine student-athletes inking letters of intent. That cast included seniors Kayden Carter (Southeastern Oklahoma State), Anton Ferrera (Cisco College), Carson Harris (Lamar), Myles James (Cisco College), Saxon Lewis (Missouri Southern), Carter Norrie (Southwestern Oklahoma State), Justin Pham (Texas Wesleyan), Ben Rutherford (Southern Nazarene) and Will White (Air Force).
Those players were joined by a trio of girls soccer standouts, as Hebron seniors Olivia Hasler (TCU), Arianah Torres (Brookhaven) and Briley Weatherford (Texas Tech) solidified the next chapter of their respective athletic careers.
Marcus wasn't lacking in fanfare for its 2020 signing class, with nine student-athletes across four sports signing on Wednesday. Seniors Ty'son Edwards (Columbia), Evan Fowler (Trinity Valley Community College), Jacob Scott (Cisco Junior College) and Collin Sutherland (Arkansas) all signed to continue their football careers, while Marcus swimmers Emily Engberson (Austin College), Cabot Ferguson (California Baptist) and Maysen Hauck (Southwestern) inked their respective letters of intent.
Marauder senior Cory McGrath signed to play water polo with Austin College, while senior Ethan Kappler will wrestle at Texas Wesleyan.
Just a few miles away, Lewisville ISD bunkmates Flower Mound and Lewisville recognized several student-athletes bound for the college ranks. Among the Jaguars who signed were seniors Alex Hardin (Football - West Texas A&M), Sarah Martinez (Volleyball - Houston), Caitlyn Matthews (Football - Houston), Travis McFarling (Football - Penn), Kaitlyn Sadler (Softball - McLennan Community College) and Blake Short (Football - Stephen F. Austin).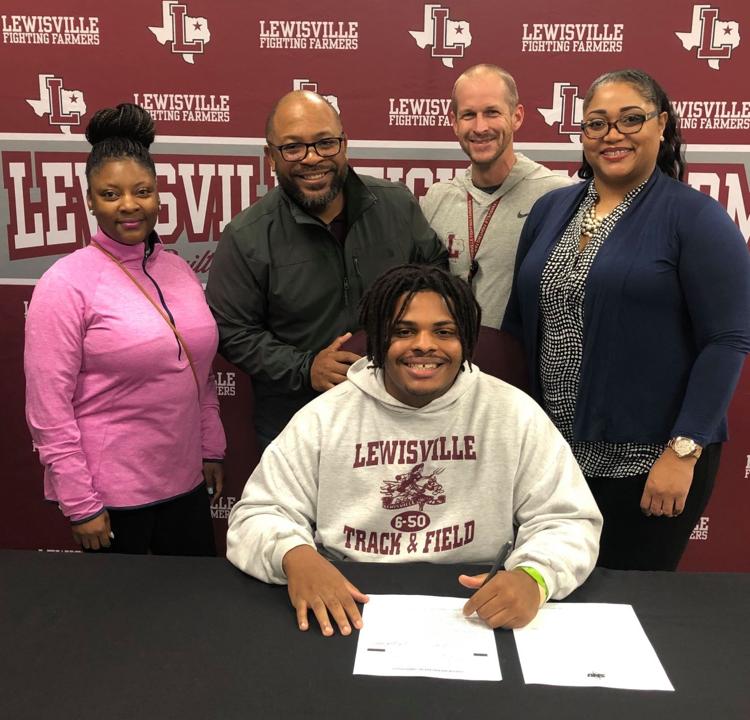 The Farmers, meanwhile, featured a pair of senior softball signees in Allie Barentine (University of Texas-Permian Basin) and Sierra Nixon (Weatherford College), as well as senior football player Khristian Versey (Southern Nazarene).
Coppell, meanwhile, honored seven student-athletes who signed across five different sports. That included a pair of softball standouts in Rylee Anderson (Mary Hardin-Baylor) and Olivia Reed (University of Texas at Dallas), plus two key pieces of the Cowgirls' tennis team in seniors Aishwarya Kannan (University of Texas at Dallas) and Sofia Sanchez (Mary Hardin-Baylor). Seniors Hayden MacArthur (Yale lacrosse), Payton Rosenbaum (East Texas Baptist football) and Shelby Spoor (LSU track and cross country) also locked up their respective college futures.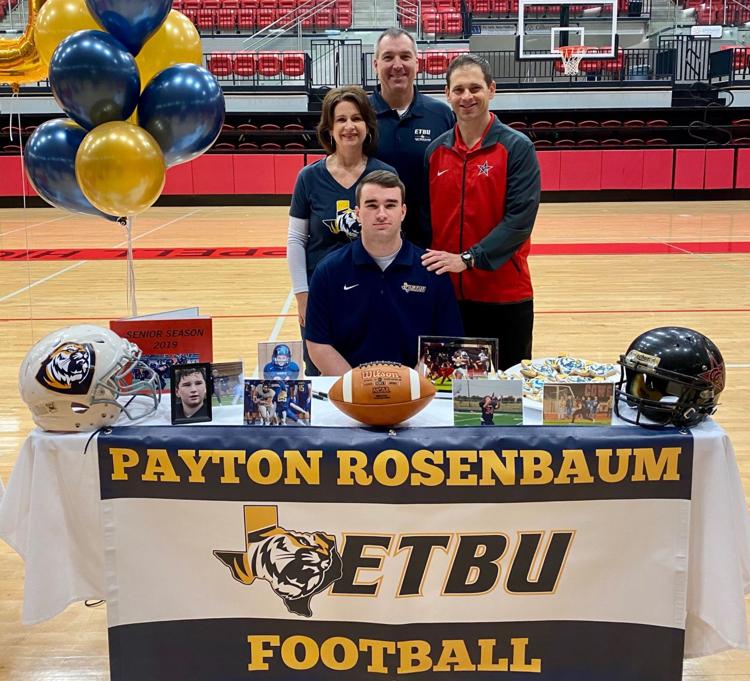 In the Class 5A ranks, Carrollton Creekview and Lake Dallas sported plenty of signing day fanfare as well. 
The Falcons featured two cornerstones of their regional finalist boys soccer team in seniors Brock Pope (Bradley) and Orlando Castro (Southern Nazarene), as well as girls soccer star and senior Karina DePaoli (Arkansas-Little Rock) and senior baseball standout Connor Perry (University of Texas at Dallas).
The Mustangs, meanwhile, will send a whopping 10 student-athletes to the next level. That includes four football signees in seniors TraVion Arnold (Clarke), Aaron Cyrus (McPherson College), Brett Esch (Bethel College) and Jack Parker (Air Force), while Creekview's girls soccer — Nevaeh Gonzales, Southwestern Oklahoma State; Elizabeth Marshall (Midwestern State); and Julianna Sicilian (Midwestern State) — girls basketball (Mekayla Holley, Arkansas-Little Rock), softball (Katelynn Larkin, Goshen College) and baseball (Matthew Malloy, Texas A&M-Texarkana) programs were also represented.