Through two games, Lewisville senior Damien Martinez is yet to run the football during the second half. On Thursday against Keller Timber Creek, the Farmers' star running back did more than enough early on to assure another short night.
Martinez ran for 255 yards and five touchdowns in the first half alone, setting an imposing tone for a 53-24 victory from Keller ISD Stadium that improved Lewisville to 2-0 on the season. Martinez did his damage on 21 carries, good for 12.1 yards per carry, and accounted for all five first-half touchdowns by the Farmers.
That paced a 36-10 halftime lead for the Farmers, who went on to outgain the Falcons, 532-346 in total yardage. Building off last week's 50-7 throttling of Arlington Bowie, Lewisville is off to a 2-0 start for just the second time since 2011.
Martinez shouldered the load early on, finding the end zone on runs of 8, 36, 27, 9 and 5 yards — all coming on the Farmers' first five drives of the ballgame.
His effort afforded plenty of cushion behind center for sophomore quarterback Ethan Terrell, who completed 12-of-18 passes for 209 yards in the win. Senior Kye Stone accounted for nearly half that yardage, with four catches for 100 yards.
Defensively, the Farmers held Timber Creek to just 10 points through three quarters. One week removed from posting a 6A area-high 409 passing yards, Falcons quarterback Jacob Porter was limited to 255 yards in Thursday's loss.
Lewisville closes out its non-district schedule with a 7 p.m. Sept. 10 home kickoff against Arlington Lamar.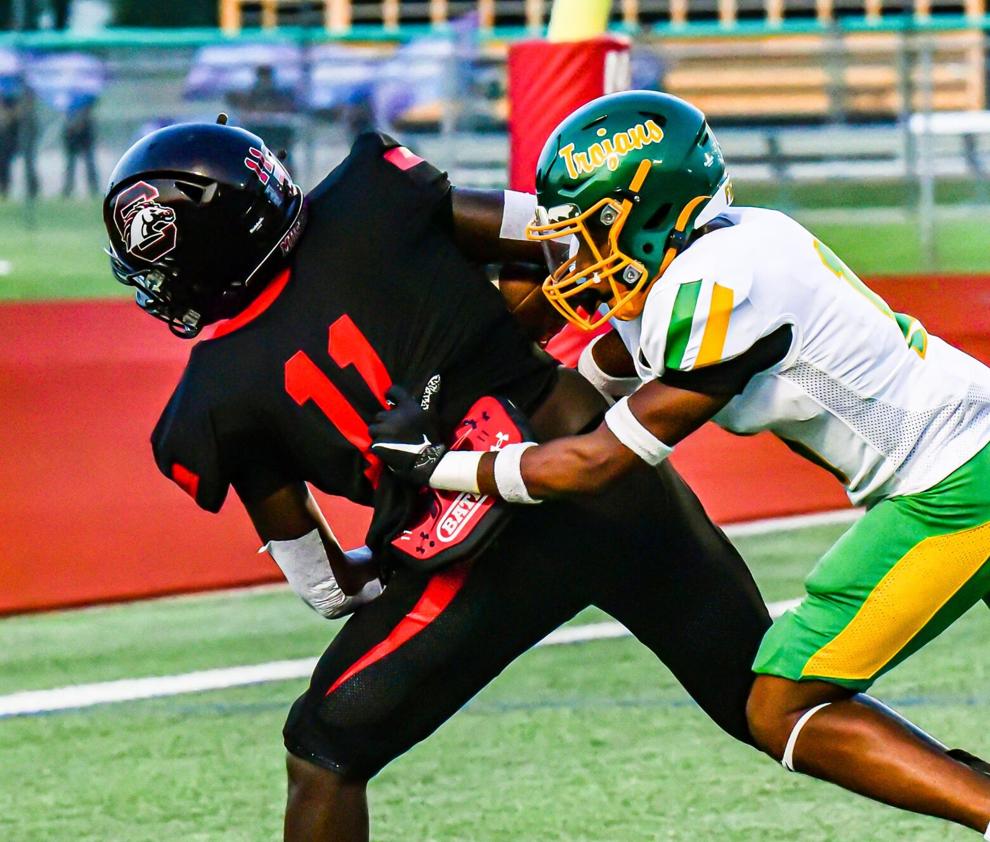 Newman Smith rallies past Creekview
After a challenging start to its 2021 campaign, Newman Smith shifted gears during the second half of Thursday's rivalry game against Creekview — outscoring the Mustangs 16-6 over the final two quarters to claim a 36-34 victory at Standridge Stadium.
The win doubled as Smith's first under head coach Robert Boone, squaring both the Trojans and Mustangs at 1-1 on the season.
It was a welcome step forward for Boone and Co. after Smith took one on the chin to Terrell in its season opener, 45-7. The Mustangs accrued more penalty yardage (112) than total yardage in the loss (93).
Creekview looked to be in command early on, scoring four times in its first five possessions behind a trio of touchdowns by senior quarterback Garrett Palacio — two passing and one rushing — plus a 32-yard touchdown run by senior Jordyn Crain for a 28-20 halftime lead.
The Mustangs found the end zone just one time in the second half, which came with 2:30 left in the fourth quarter on an 8-yard Palacio run. By that time, the Trojans had already stormed back to take a lead they wouldn't relinquish.
Smith ramped up its level of play on defense by generating two second-half turnovers to go along with a 59-yard touchdown pass from senior Alejandro Diaz to senior Ky'len Woods and a pair of Diego Rocha field goals for a 29-28 lead with 6:43 left in the fourth quarter. The Trojans swelled that lead to 36-28 after junior Demonte Greene returned a punt 73 yards for a score with 4:57 remaining.
Once Creekview at last struck back to make it 36-34, Smith leaned on junior running back Robert Dixon to run out the remainder of the game clock and pick up its fifth win over the Mustangs in their past six meetings.
Woods totaled 158 yards of offense in the win (88 rushing, 70 receiving), while sophomore running back Isaiah Small managed 106 yards and a touchdown for the Trojans. Creekview's setback included 77 rushing yards by senior Isaiah Evans and a pair of touchdown catches by senior Trey Wooten.