MURPHY — The offense Hebron envisioned at the start of the offseason wound up being quite from the one that took the field at Kimbrough Stadium in Friday's District 6-6A opener against Plano East.
The Hawks' projected starting quarterback, junior Weston Conaway, was sidelined by an injury early in the season. Hebron's top returning receiver, senior Nick Frazier, is out with a collarbone injury. The team's projected starting running back, Isaiah Broadway, transferred to Lancaster during the offseason.
With district play underway, those roles are now being filled by players like junior quarterback Jacob Buniff, senior running back Jalon Wilson and junior receiver Takoda Bridges. 
No matter the personnel, the Hawks just keep on rolling. That was once again evident Friday as Hebron's (2-1, 1-0) marksman-like efficiency bludgeoned East (0-4, 0-1) in the second half on the way to a 35-20 victory.
"Getting that first district win is big. It always feels nice to get that way out of the way," said Brian Brazil, Hebron head coach.
Despite holding just an 18-14 lead through two quarters, the Hawks put this one to pasture behind 15 unanswered points in the second half. Content to take whatever East's defense was scheming against, Hebron split its weaponry between a run game averaged more than 6 yards per carry and a passing game that oozed yards after the catch.
One of the key cogs in the latter was Bridges, who caught seven balls for 128 yards — highlighted by a 36-yard touchdown catch with 2:39 left in the third quarter, one where the pass-catcher bounced off an East defender after the reception, stayed inbounds and cruised into the end zone to swell the Hebron lead to 26-14.
"Koda's an explosive player and he did a really nice job blocking tonight as well. He set up some good runs for the other guys," Brazil said.
Hebron 26, Plano East 14 @ 2:39/3QQuite the night for Hebron WR Takoda Bridges. He has 6 catches for 135 yds and just scored on this 36 yd TD reception. Buniff converts the team's 2nd 2pt conversion of the night. pic.twitter.com/E650Vb2tO6

— Matt Welch (@MWelchSLM) October 24, 2020
Bridges was one of several Hebron pass-catchers who thrived in space on Friday, with Buniff comfortably operating a quick air attack. The signal-caller finished 15-of-22 for 235 yards and a touchdown, including 7-of-8 for 95 yards in the second half.
"We have a lot of playmakers who can do things with the ball," Brazil said. "That's why we'll get into the wildcat and let guys like Koda, Jaddai (Henry) or D'Avay (Johnson) run the ball. We can get them in space, put them in the backfield and try and make things happen."
Wilson had plenty of say as well, scoring three touchdowns and logging 79 rushing yards. Senior Brandon Love added 62 yards on the ground for an efficient ground game that put the contest out of reach with 3:01 to play in the fourth quarter following a 16-yard touchdown run by Wilson. He added scoring runs of 8 and 5 yards in the first half.
"The only time we were stopped was when we beat ourselves with penalties and things like that. I felt like we did a really good job moving the football all night long," Brazil said.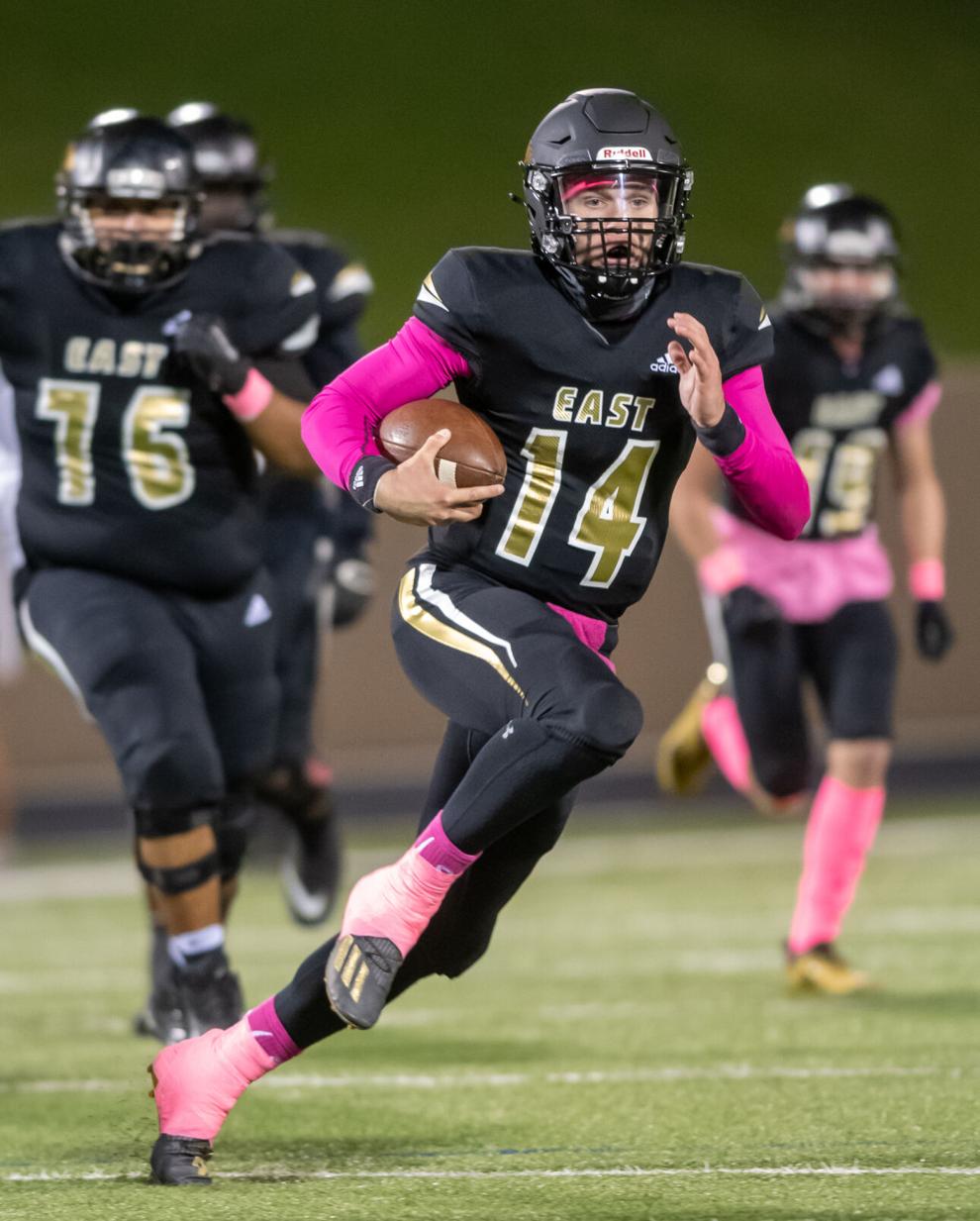 For a while, the Panthers stayed within striking distance. Despite trailing nearly all game, immediately staked to an 8-0 deficit just over two minutes into the contest following a Wilson touchdown run, the Panthers rallied to within four by halftime. East marched 99 yards on the Hawks and, early in the second quarter, scored on a 7-yard run by senior Dylan Hayden to trim the deficit to 11-7.
Hayden was efficient at 13-of-17 for 215 yards and a touchdown, while junior Ismail Mahdi dazzled at times with 135 rushing yards, 99 receiving yards and two total touchdowns. He corralled a deep ball for 39 yards and found the end zone on a 2-yard run three plays later to bring East within 18-14 with 37 seconds left in the first half.
Mahdi was also on the receiving end of the Panthers' lone second-half touchdown — a 24-yard wheel route hauled in from Hayden. 
"I told them before the week that [Mahdi] is one heck of a football player. He's up there with the best we've seen so far and he was really good tonight," Brazil said.
The Panthers were only outgained, 431-380, but untimely penalties and lapses in special teams encompassed a series of self-inflicted wounds sustained by East on Friday. In the first half alone, the Panthers surrendered possession to Hebron after failing to field a kickoff and they later had a punt blocked deep in their own territory that set up Wilson's second touchdown of the game. 
East also had penalties negate multiple big gains and conversions, including in a second half that saw the offense turn the ball over on downs twice.
The Panthers hope to clean that up in time for Friday's 7 p.m. road tilt against Lewisville, while Hebron welcomes Flower Mound that same time.