FLOWER MOUND — In what has been a trying year for the Marcus track and field team, from adjusting with the challenges brought on by the COVID-19 pandemic to coping with the passing of longtime head coach Steve Telaneus in April 2020, Saturday night was a gratifying occasion for the program.
The Marauders, entrenched for years as one of the area's most balanced track programs under Telaneus, looked the part in a resounding effort inside their home stadium to add another district championship to their trophy case. The Marcus boys won nine events and placed in the top three in 13 total to cruise to the top of the District 6-6A standings with 173.5 points.
"We went through the summer and not getting to grieve the right way and do all those things, along with COVID restricting us, when we stepped out in August and tried working our way back, it was a lot of picking up pieces and trying to put it back together," said Andy Reinberg, Marcus head coach. "The kids leaned on each other and we worked to figure out how we could get these kids to unify again. The momentum has built as we've gone through and this boys team, especially, is really coming together."
The elation of the Marauders, who won their first district championship since 2017, was matched nearby from the Flower Mound girls, who captured their first-ever conference title after pulling away from Coppell over the final few races. Through 13 events, only three points separated the Lady Jaguars and Cowgirls before Flower Mound went on to total 148 points to second-place Coppell's 123.
"It means a lot. We've got come up with a lot of seconds and thirds over the year, but this was such a great effort," said Andrew Cook, Flower Mound head coach. "We scraped together some points in the field events but really got it rolling with our relays today and that made a big difference for us, as well as a lot of other running events."
Hebron cracked the top three in both team standings with its boys (120 points) placing second and girls (100) taking third, while Flower Mound's boys (95) managed a third-place team finish of their own. The top four finishers in each event qualified for the 5/6-6A area track meet, which takes place Thursday-Friday at Coppell.
"We want to be the best version of ourselves and do our jobs," Reinberg said. "The momentum coming into area, we've been counting points for a quite a few weeks trying to see where we stand. I think with the pieces we've got moving on, we can really start dialing in."
The Marauders flexed their depth with 25 total area qualifiers on top of 11 individual district champions. Several came from a deep group of sprinters anchored by J. Michael Sturdivant, a standout receiver for the Marcus football team. Competing in his first track postseason as a Marauder, Sturdivant won the 100- and 200-meter dashes with times of 10.71 and 21.52, respectively, ran the anchor leg in the team's first-place 4x100 relay with Ryan Dyess Coyle, Benton Webber and Christian Floyd (41.63), and placed first in the long jump (23-4 3/4).
"[Sturdivant] didn't have to come out — he has a full ride to play football at Cal but wanted to run track," Reinberg said. "He came in, led well and did everything we asked him to do without hesitation, and the other guys responded."
Dyess, Webber and Floyd teamed with Will VanZee to win the 4x200 relay (1:29.03), while senior Greyson Gravitt picked up gold medals in the 800 (1:54.51) and 1,600 (4:18.55), senior Hunter Sanders claimed the top spot in the discus throw (150-9) and senior Grady Wards placed first in the pole vault (15-0).
On the girls side, junior Kim Ume-Ezeoke ran a personal-record 44.33 to win the 300 hurdles and sophomore Emma Sralla, the nation's top-ranked discus thrower, continued her torrid ascent by winning the event with a throw of 166-3.
"We try to be a very balanced team and our kids and coaches care about that," Reinberg said. "We've got coaches from other sports where this might be their second sport but they give 100% to coaching up these kids and really giving their energy to their events."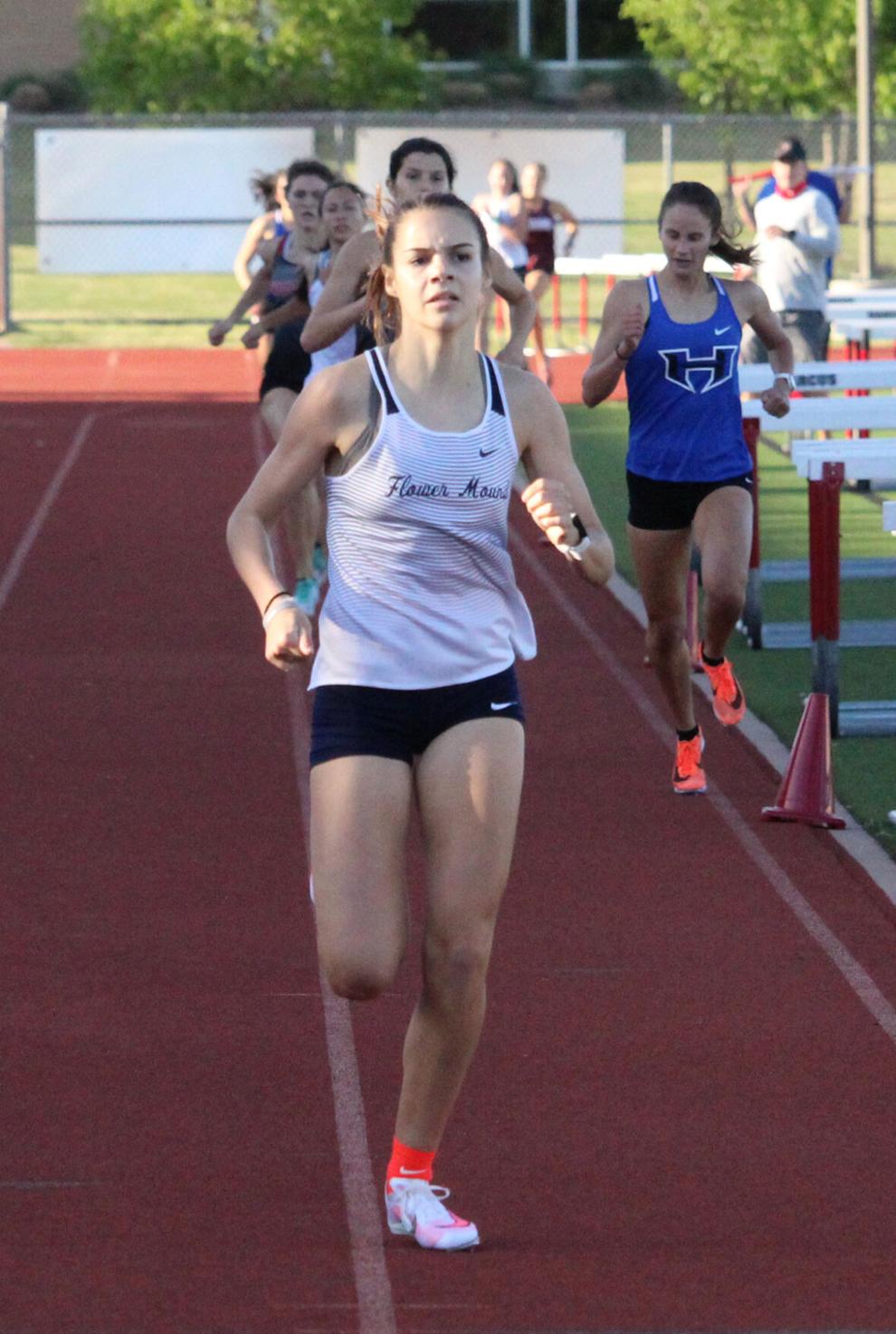 The Flower Mound girls totaled five individual champions Friday and Saturday, nearly sweeping the field in the mid- to long-distance events with wins by freshman Nicole Humphries in the 800 (2:09.89), junior Natalie Cook in the 3,200 (10:56.23) plus the 4x200 relay of Olivia Worrell, London Gray, McKenzie Schultz and Dayana Felicien (1:42.39) and the 4x400 relay of Gray, Humphries, Samantha Humphries and Emma Hoang (3:53.92).
"I think that (4x200 win) was the turning point for us," Cook said. "We thought maybe we'd get second, third or fourth but to drop the hammer and get first was really where momentum started to shift for us."
Flower Mound junior Eva Vreeland added a win in the 100 hurdles, edging Coppell sophomore Skyler Schuller by five hundredths of a second in the night's closest varsity finish. The other, fittingly enough, came minutes later when Plano East senior Dylan Hayden (14.78) eked past Lewisville senior Daylon Berry (14.86) a the wire to win the 110 hurdles by eight hundredths of a second.
Berry (38.48) returned the favor later in the meet by besting Hayden (38.98) by a half-second in a competitive 300 hurdles race.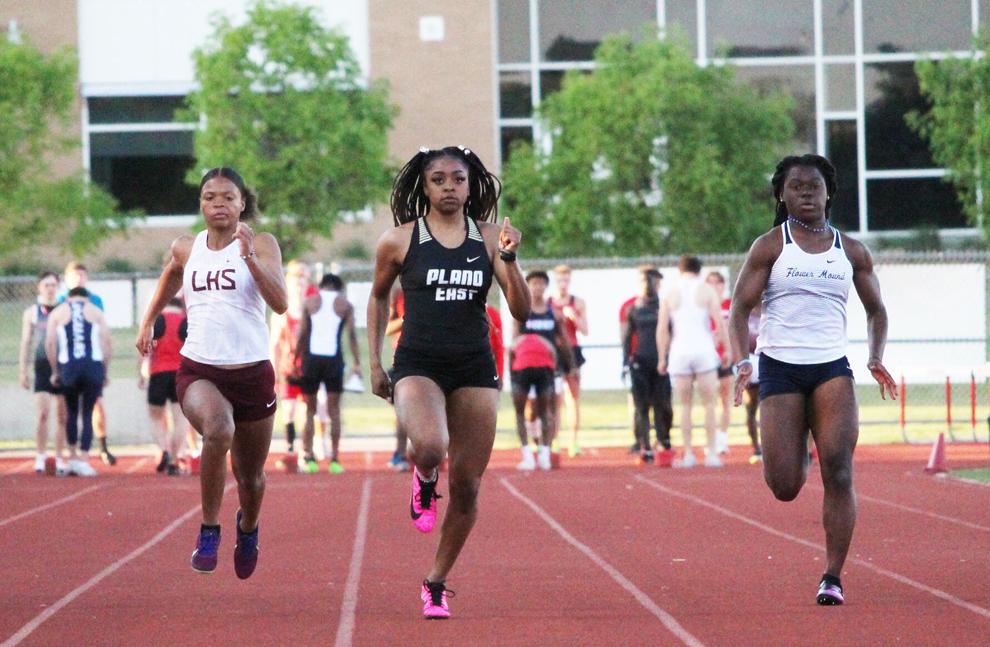 Hayden accounted for one of five gold medals won by East at the district meet, joined by junior Aiden Hayes, who cleared 6-5 to win the high jump, while senior Tiriah Kelley asserted herself as the district's top sprinter. She won the 100 (11.81), 200 (24.83) and anchored the Lady Panthers' first-place 4x100 relay (47.48) with Kaylee Moody, Ibukun Alausa and Kaley Qualls.
Hebron, meanwhile, racked up first-place finishes in six events, including the final race of the night after the quartet of Ethan Nguyen, Isaac Barrera, Johnathan Jackson and Justin Smith teamed up to win the 4x400 relay (3:21.21). Smith anchored the relay with a blazing final leg, a fitting conclusion after he won the 400 earlier in the meet with a personal-record 48.69.
Junior Jeriel Algarin Marquez added a win in the 3,200 (9:24.66), senior Keaton Morrison got the better of a competitive girls 1,600 (4:59.68) and junior Kelis Armstrong won both the long jump (18-9 1/2) and triple jump (37-4 3/4).
Coppell's girls team placed first in three events, all wins by sophomores. Skyler Schuller took the top spot in the pole vault (11-6), Megan Judd won the high jump (5-5) and Waverly Hassman finished first in the 400 (57.48).
Plano and Plano West split the district titles in the shot put after wins by Wildcat junior David Smith (49-10) and Lady Wolf senior Michelle Ogbemudia (42-2 1/4).