The Marcus boys soccer team stacked up among the best in the Metroplex and the state in 2020 — posting a staggering plus-54 goal differential to complement a 19-1-1 overall record. Within that mark came a 12-1 record in District 6-6A, good for 36 points and a 13-point lead on second place when the COVID-19 pandemic brought the Marauders' season to a halt.
Tallying a plus-30 goal differential against conference foes — 25 goals higher than the next-closest team — Marcus was naturally front and center on the league's annual all-district list. In total, the Marauders collected four superlatives as part of their banner season, including an MVP nod for senior Harvey Castro.
The tip of the spear for a loaded Marcus midfield, Castro tallied 12 goals and eight assists during his final high school campaign.
"He's an incredibly technical player with a great eye for goals and just an all-around great playmaker," said Sam Garza, Marcus head coach. "He really was that link from our back line to our front three, and the majority of the games we dominated the midfield and he was a big component of that. He's a great leader in locker room as well."
Castro wasn't alone in guiding the Marauders to the top spot in 6-6A, including a welcome hand from his younger brother, sophomore Zac Castro. The forward's breakout year resulted in 11 goals and nine assists and netted 6-6A newcomer of the year honors.
"Not only does he have an eye for goals and is a great finisher, he does a really good job connecting with his teammates is exactly what you want as a No. 9 (center forward)," Garza said. "Somebody who isn't necessarily a dynamic guy who can run in behind and make things happen like that, but someone who's technical, can lay the ball off, spin, combination plays, and obviously he's great around the box.
"… I think maybe half the goals were [Harvey and Zac Castro] assisting each other. Their connection on the field was incredible. They were on the same page all the time."
Claiming utility player of the year was Marcus senior Nick Rabehl, who logged only one assist but thrived in a myriad of different roles for 6-6A's top side.
"Nick isn't the type to fill up the stat sheet, but he's an incredible, cerebral player who's very athletic and does whatever you need," Garza said. "I thought when he was our defensive mid was when we really controlled games … and when we moved him back to center back, you saw his athleticism really stand out there as well. He was kind of the engine to the team."
Garza, a Marcus alum who was named the team's next head coach in November 2019, was voted coach of the year after commandeering a district champion and state title contender in his first season at the helm.
"I'm never focused on stuff like that. Even when I was a player, that stuff just came with doing the right stuff on and off the pitch, and I still feel strongly about that as a coach," Garza said. "As long as I'm doing the right things and getting my guys prepared, I believe the results will come."
Although the Marauders hoarded their share of all-district superlatives, five other schools managed a stake in the conference's top accolades. Lewisville, which clinched just its second playoff berth since 1999 before the season's abrupt conclusion, sported one of the league's top goal-scorers in senior Fernando Gonzalez. Recording 10 goals and six assists, Gonzalez split offensive player of the year honors with Irving Nimitz's Miguel Landeros.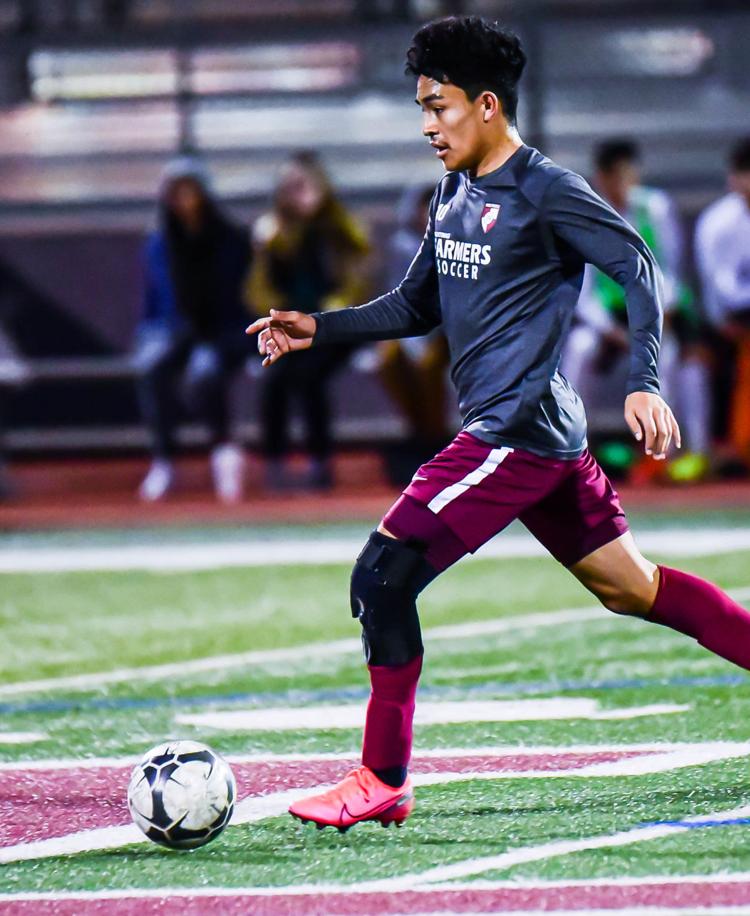 "[Gonzalez] is just someone you could count on to get a goal or create one for someone else," said Brandon McCallum, Lewisville head coach. "He is very dangerous around the goal and scored in so many different ways — with his head, beating a player, dead-ball situations, you name it."
The Farmers clinched their playoff berth at the expense of Hebron. Despite falling short, the Hawks kept themselves in contention thanks in part to the work between the pipes by senior goalkeeper Owen Passmore. The netminder surrendered just 17 goals across 13 matches, in addition to one shutout, en route to goalkeeper of the year honors — an accolade that amounted to one of many for Passmore, who was also named "Mr. Hebron" by his high school and earned his Eagle Scout badge.
"Owen had big shoes to fill this season after we lost our co-district keeper of the year, Matthew Hoffmann, to graduation last year," said Matt Zimmerman, Hebron head coach. "I knew of the kind of player he could be but just didn't know if he could put it all together this year. He has always been a good ball stopper, but his game management and distribution needed to grow and I thought it would come with experience.  
"… Even though he did not have the shutout stats that some other goalies had in district play, the amount of incredible saves on shots, breakaways and PKs kept us in every game this season." 
Coppell, which tied with Irving for second place in the conference, came away with a pair of superlatives — senior MJ Fleeks earned co-defensive player of the year alongside Irving's Mav Cazares, and senior Sebastian Blaas repeated as 6-6A's midfielder of the year.
2020 6-6A All-District Boys Soccer Team
MVP: Harvey Castro (Marcus, Sr.)
Co-Offensive Player of the Year: Miguel Landeros (Irving Nimitz, Sr.), Fernando Gonzalez (Lewisville Sr.)
Co-Defensive Player of the Year: MJ Fleeks (Coppell, Sr.), Mav Cazares (Irving, Sr.)
Midfielder of the Year: Sebastian Blaas (Coppell, Sr.)
Goalkeeper of the Year: Owen Passmore (Hebron, Sr.)
Newcomer of the Year: Zac Castro (Marcus, Soph.)
Utility Player of the Year: Nick Rabehl (Marcus, Sr.)
Coach of the Year: Sam Garza (Marcus)
First Team
Tomas Pondeca (Marcus, MF, Sr.)
Sam Coad (Marcus, ST, Sr.)
David Rocha (Marcus, GK, Sr.)
Garrett Karbs (Marcus, D, Sr.)
Porter Pomykal (Marcus, MF, Jr.)
Arath Valdez (Coppell, GK, Soph.)
Maxwell Winneker (Coppell, MF, Sr.)
Nathan Hernandez (Coppell, D, Sr.)
Tom Vazhekatt (Coppell, F, Sr.)
Felipe Garcia (Irving, MF, Jr.)
Luis Aguilera (Irving, F, Jr.)
Shane Anderson (Irving, MF, Jr.)
Elian Valerino (Irving, MF, Soph.)
Kobe Soto (Lewisville, MF, Sr.)
Brody Webster (Lewisville, MF, Jr.)
Ethan Carbajal (Lewisville, F, Sr.)
John Williams (Hebron, F, Sr.)
Omar Thompson (Hebron, F, Sr.)
Andrew Buruca (Irving Nimitz, D, Jr.)
Aldo Martinez (Irving Nimitz, MF, Sr.)
Emad Mohamed (Irving MacArthur, MF, Sr.)
Diego Cebrian (Irving MacArthur, D, Sr.)
Sebastian Palma (Flower Mound, D, Jr.)
Landon Leach (Flower Mound, GK, Jr.)
Second Team
Colin Prokasy (Marcus, D, Sr.)
William Pondeca (Marcus, MF, Jr.)
Trevor Shaughnessy (Marcus, D, Sr.)
Mark Hayes (Marcus, MF, Sr.)
Nick Julien (Marcus, D, Jr.)
Caleb Razo (Coppell, MF, Sr.)
Nicolas Radicic (Coppell, F, Fr.)
Walker Stone (Coppell, D, Soph.)
Ben Wang (Coppell, MF, Sr.)
Alexis Ramirez (Irving, GK, Jr.)
Alessandro Ceballos (Irving, MF, Sr.)
Roberto Rodriguez (Irving, D, Jr.)
Jeffery Aguirre (Irving, D, Jr.)
Brian Beltran (Lewisville, D, Jr.)
Tony Cantoran (Lewisville, MF, Jr.)
Van Uk (Lewisville, MF, Soph.)
Diego Bezanilla (Hebron, MF, Jr.)
Bryce Layn (Hebron, D, Sr.)
Bryan Garcia (Irving Nimitz, D, Sr.)
Bryan Espinal (Irving Nimitz, D, Sr.)
Osyrus McIntire (Irving MacArthur, D, Sr.)
Andrew Morales (Irving MacArthur, F, Soph.)
Janek Florack (Flower Mound, MF, Jr.)
Eric Denisco (Flower Mound, D, Jr.)
Honorable Mention
Matthew Ortiz (Flower Mound, MF, Jr.)
James Baxter (Flower Mound, MF, Soph.)
Eric Austgen (Flower Mound, D, Jr.)
Preston Taylor (Coppell, F, Fr.)
Adam Saif (Coppell, MF, Sr.)
Dehvyn Veazey (Marcus, D, Jr.)
Hunter Hoffman (Marcus, MF, Jr.)
Noah Peeler (Marcus, MF, Jr.)
Riley Laplante (Marcus, D, Sr.)
Ty Stoutmeyer (Marcus, MF, Jr.)
Garrison Hatley (Hebron, MF, Jr.)
Mason Booe (Hebron, MF, Sr.)
Cayden Casburn (Hebron, D, Jr.)
Luis Lopez (Lewisville, D, Sr.)
Jai Johnson (Lewisville, D, Soph.)
Ramon Aguilar (Lewisville, MF, Jr.)
Eric Martinez (Irving, D, Jr.)
Milton Lopez (Irving, MF/F, Fr.)
Winston Sura (Irving MacArthur, MF, Jr.)
Michael Ramirez (Irving MacArthur, MF, Jr.)
Jose Espinal (Irving Nimitz, D, Sr.)
Jonathan Morales (Irving Nimitz, MF, Jr.)
Rogelio Figueroa (Irving Nimitz, D, Sr.)
Kevin Escobar (Irving Nimitz, GK, Sr.)