CARROLLTON — After holding just a one-point lead through the first quarter of Tuesday's District 6-6A opener, the Plano East girls basketball team ramped up its aggression on defense, and as a result, left Hebron further and further in its rearview mirror.
The Lady Panthers gained more distance from the Lady Hawks by the quarter over the three final frames on Tuesday and cruised to a 50-33 road win in their conference opener.
"Coming off that game against DeSoto (a 45-41 loss), I was nervous about this game, but it just about us getting back to playing hard," said Jessica Linson, East head coach. "They were playing harder than us early on. I just told them to do the small things — block out, get on the floor. Do what we do. Play how we play."
After surrendering 12 points in the opening frame — 11 to Hebron super scorer Demauria Miles — East limited the Lady Hawks to single digits in each of the final three quarters. That included a combined 14 points in the second and third stanzas, as the Lady Panthers opened up a 41-26 advantage heading into the fourth.
Defense and rebounding led the way, as East overwhelmed Hebron across all 84 feet of the Lady Hawks' home gym on Tuesday. The Lady Panthers baited Hebron into 15 total turnovers during the middle two quarters and totaled 20 offensive rebounds in the win.
"It was a point of emphasis," Linson said. "They rebound well on offense but not as well on defense, so we figured that would be a way to get some easy points with how long and athletic we are."
At the heart of the effort were sophomores Idara Udo and Taylor Haggan. Udo asserted her presence from the get-go, converting a put-back plus a foul for East's first points of the night. She added a team-high 17 points in the win and grabbed six offensive rebounds.
"[Udo's] just growing into who she is. She was just a freshman last year and I think she's playing with a bit of a chip on her shoulder," Linson said. "She's really starting to come into her own and her recruiting is starting to pick up. She played really solid tonight."
Haggan, last year's newcomer of the year in 9-6A, came off the bench and poured in 10 points and seven rebounds. Junior Donavia Hall added seven points and grabbed four offensive rebounds.
Those second-chance opportunities did no favors for a Hebron offense that found fewer and fewer outlets for sustainable offense as Tuesday's game progressed. Early on, the Lady Hawks benefited from a hot start from Miles, who accounted for 17 of the team's 21 points in the first half.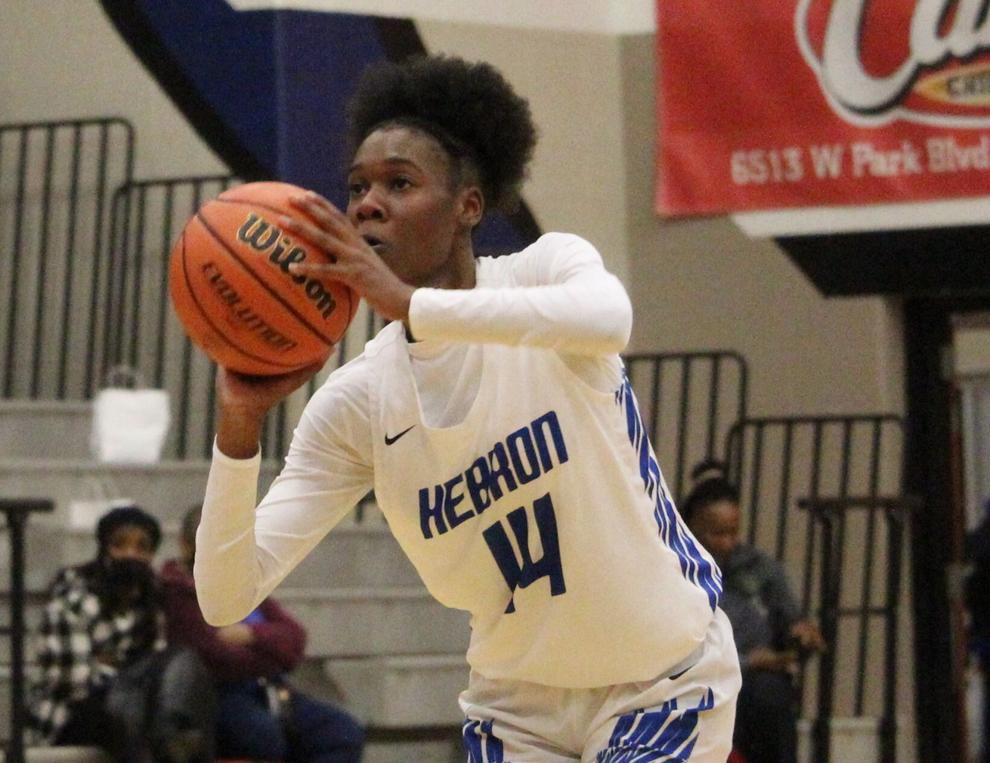 She pillaged the Lady Panthers from deep, converting a pair of first-quarter 3s, and drained a number of tough shots in the lane to keep Hebron afloat early on.
"They didn't even realize how bad [Miles] had been hurting us until we got to the half," Linson said. "She scored 17 points and we don't have players score like that on us. We knew we could defend better than that, and our girls took it to heart and took it personal."
Between Miles' scoring and a resilient effort by the team's transition defense, Hebron hung tough for a half and faced just a 27-21 deficit before being outscored 23-12 the rest of the way. Freshman Paris Bradley added four points, including a layup with 1:20 left in the second quarter that was Hebron's first made field goal from a player other than Miles.
The Lady Panthers hope that defensive effort will serve them well in the weeks ahead as the team looks to climb the 6-6A pecking order after rounding into form late in the second half last season en route to a second-place district finish in 9-6A.
"I like where we are, especially with us still being young," Linson said. "We're still teaching things that they'll need if they hope to win a championship. We missed a lot of free throws tonight and that's something we need to clean up."
The Lady Panthers eye a 2-0 start to district play at 6:30 p.m. Friday when they host Lewisville. Hebron looks to crack .500 that same time when it visits Flower Mound.