THE COLONY — As the Coppell boys sat in fifth place in the team standings, head coach Jason Spoor knew his Cowboys were capable of better heading into Day Two of the District 6-6A boys golf tournament.
A competitive first day on the course at The Tribute Golf Links slotted Coppell with a team score of 328 — 18 strokes behind second-place Flower Mound with only the top two teams in the final standings qualifying for regionals.
"It was just one of those deals on the first day where as things went along we just weren't getting the ball to drop in the cup the way we needed to," Spoor said. "I think we were just trying too hard to make something happen and that made it worse. They were disappointed, but we talked about having to put it behind us really quick and have a much better day on Tuesday."
Message received.
The Cowboys battled heavy winds on Tuesday to shave a staggering 35 strokes off their total from Monday, posting a 293 to finish at 621 overall and elevate from fifth place all the way up to second.
"We knew we were better than that and it showed today," Spoor said. "We had to play like we know we can and see what happens — don't worry about the leaderboard, don't worry about any of the scores, just play it one shot at a time."
While Coppell's big rally was enough to earn the last of the district's two qualifying team berths, Plano West had put the race for the 6-6A championship out of reach behind a steady two-day total of 608 (302-306) to capture the team title by 13 strokes.
"Anytime you come out to Tribute, you know you'll catch the wind. Monday was a pretty average day, but when we started today it was blowing pretty hard," said Rick Hardison, West head coach. "We knew it would be a tough day and we had an eight-stroke lead (after Monday), and I was telling the boys that normally with a lead like that you feel pretty good, but with a day like today that can change in just a couple of holes. We knew we had to stick to our plan and grind it out and stay patient."
The Wolves were the only team to card under 310 on both days in The Colony. Coppell's Tuesday total of 293 was the best round submitted by any squad at the tournament, enough to edge a crowded field that included a third-place finish from Marcus (312-312, 624), a fourth-place finish by Hebron (318-308, 626) and a fifth-place finish by Flower Mound (310-317, 627).
The top two teams and the top two placers not on qualifying teams all earned spots in the Region I-6A tournament, set for April 21-22 at Tangle Ridge Golf Club in Grand Prairie. 
"It's always tough. You're going in there with teams like Southlake and Keller, and we know it'll be tough," Hardison said. "Typically if you can get out of a region like this and go to state, you feel like you've got a pretty good chance of competing. We know it'll be a challenge, but we're up for it and will work hard for it."
West will hope to rely on the same depth that paced its efforts at the district tournament. Matt Comegys led a pack of three Wolves to finish in the top eight of the team standings, posting two-day scores of 76 and 73 to finish at 149 overall, good for 5-over par.
"There aren't enough accolades for Matt. He's going to give you everything he's got and that's just what he did over these two days," Hardison said. "I know he's a little disappointed in that last hole, but you can't ask for a person on your team over these two days. I'd love to have a whole team full of Matt Comegys."
Comegys had help from teammate Alex Huang, who finished as part of a three-way tie for fourth place after carding a 152 (74-78), while Rohan Aerrabolu finished tied for seventh at 153 (76-77). Jayden Song (79-78, 157, 13th place) and Jarrett Grinnell (76-82, 158, 14th place) rounded out West's top five finishers.
The Wolves built an early cushion on Monday, which helped the team avoid any stress brought on by Coppell's surge the following afternoon. Each of the Cowboys' top five finishers either tied or improved their score from Monday despite playing in tougher conditions.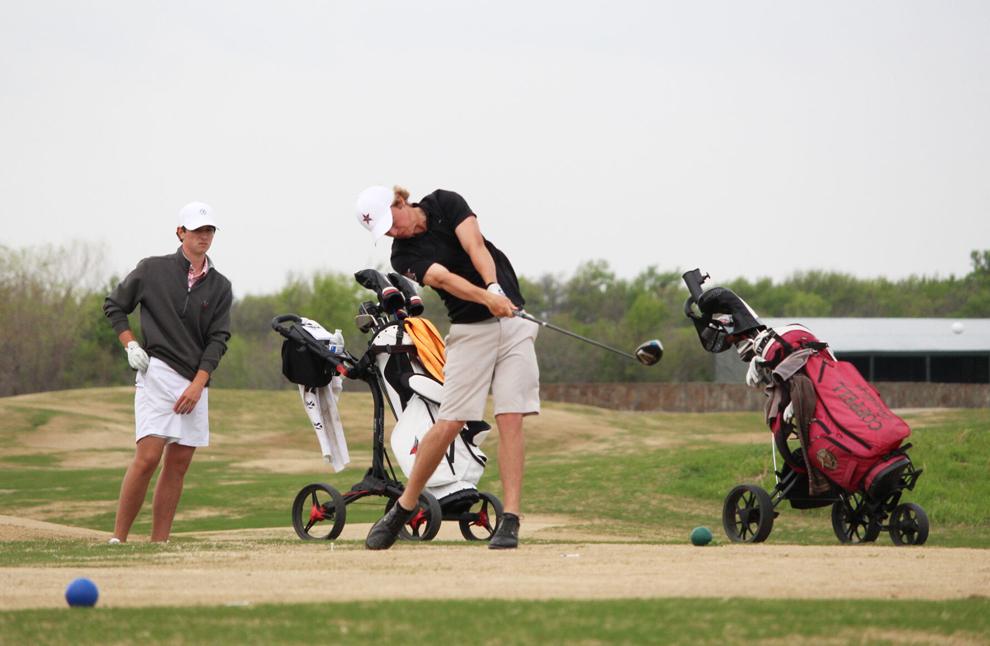 That reflected in the efforts of Zach Frazer, who began Tuesday in a tie for 15th place after shooting an 80. He responded with a 68 — good for 4-under par — on Day Two to rise up the leaderboard and edge Comegys by one stroke for the individual district championship.
"The mental toughness of that kid — to put together a run like that shows a lot of resilience. I'm proud of Zach. That was a great job by him to get out there and keep plugging away," Spoor said.
Frazer wasn't alone in helping Coppell's rally. Andrew Chow shaved five strokes off his Monday tally to finish tied for seventh place (79-74, 153), while Rithvik Shroff (82-78, 160) and Alex Ahn (87-73, 160) tied for 18th overall.
With West and Coppell sending their respective teams to regionals, Hebron and Flower Mound will also be represented in Grand Prairie. Flower Mound's Rohit Madireddi shaved five strokes off his Monday total to post a 151 and finish third overall, while Hebron's Greg Seo (76-76, 152) bested teammate Carter Patterson (79-73, 152) in a playoff that required three holes to secure the last individual qualifying spot.
Marcus, which finished third overall in the team standings at 624, placed three golfers in the event's top 12 — led by a ninth-place finish from Awesome Burnett (77-78, 155) and an 11th-place tie between Trevor Algya (75-81, 156) and Kenneth Melendrez (78-78, 156). A total of six shots separated second-place Coppell from fifth-place Flower Mound.
Plano East managed a sixth-place team finish after carding rounds of 329 and 325 for a total of 654. Teammates Collin Waterhouse and Garrett Rae finished tied for 18th place after totaling 160 apiece.
Plano, meanwhile, took 13th overall (405-384, 789), led by a 65th-place effort from Davis Gillen (96-93, 189), and Lewisville placed 14th in the team standings (399-415, 814). The Farmers were paced by Tyler Kowalski, who took 73rd overall after shooting a 197.