CARROLLTON — Plano's baseball team took a big step toward becoming a player in the postseason picture Thursday with a 4-3 win on the road over Hebron as the District 6-6A season approaches its midpoint. 
The Wildcats used a three-run third inning to get past the Hawks and improve to 2-4 in district while the Hawks fall to 3-3 and into a two-way tie for fifth with Coppell (Flower Mound, Marcus, Plano East and Plano West sit atop the district at 4-2). 
In addition to the big middle inning, Plano rode the arms of southpaws Kyle Bade and Jacob Prokarym to the victory. 
Bade was the starter for the Wildcats and threw 5.2 innings of two-hit baseball allowing two runs with seven strikeouts before giving way to Prokarym for the final four outs. 
With Plano clinging to a one-run lead in the bottom of the fourth, Bade got out of a bases-loaded jam by striking out the side and tallied five strikeouts (three of the looking variety) in the fourth and fifth innings alone. 
"Bade didn't have his best stuff tonight, and that's when good pitchers can shine through," said Rick Cremer, Plano head coach. "That's a very good hitting team and he kept them off balance. They got a couple hits and that was it." 
In the bottom of the sixth with the tying run at the second base and two outs, Prokarym entered for his first appearance of the season, but his arm wasn't needed as catcher Jason Hawkins gunned down a runner attempting to steal third for the final out. 
Prokarym then navigated around a two-out single to nail down the save. 
"He's very highly-acclaimed and has just been dealing with some injury issues the past few years," Cremer said. "He was on varsity as a freshman and we're very excited to have him back." 
It was Hebron that actually opened the scoring on Thursday, with starting pitcher MJ Seo powering a solo homer over the left-field wall on the first pitch of the bottom of the second inning. 
But Plano quickly countered in the third when Hawkins and Bade reached and came around to score on an RBI double from Logan Anderson and RBI grounder Ashton Cason. Blake Van Cleve would also tack on a run-scoring single in the frame.
In the top of the fifth, Cason led off with a single and later scored on one of two Hebron errors on the night. 
"Plano does a good job of making your pitcher work and putting the ball in play," said Steve Stone, Hebron head coach. "They put a lot on the ground and make you play baseball and defense and we didn't do that very well tonight. Bottom line is they beat us."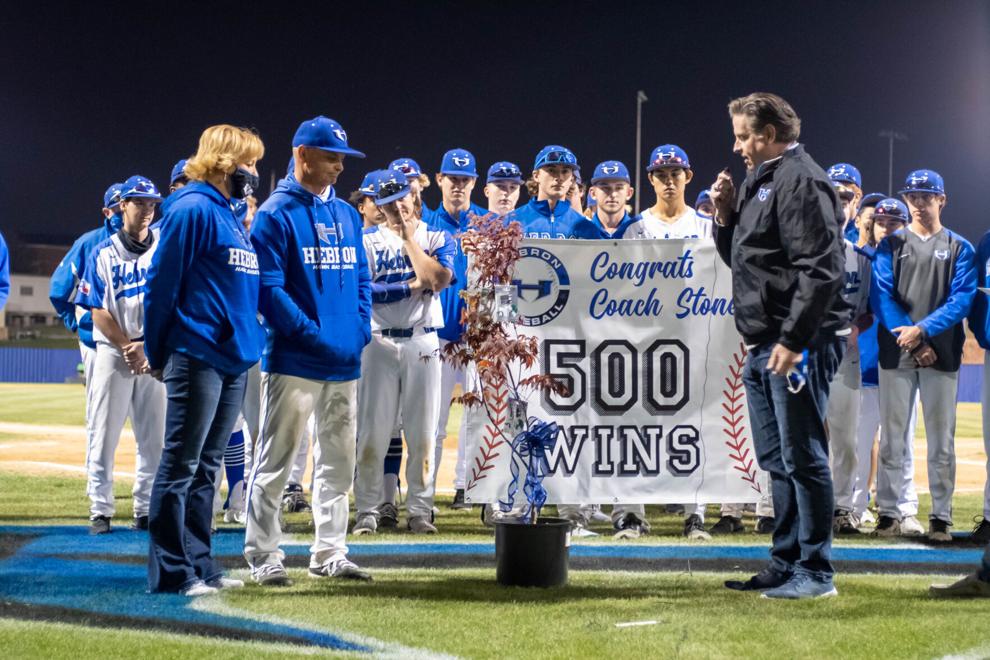 For the Hawks, in addition to Seo's bomb, catcher Dalton Balma walked and scored, while Seo brought the Hawks within one in the sixth when he singled and scored on a double courtesy of Lane Haworth. 
"(Bade and Prokarym) are both good lefties and I think part of (striking out looking five times) might have been that (Bade) kind of got in walk-mode that one inning," Stone said. "Because of that maybe some of our guys lost their aggressiveness and stopped attacking. But it was really just that one inning and he recalibrated and got back in there."
Postgame, the Hawks recognized Stone for a recent career milestone. Hebron's longtime head coach recently won the 500th game of his career in the Hawks' 10-3 victory over state-ranked Flower Mound. Hebron's booster club constructed a banner to acknowledge Stone's achievement.
The Hawks will look to bounce back in district at 7 p.m. Tuesday at home against Coppell, while Plano opens a two-game set against Lewisville at 7:30 p.m. on the road. 
"It's going to be a district where people beat people up," Stone said. "You have to maintain and take advantage of the wins you can get and tonight we lost one that we could have won. Tuesday we probably won one that we shouldn't have won. That's how it goes sometimes."